Richard Sherman is a talented Seahawks cornerback who happens to do winning really well. He ethers like a champ (see Skip Bayless' trip to the burn unit), violates Tom Brady just because he can, and looks at touchdowns against his team in the playoffs as petty accomplishments—because Sherman is bigger than six potentially season-ending points.
In the latest instance where he shows he's that dude, Sherman picked off Colin Kaepernick (check it out below) in the fourth quarter to help kill whatever small hope the 49ers had of coming back. The All-Pro cornerback proceeded to dance with the cheerleaders right after. Honestly, how can you comeback after that?
It's hilarious and so Sherman, but it's not the first time we've seen this type of celebration. Terrell Owens famously took the 49ers' cheerleaders' pom poms for a celebration.
This also isn't the first time the Sherman and the Seahawks totally owned San Francisco either. Seattle demolished the squad at the infamously loud CenturyLink Field last season, 42-13, and had the 49ers going through it again on Sunday with a 29-3 defeat.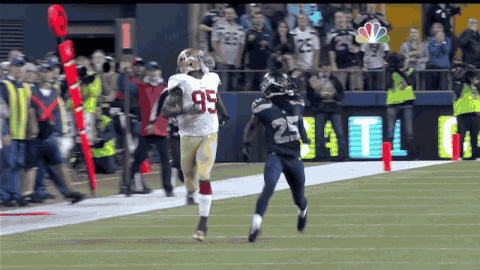 RELATED: 10 Things We Learned from Week 1 in the NFL 
[via Bleacher Report]