In the wild world of celebrity sneaker endorsements, authenticity is everything, and it's been oozing out of every shoe that Pharrell's designed since Nike gave him the chance to collaborate on a pair of Dunks back in 2004. It's been 13 years since the 44-year-old musician/fashion designer/humanitarian/all around cool guy dipped his toe into footwear, and no one has used this platform better than he has.
Pharrell, who's the Cultural Director at ComplexCon for the second year in a row, signed his current deal to Adidas in March 2014, and it's been a solid foundation for the "reigniting" of Adidas to the masses. There have been some massive successes -- The Human Race NMDs and 50 different colorways of the Adidas Superstar -- peppered with lukewarm sneakers -- we're looking at you, polka dot Stan Smiths -- but one thing's stayed certain: Pharrell's doing things his way, and it's working.
Too often we see rappers who endorse sneakers that require fabricated backstories to get the public to buy into the new project, but Pharrell doesn't need that. If he co-signs something, it's because he likes it or believes in the product, and every shoe he's done with Adidas is proof of that. Pharrell putting his name on a shoe instantly makes it cooler; not because his consumers are lemmings who follow whatever he does, but because it's backed by someone who's genuinely championing the sneaker.
The Human Race NMDs that Pharrell has done with Adidas over the past year have been wildly successful, instantly sell out, and resell for sums that might help pay your rent. But -- and this might be my lone opinion -- the coolest sneaker he's done in recent times doesn't have a Boost sole on it, and it borrows from Adidas's past, rather than making something super hype that's an easy sell. Rather, Pharrell reinvented Adidas's two best tennis shoes, the Stan Smith and Forest Hills, turning them into lightweight, mesh lifestyle shoes. The Stan Smith was a homerun. The white and green is instantly recognizable. But for people who are new to the brand (hint: Nearly everyone who's wearing it in the States right now), the Forest Hills's white, yellow, and gold colorway isn't something that's going to bring back memories of getting your first pair of cool shoes back in the day. Unless of course you're some sort of weird psycho that likes football hooligan films and dressing like it's the '80s.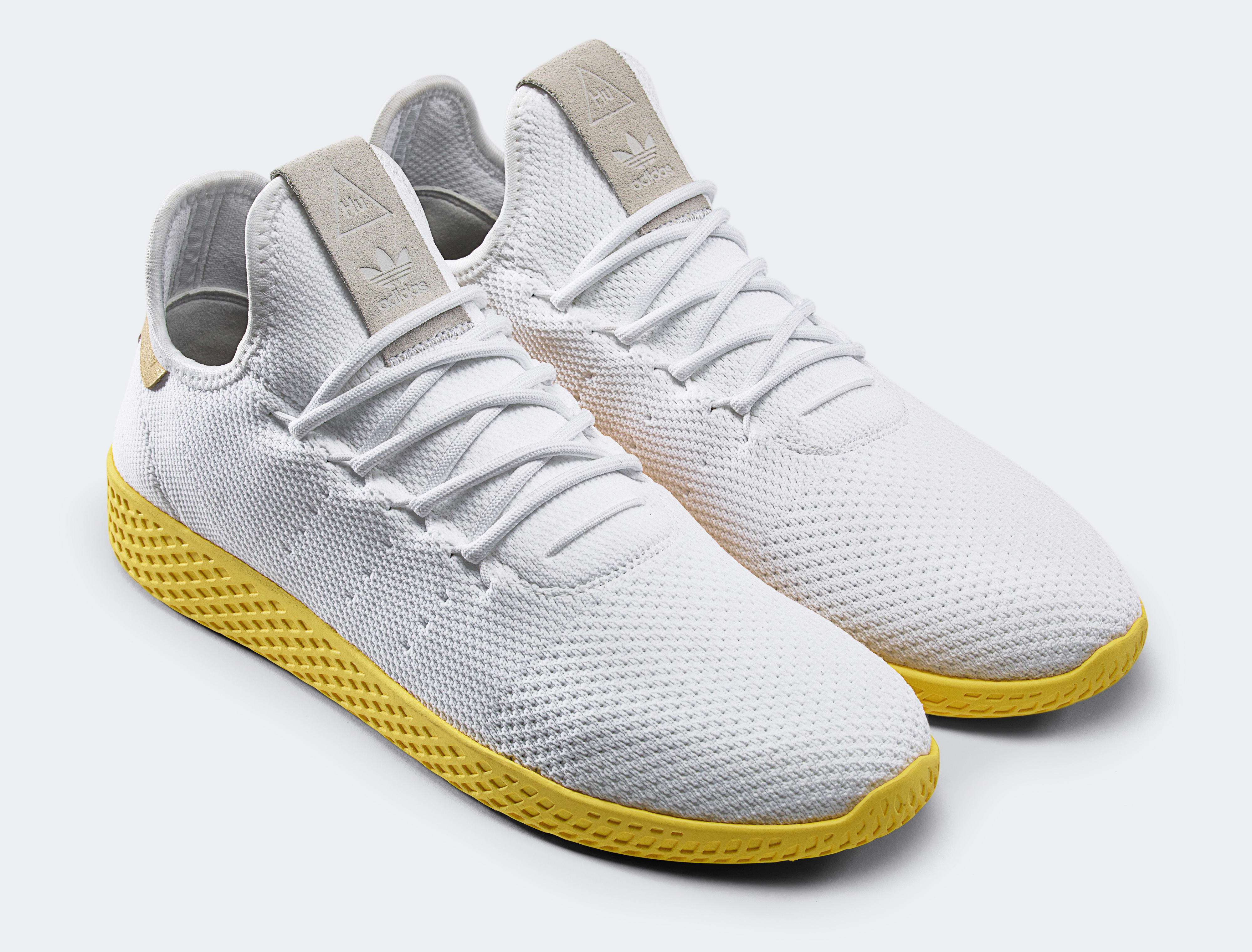 But Pharrell taking that colorway and having the belief to put his name onto it and launch it to an audience that might be unfamiliar with it says everything you need to know about him: He does what he likes, and he does it well. It works in two ways: It gives his fans something that's the definition of keeping it real, while playing to an audience that loves the heritage of Adidas, even if they're not getting the 1-to-1 retro that they've been patiently waiting on. But it shows that he knows his shit and likes good stuff. That's hard to find these days, especially when rappers and influencers are being snatched up just to add their cool to brands that desperately need them.
What makes Pharrell work isn't just his taste level or cachet, but that he appeals to literally everyone. Young millennials who camp out for Supreme and white suburban parents both know Pharrell. And as he makes more and more collaborative sneakers, it only further broadens his appeal. He's gone from making Nike Dunks to having his face on a pair of BAPEs to designing colorful Ice Cream skate shoes for Reebok to taking over the world with Adidas. Along the way, he's championed causes such as diversity and equality, which makes his shoes more than something you put on your feet. He's not slowing down, either. Pharrell's been able to reinvent himself many times over his career, from trucker hats to custom Timberland boots, but he's always stayed true to himself and ahead of the curve. In the sneaker game, that means everything.