It's a cold December night in Portland, Oregon, and the Moda Center is packed to see the Trail Blazers take on the Oklahoma City Thunder. A clash between two all-star point guards, Damian Lillard and Russell Westbrook. But tonight there's higher stakes with bigger implications. It's pitting Lillard and Adidas against Westbrook and Jordan brand, and the former is debuting his new signature this evening, the Dame 3.
The Trail Blazers win 114-95, with Lillard contributing 17 points and 9 assists to Westbrook's 20 points and 6 assists. The hometown crowd is ecstatic with the throttling victory, and some fans are leaving with new sneakers, courtesy of Adidas (something they've done before). It's clear that Lillard isn't just another superstar on a small market team, he embodies the city that he represents on the court. It doesn't hurt that his footwear sponsor, Adidas, is located in his team's backyard. It also helps the brand give him the best shoes possible. 
We were in town that night and had the chance to sit down with Adidas Design Director Jessie Rademacher and Global Director Alex Zerzan to find out what it was like to put Dame in those shoes.
How involved is Dame in doing the shoes on the day to day or the design process?
Alex Zerzan: He's incredibly involved. We're so fortunate to have him local, with our North American headquarters being here in Portland. He's an artist, he wants to be very involved. He understands that the shoe is a representation of him and all his hard work. He really wants to make sure that gets infused in the product and reflects who he is, his story, and his vision. The amount of insight that he gives us is incredible.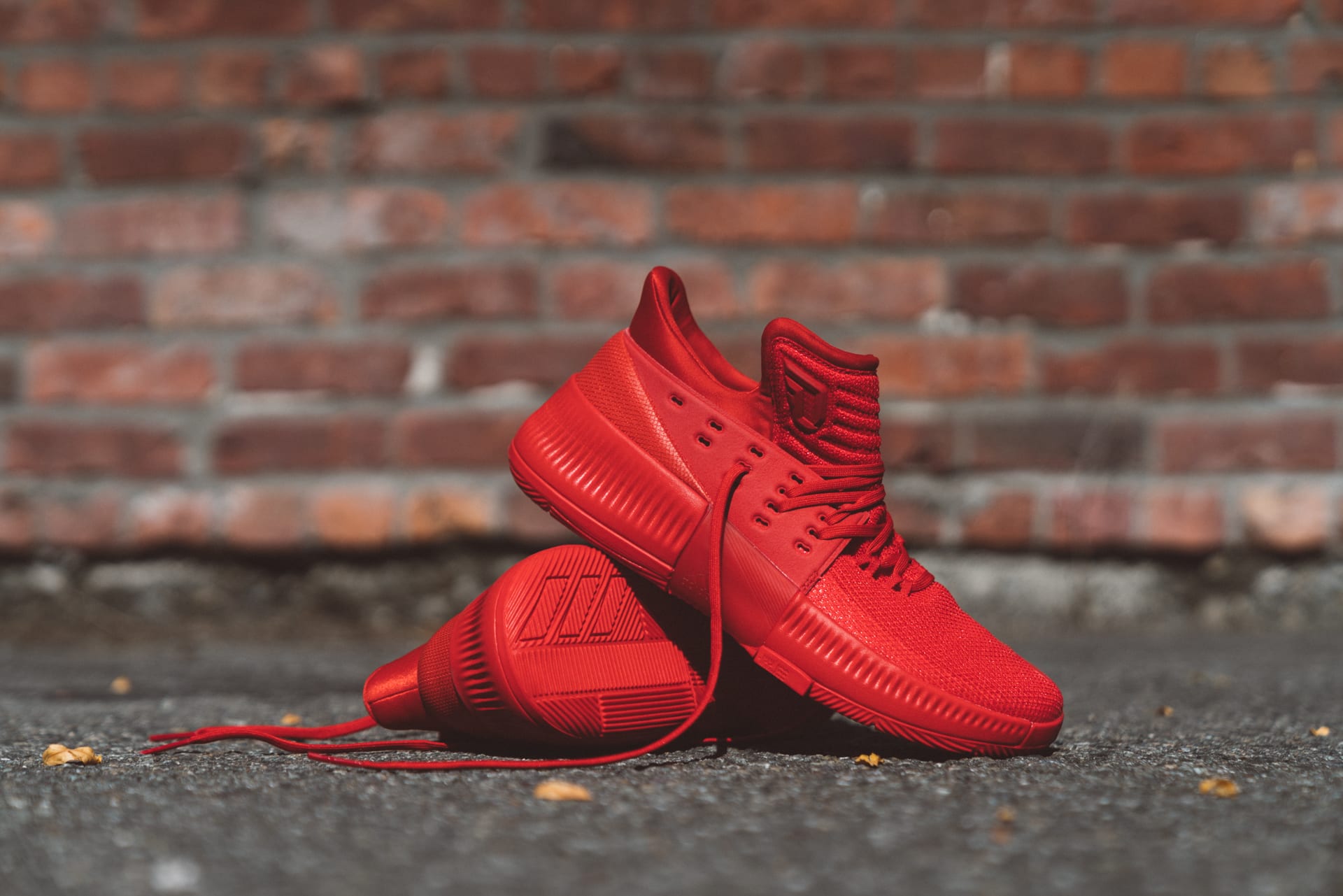 Do you ever feel like you're designing the shoe for him and for the city of Portland because he's the local star?
Jessie Rademacher: Dame gives us so much to work with from a design standpoint: having him local and him being a musician and artist. We are designing a signature shoe for Dame, so we're telling his story. But his story is all about his path and humble beginnings to getting where he is today. His whole goal is to inspire people, so he's extremely connected to the community. When we design this shoe, we consider everything: keeping the price down so that it's accessible, the amount of details that are personal for him, and making the sneaker extremely customizable because everyone has different footshapes. We're designing a signature model for him, and he actually plays in this shoe with no modifications. But he knows that the sneaker is made for other people, too.
What's your favorite story of working with him, do you have one moment that sticks out the most?
Zerzan: I still remember when he decided to join the brand, and we were up at the store shopping and realizing how big it was a decision to come with us. It was a great opportunity to work with such an incredible athlete. From 2012 to now, he's been able to prove the doubters wrong and the success he's had is incredible.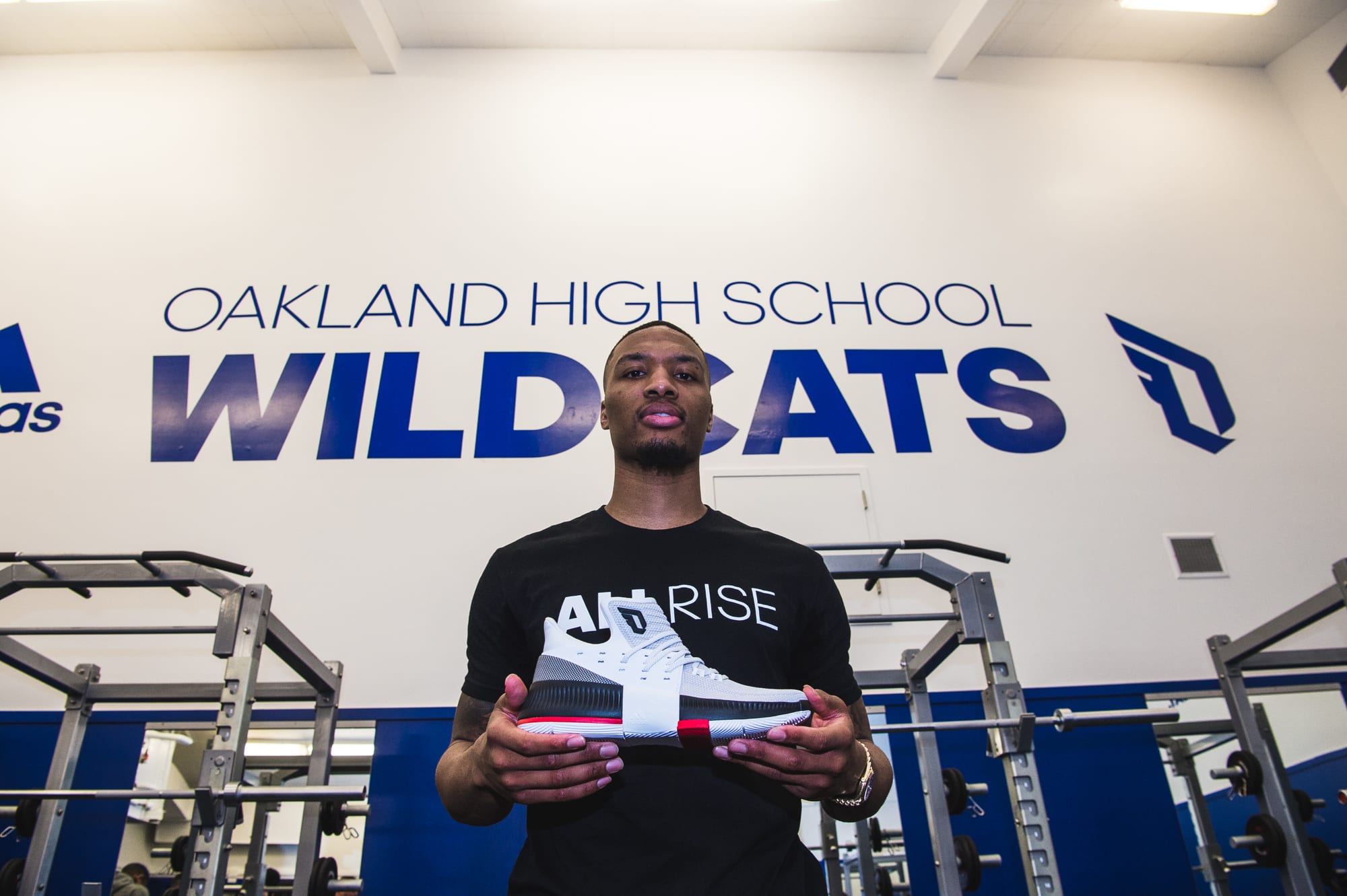 How hard is it to create a basketball shoe that you know people are going to want to wear on the streets?
Rademacher: Well I think we're coming out of an era where everyone's been wearing running shoes. Basketball shoes haven't been a thing you wear off the court so much. And that's a great challenge to us. We love that challenge, because we are trying to create the ultimate basketball shoe for performance, but we also know that in order to make people will really lust over these things, it has to be seductive. It can't just be a thing that you have to try on and work out in to see the nuances and the value in it.
Zerzan: We're lucky because we get to work with such a stylish guy, and he's incredibly involved in the creation process. I don't know anybody else who wears his shoes as much as this guy, whether it's on court, at a concert, hanging out, post-workout.
Rademacher: Yeah, but it's also not about just looking good. When he's wearing that shoe, he wants it to be extremely comfortable. He doesn't like break-in time, where he has to wear the shoe for a long time before he can work out in it. I said to him, "Every time you come in here it looks like you just came from the gym," and he said, "That's because i'm always coming from the gym. Always working out."
When people saw the initial sketch, some thought it looked a little bit like a Yeezy or NMD. Was that intentional?
Rademacher: Well, first of all, it's the same brand so everything we do from basketball to an Ultra Boost running shoe is all Adidas. We look to find those points that unify and remind people that this is an Adidas product. We never try to knock anything off or make it look intentionally look like something else. But we are working with some of the similar ingredients. We have Bounce [in the shoe]. Bounce has a very distinct, kind of ribbed texture to it. You see that on the Alpha Bounce. That's not something we reinvent season after season. But then also the Stripes are the same Stripes that you see on a lot of other stuff.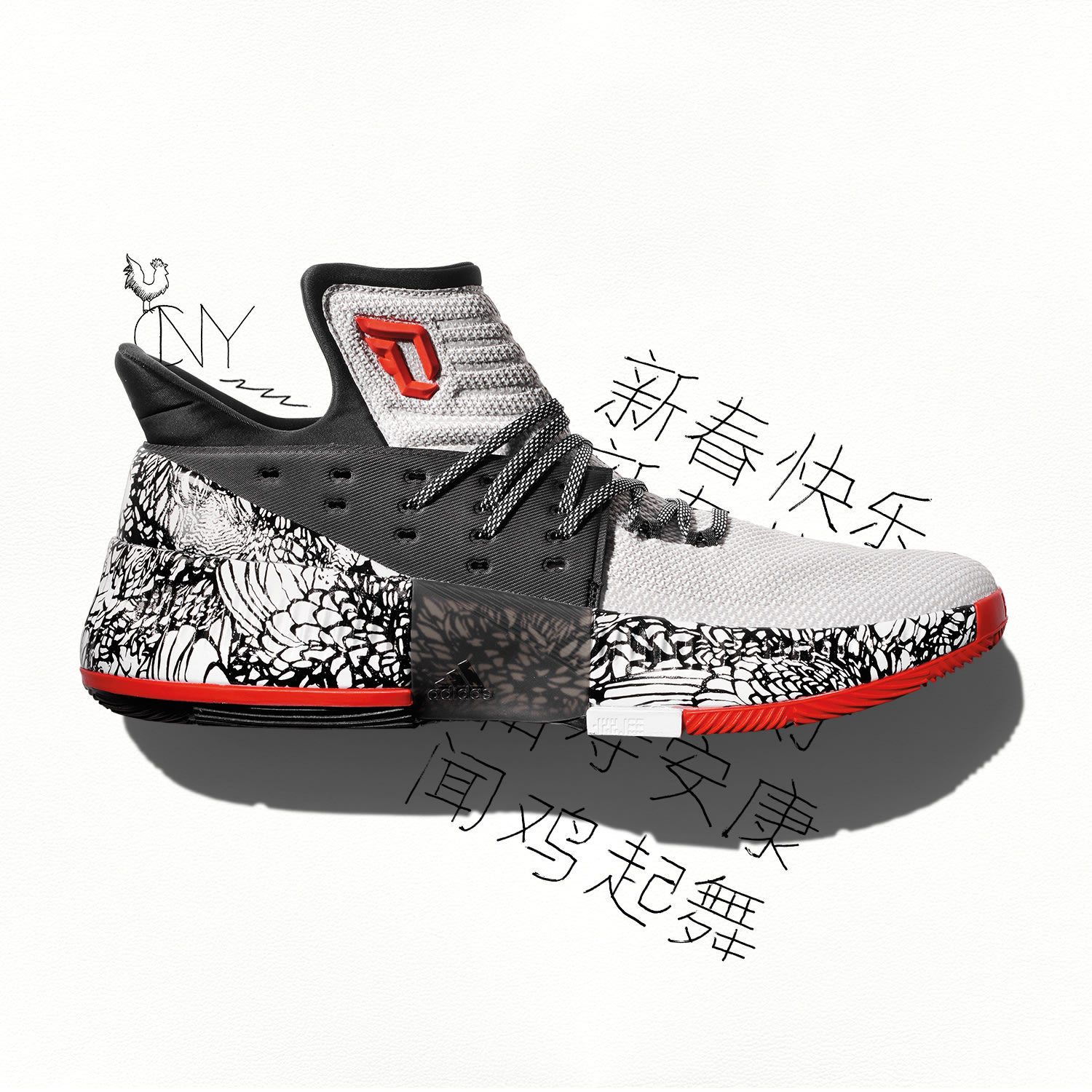 Do you guys talk to the other designers so you're working towards the same direction?Rademacher: Paul Gaudio, our creative director for the entire brand, is based here in Portland and really sets the tone ethos for how we make things. [He makes sure] it's born from culture, so it's relevant. And it's built for a purpose, which means that it should always work no matter what, but it's daringly simple. He sets this umbrella and these tasks for us to answer as we're designing. Every category is also trying to answer those [questions], but we're doing it in a unique way, because we're telling it through Dame's story and for the sport of basketball. All the decisions that we make are all athlete insights born out of the way Dame plays the game itself or specific requests from him.
I've heard in the past that certain signature athletes will have special connection with the designers, where they'll maybe go on vacation together. Is there anything you guys do together to be on the same wavelength?
Zerzan: With him being local and my background coming from sports marketing, we've been able to establish a great relationship with him, and we've gone and seen his workouts. We've seen him workout and got feedback the moment he stepped off the court on what he liked with his shoe and what we needed to do. We've taken samples out to his house to get quick turnaround, so we could get the feedback we really needed and act on it.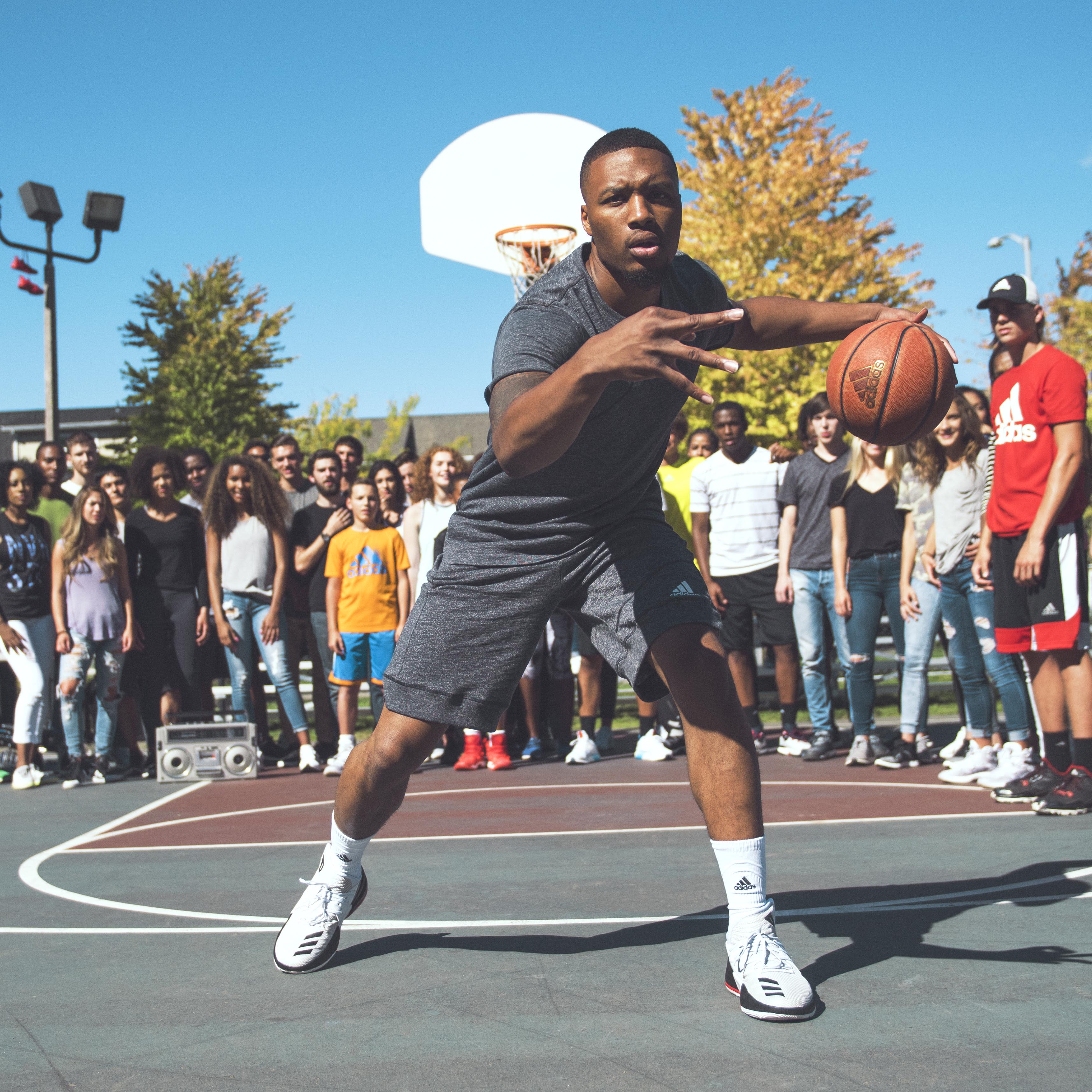 Rademacher: He has a direct line of communication with both of us. He'll text us images of things he finds inspiring or questions, concerns, or ideas he has for his new shoe. Last winter when we were working on this [shoe], it was when the snow storms had hit and I think he was a little bit bored and stuck around, so he kept texting us. He really feels attached to the product, and he invited us out to his camps that he does in the summer to watch him interact with the kids. We don't always know where our inspiration is going to come from, so just being around him and starting to understand the way he thinks is the only way to truly connect and to build that into shoes.
When the long term partnership between Kanye and Adidas got announced, he talked about wanting to work on performance basketball shoes or signature sneakers, what would that process be like? Has there been any talk about him working with someone like Dame?Rademacher: Everything, especially around Kanye, is always kept under lock and key. Unfortunately I wish I could talk about it, would be fun to talk about, but we can't.