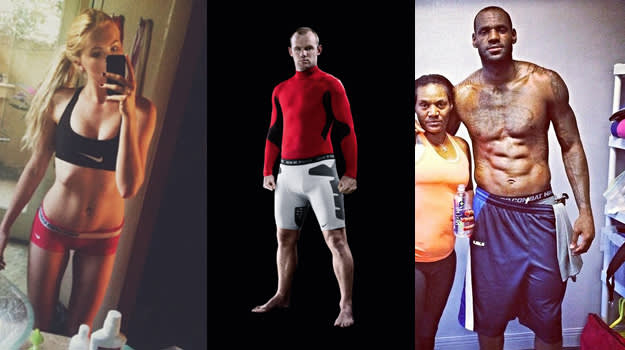 No. 1 – Nike Pro Combat Shorts
Who wears it: Ireland Baldwin, Wayne Rooney, LeBron James
Why: The supportive, stretchy material works great as an under or top layer
Nike's Pro Combat gear just keeps getting better, so it comes as no surprise that celebs and athletes are regularly spotted in the supportive Pro Combat bottoms. With just the right amount of compression and protection, Pro Combat is great for both demanding training, and it also helps to minimize swelling during recovery, which is why everyone from Irene Baldwin to King James has snapped a selfie in these snug shorts.
$30-$68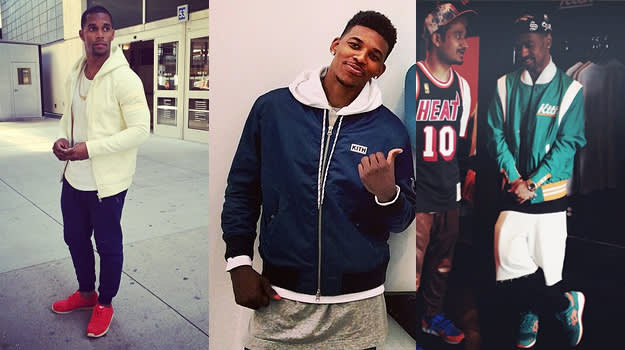 No. 2 – Kith Sweatshirts and Windbreakers
Who wears it: Victor Cruz, Nick Young, Big Sean
Why: Ronnie Fieg's in-house brand is comfortable, cozy, and stylish.
NYC's Ronnie Fieg is best known for his limited sneaker collaborations, but Kith's in-store apparel line has been just as successful with fashion-forward names like Swaggy P and Big Sean. The appeal of this gear is that it's comfortable and relaxed enough for most training needs while maintaining a modern, clean overall aesthetic. In other words, Kith gear looks just as good in the gym as it does on the streets.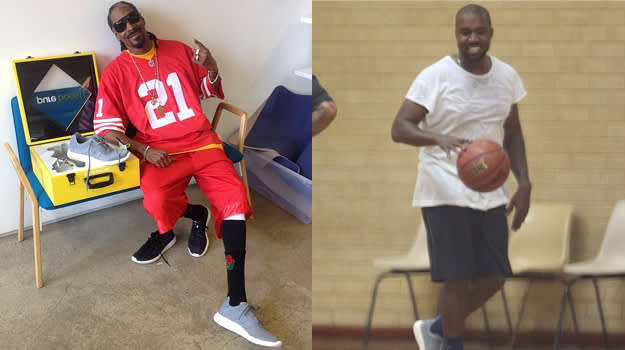 No. 3 – adidas Pure Boost
Who wears it: Samuel L. Jackson, Snoop Dogg, Kanye West
Why: The Pure Boost's comfort is on another level and the grey colorway goes with everything.
Even Samuel L. Jackson knows the deal with the adidas Pure Boost. This bouncy model will definitely be a top contender in "sneaker of the year" debates, and for good reason. Although it's technically a lifestyle variation of the Energy Boost runners, the Pure Boost is comfortable and equipped enough for light running, training, and even shooting hoops overseas, just ask Yeezy. To top it all off, adidas kept it simple for the most part with on-trend grey and black colorways that paired with everything from basketball shorts to selvedge denim.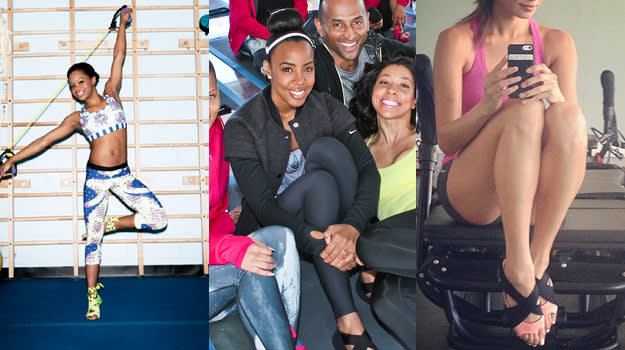 No. 4 – Nike Studio Wrap
Who wears it: Gabby Douglas, Kelly Rowland, Jamie Chung
Why: For a barefoot feel without actually having to go barefoot in the studio.
One of the worst things you can do in the gym or studio is to show up without shoes. Not only is it a potential hazard due to the slick, sweaty equipment and surfaces, but it's downright nasty. Ladies like gold medalist Gabby Douglas, singer Kelly Rowland, and actress Jamie Chung know what's up, and they opt for the sleek and sexy Nike Studio Wrap when they're going hard in the studio.
$45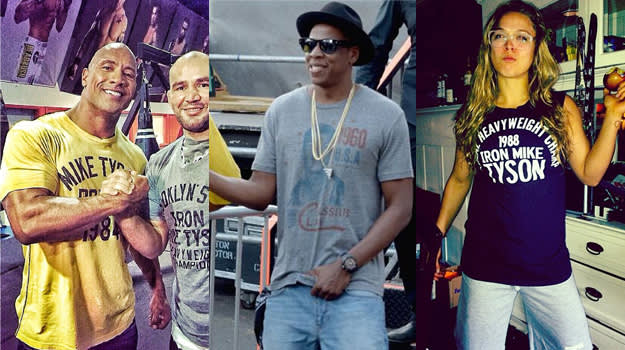 No. 5 – Roots of Fight T-Shirts
Who wears it: The Rock, Jay-Z, Ronda Rousey
Why: Nothing's more inspirational than taking a page from your hero.
This vintage inspired gear from Roots of Fight has been spotted everywhere lately. The Rock even made a surprise appearance on this week's Monday Night Raw clad in the brand's Mike Tyson varsity jacket, and if his Instagram page is any indication, it's pretty much all he's been wearing recently. Female MMA sensation Ronda Rousey has also been spotted in the popular gear when she's not busy defending her undefeated streak. Even non-fighters like Jigga have gotten in on the trend, so there's no telling who will break one out next.
$35
RELATED: 10 Celebrities and the Sneakers They Won't Stop Wearing
RELATED: 10 Athletes and the Sneakers They Won't Stop Wearing