Texas A&M is rocking a bit of a different look today for their matchup with #12 Mississippi State, taking the field in an all white get up highlighted by metallic silver accents.
adidas is calling it the "Iced Out" uniform and we must say as college football uniforms go these don't look so bad. The real beauty of this uniform set is the state of Texas graphic which the numbers are set upon. In recent years we've seen schools try and experiment with graphics on the front of their jerseys but they never really came out looking right. With the "Iced Out" jerseys, adidas and Texas A&M have came up with a formula that works.
Check out the uniforms in their entirety below and watch as Texas A&M takes on Mississippi State this afternoon to see them in action.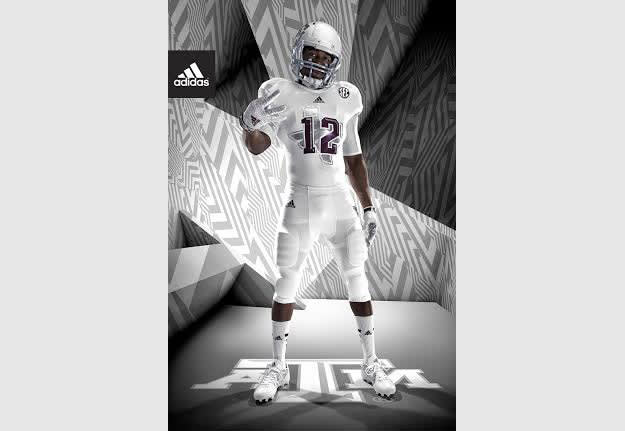 [adidas]
RELATED: Oregon Fights Breast Cancer With Their Most Fire Uniforms To Date
RELATED: Louisville Raises the Curtain on "Showtime" Uniforms