Mark Wahlberg
Most ripped roles: Pain & Gain and The Fighter
How he got that way: Hitting the weights hard and often.
Bulking up to star alongside The Rock is no easy task, but that is exactly what Mark Wahlberg had to do for 2013's action-comedy Pain & Gain. According to an interview he did with Men's Health, Wahlberg ate 12(!) meals a day while training for the role. Besides the enormous calorie intake, Wahlberg hit the weights hard and often, as he didn't want to be swalled up standing next to The Rock on screen. This wasn't the first time that Wahlberg's body went through a massive transformation, as he trained for five years to play boxer "Irish" Mickey Ward in David O.Russell's 2010 Acadmey Award nominated film The Fighter.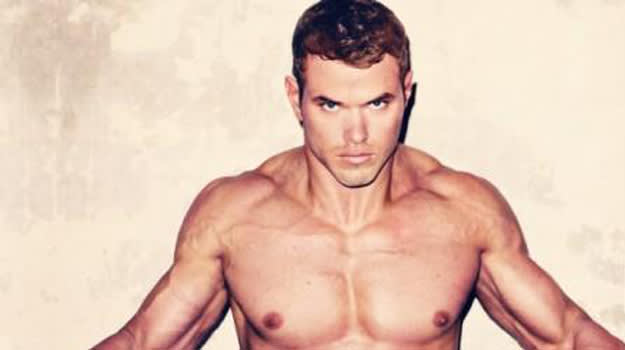 Kellan Lutz
Most ripped role: The Legend of Hercules and The Expendables 3
How he got that way: A mix of cardio and resistance training.
So how do you become a demigod in a limited amount of time? By doing the right mix of cardio and resistance training. Lutz shed his Twilight image by running a treadmill circuit that included both intervals and bear crawls, as well as a healthy amount of dips to work his chest, arms and shoulders. This wasn't even the hardest part of training to be the Son of Zeus, as Lutz said the biggest challenge to his muscles was learning how to wield a sword, which could weigh up to twelve pounds each.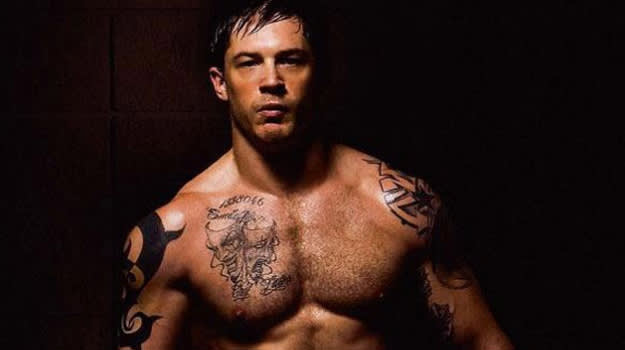 Tom Hardy
Most ripped roles: Bronson, Warrior and The Dark Knight Rises
How he got that way: Low amount of reps done multiple times a day.
With each role he lands, Tom Hardy seems to get bigger and bigger. Hardy first bulked up for the 2008 movie Bronson and wowed moviegoers once again in 2012 as Bane in The Dark Knight Rises. However it was 2011's critically acclaimed Warrior that the once slender actor made his most notable transformation into a MMA behemoth. Hardy achieved this through the unorthodox method of "signaling," which calls for low reps multiple times a day for 20 minutes a piece. Among the exercise tackled by Hardy were press-ups, shoulder flies and dips.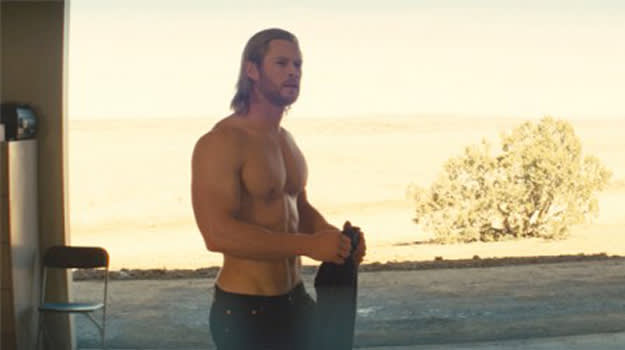 Chris Hemsworth
Most ripped role: Thor, The Avengers and Thor: The Dark World
How he got that way: Cardio mixed with weightlifting.
So what is Thor's kryptonite? Apparently, it's kettlebells. Coming from a background of more cardio-heavy boxing and Muay Thai training, Hemsworth was met with a challenge when he was introduced to kettlebell workouts like squats and swings. The hard work paid off though, as Hemsworth played a pretty convincing hammer-wielding Greek god.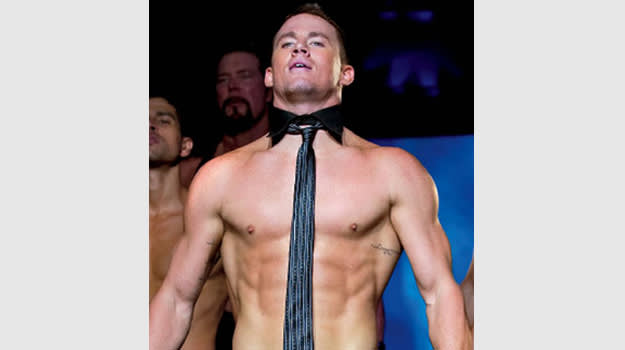 Channing Tatum
Most ripped roles: G.I. Joe: The Rise of Cobra, Magic Mike and G.I. Joe: Retaliation
How he got that way: Three hour training sessions.
You read that right. In order to get in shape for Magic Mike Tatum trained an ungodly three hours a day and stuck to a strict dairy and gluten-free diet. With Magic Mike XXL currently filming, Tatum and his crew (which you will hear more about later) are in tip-top shape once again.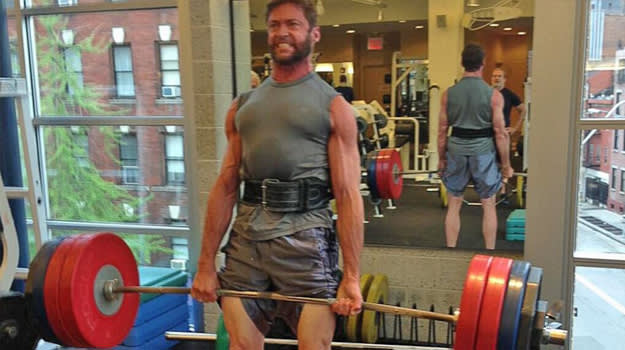 Hugh Jackman
Most ripped roles: X-Men, The Wolverine and X-Men: Days of Future Past 
How he got that way: The "DogPound."
Jackman has portrayed the role of Wolverine in the X-Men franchise a whopping seven times. So what's Jackman's secret to staying in outstanding shape? That would be his workout crew known as the "DogPound." No, we are serious. Every morning Jackman and his 14-man workout group meet at 5:45 in the morning for an hour-long circuit that includes hammer flinging and lifting 100 pound dumbbells.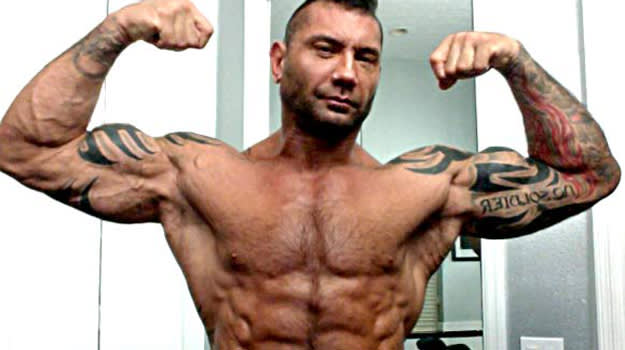 Dave Batista
Most ripped roles: The Man with the Iron Fists, Riddick and Guardians of the Galaxy
How he got that way: By just doing what he does.
Before breaking into the movie world, Batista was a two-time WWE Champion and four-time Heavyweight Champion. On top of all that, Batista is a budding MMA fighter with a 1-0 record. So when it comes to the whole acting thing, getting in shape isn't really the hard part.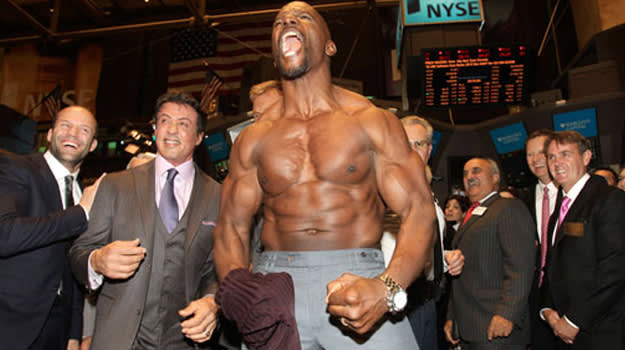 Terry Crews
Most ripped roles: The Expendables 2 and The Expendables 3
How he got that way:  Correct form and consistency.
It's hard to believe that this is the host of Who Wants to Be A Millionaire? When Crews isn't busy filling the shoes of Regis, he is one of the most jacked men in Hollywood. In order to get pythons like Crews, the former NFL player preaches correct form and consistency. Before working out his guns, however, Crews focuses on his shoulders and back through his 24's circuit, which is a mix of upright rows, power cleanses, Romanian deadlifts and jump squats.
Joe Manganiello
Most ripped roles: True Blood, Spider-Man 3 and Magic Mike
How he got that way: "Two-a-days"
To pump up for Magic Mike, Manganiello instituted the old football practice of two-a-days for six-days a week. Instead of practicing football plays though, Mangaiello went through a heavy dose of weight training and cardio, while cutting carbs out his diet completely and piling on the protein. Less interested in putting on weight than getting ripped, Manganiello is always in constant motion, practicing more reps and less rest.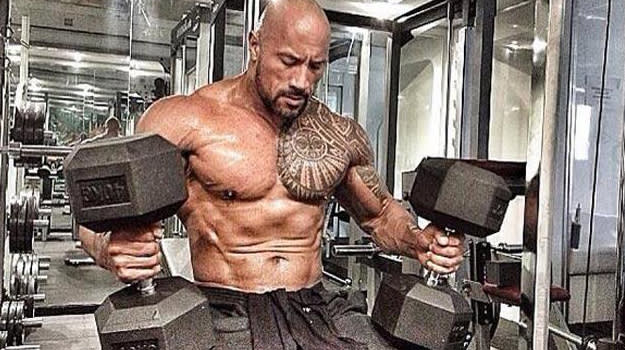 Dwayne "The Rock" Johnson

Most ripped roles: Fast Five, Pain & Gain, and Hercules
How he got that way: Nutrition, nutrition, nutrition.
As a former football player and WWE champion, The Rock was already a hulking mass to begin with before trying his hand at acting. That's why Johnson relies heavily on nutrition to bulk up for his roles. For Hercules, Rocky went on a 22-week diet, which included six to seven meals a day heavy in carbs, protein and fats. In addition to his strict diet, Johnson put in six days a week in the gym for approximately 90 minutes a day. Herculean, indeed.
RELATED: 10 Celebrities and the Sneakers They Won't Stop Wearing
RELATED: 10 Things Only Idiots Do At the Gym