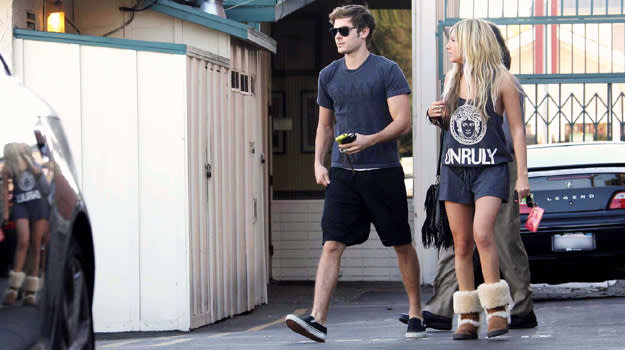 Nowadays, you can keep up with almost everything that your favorite actors and actresses are doing. Between Twitter, Instagram, Facebook, and Vine, there's more sharing than ever, and in turn, there's more personal details about celebrities available than we could've ever imagined. We know what they ate last night, who they've been hanging out with, and what clubs they've been partying at.
What about how they work out: what gear do they bring along, what music do they listen to, and what workouts are their favorites? While we can't say for sure, we can learn a lot from their paparazzi snaps. Actors have to stay in shape too, and whether they're coming to or from the gym, they often fall victim to the flashing lights of the paps. We tried getting names like Channing Tatum and Matthew McConaughey on the phone, but they were too busy filming their latest blockbusters, so we took it upon ourselves. This is How 10 Actors Workout, According to Their Paparazzi Pictures.
Riley Jones is a freelance writer from Charlottesville, VA and a contributor to Sneaker Report. With an unshakable affinity for basketball and all things pop culture, he can be found on Twitter @rchrstphr.
RELATED: The 20 Worst Celebrity Marathon Finish Times
RELATED: The Best Celebrity Struggle Gym Faces
RELATED: Songs To Workout To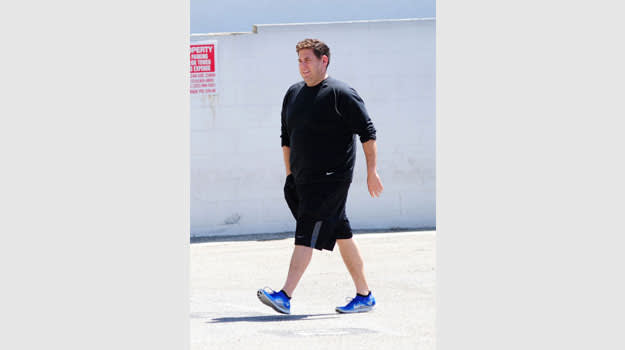 No. 10 - Jonah Hill

Gear: Fitted top, shorts, Free Runs
In his headphones: Wu-Tang
Workout of choice: Cardio
Funnyman Jonah Hill is all business when it comes to his fitness goals. His inspirational weight loss had Hollywood buzzing, and he's still going hard on the regular. Hill and his buddy Seth Rogen are known for their devotion to the Wu-Tang Clan, so we wouldn't be surprised if he was blasting "Protect Ya Neck' while hitting new PRs in his blue Flyknit Frees.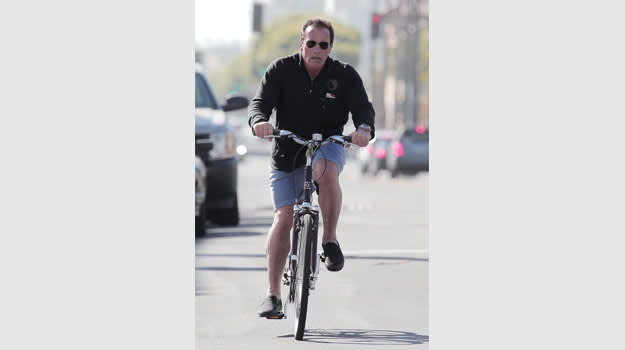 No. 9 - Arnold Schwarzenegger

Gear: Casual clothes
In his headphones: Heavy metal
Workout of choice: Cycling
Schawzenegger has one of the most famous bodies ever, and it's no secret that he's a beast in the weight room. However, one of his favorite activities is biking, and the former governor keeps it casual in street clothes for many of his outings. Who needs to flex when you've already proven yourself?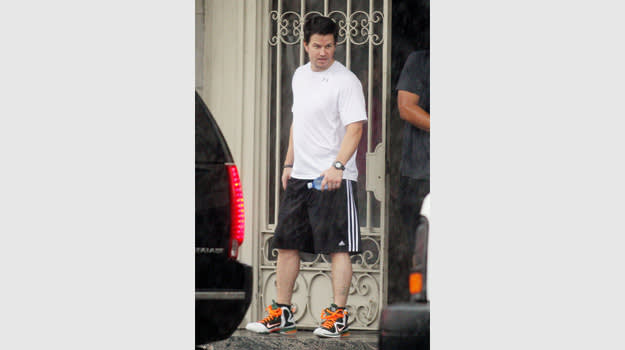 No. 8 - Mark Wahlberg
Gear: White tee, gym shorts, LeBrons
In his headphones: "Good Vibrations"
Workout of choice: Lifting
Marky Mark is known for keeping a sculpted physique, keeping in top shape between filming periods. The "Good Vibrations" rapper has come a long way, but not even Mark can deny the gym-tailored energy of the 1991 hit. Whether he's getting in a pick-up game with friends or heavy lifting, Wahlberg's always laced in a sweet pair of kicks.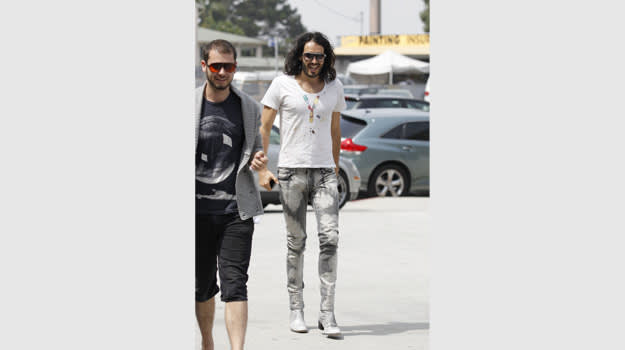 No. 7 - Russell Brand

Gear: Skinny jeans, undersized tee
In his headphones: Puff Daddy
Workout of choice: Yoga
The always-eccentric Russell Brand rarely lets fitness get in the way of style, and he's seen here headed to the gym in his trademark skinny jeans and an extra smedium tee. Although he may be the most unpredictable star on this list, there's a good chance he's into yoga, and how perfect would it be if he was jamming out to Get Him to the Greek co-star Puff Daddy?
No. 6 - Dwayne Johnson
Gear: All Under Armour everything
In his headphones: Imagine Dragons
Workout of choice: Powerlifting
He may not be The Rock anymore, but somehow Dwayne Johnson is in even better shape than he was during his days in the ring. With a relentless training approach and a strong loyalty to Under Armour, Dwayne strikes us as the kind of guy who would dig tracks like "Radioactive" from Imagine Dragons.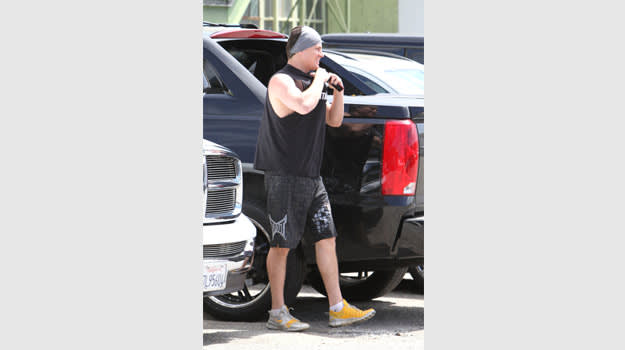 No. 5 - Channing Tatum
Gear: Whatever tanktop is laying around, Tapout shorts
In his headphones: Linkin Park
Workout of choice: Kettlebell workouts
People Magazine's 2012 Sexiest Man Alive has named hard rockers Linkin Park as one of his favorite bands, and when it comes to workouts, he keeps it simple and casual. Here, he was spotted in a worn-in tank top and a pair of Tapout shorts. Could there possibly be an MMA stint in Tatum's feature?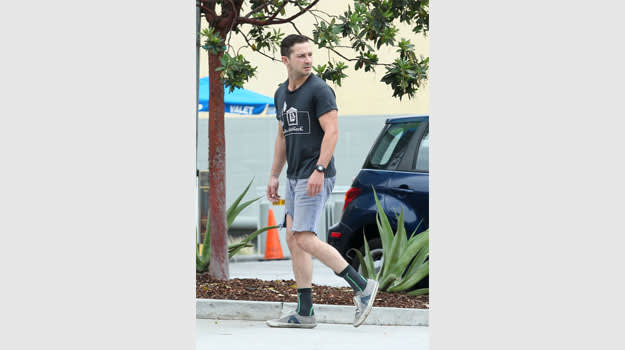 No. 4 - Shia LaBeouf

Gear: Training socks, ripped jean shorts, vintage tee
In his headphones: ASAP Ferg
Workout of choice: Running

Shia LaBeouf is an avid runner; he's even completed the LA Marathon in 2010. The speedy star has also recently shown a knack for getting behind the cameras, and is working on a project featuring rapper Cage and ASAP Mob associate ASAP Yams. For his long distance treks, the high energy vocals of ASAP Ferg should do the trick.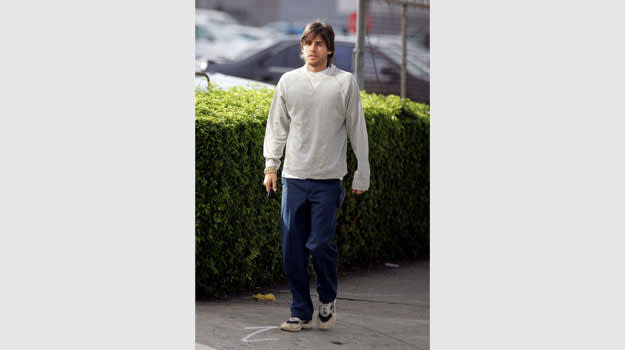 No. 3 - Jared Leto

Gear: Track pants, crewneck sweatshirt
In her headphones: 30 Seconds to Mars
Workout of choice: Cardio
After working in a variety of roles over the years, Jared Leto's weight has fluctuated depending on the character, but for the most part he keeps it lean and slim. Leto clearly prefers cardio over muscle building, and is probably going over the latest demos from his band, 30 Seconds to Mars, while he's on the treadmill.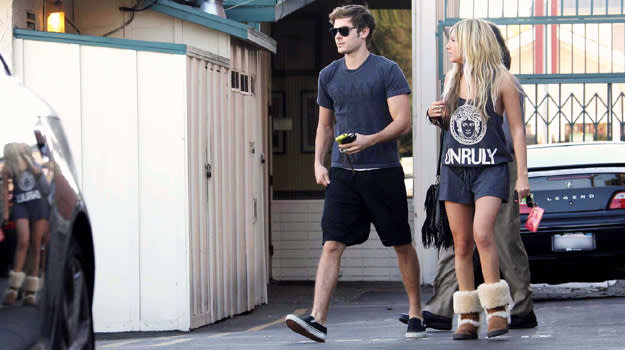 No. 2 - Zac Efron
Gear: Tee, shorts, slip-on skate shoes
In his headphones: Gorillaz
Workout of choice: Circuit training
Zac Efron is all fun and games alongside Seth Rogen in Neighbors, but in the gym, he gets down to business with circuit training routines. Whether he's rolling solo or with his girlfriend, Efron keeps is sporty yet comfortable.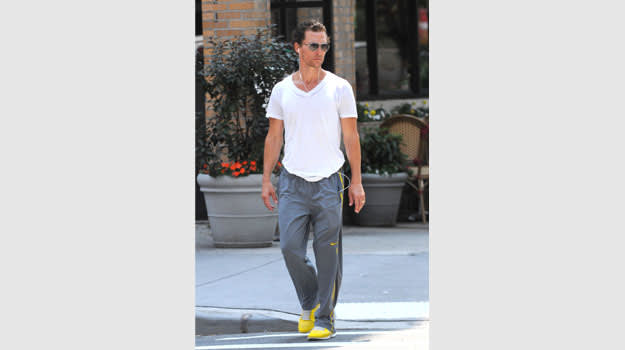 No. 1 - Matthew McConaughey

Gear: Tee, track pants, bright lightweight runners
In his headphones: Country
Workout of choice: Strength training
Whether he's keeping his abs chiseled with sit-ups or staying buff with pull-ups and push-ups, McConaughey's focus is strength, although he's also known to enjoy cycling. The GG 2013 Man of the Year has come a long way since his burnout character in Dazed & Confused, and although his True Detective character is one of the most intense on TV, he still strikes us as a pretty easy-going, laid back type of guy who would have an extensive country collection on his iPod. After all, one of his very first roles was in a 1992 country music video.