I've identified as a sneakerhead for close to a decade, and I write about sneakers and sneaker culture on a daily basis. But my experience, up until this past weekend, has been much different than that of a lot of the people who read my work and that I interact with every day. Unlike most of them, I'd never been to any form of sneaker expo.
But Sneaker Con was making a stop in NYC, I didn't have anything to do on Saturday, and I wanted an excuse to hang out with a woman I'd been talking to for a few weeks. Plus, it was starting to feel strange that I had never been to a sneaker event like this. We post street style from these events on a regular basis, and I've even commissioned photographers to shoot them. I knew I could get into Sneaker Con without a hassle, so I had to go. From sorting through and making sense of photos from these events in the past, I thought I knew what to expect: There were going to be legions of pimply faced, 15-year-old sneakerheads in bright socks and cargo shorts, ready to sell whatever Foamposite, Air Jordan, or boutique collaboration released in the past nine months.
Even so, as I walked up to the event, which was being held at Pier 54 in Midtown Manhattan, I was taken aback. There was a line of what seemed like thousands of sneakerheads holding boxes and loose sneakers, waiting in the 90-degree heat to lose themselves amongst the vendors and the spectacle inside. Everything I had assumed about sneaker events was unfolding in front of me. Moms and dads had brought their kids in hopes they'd score a pair of Yeezys or sell their retro Jordans they sniped off a Nike.com restock, and the average event-goer skewed somewhere between middle school and sophomore in high school.
There was no way I was going to wait for a few hours in line, and fortunately I didn't have to. I met up with who I was waiting for, we walked past the line, flashed my press pass, and entered the jungle. In the process of all of that, I even ended up getting street-styled by our freelance photographer, who I hadn't met yet: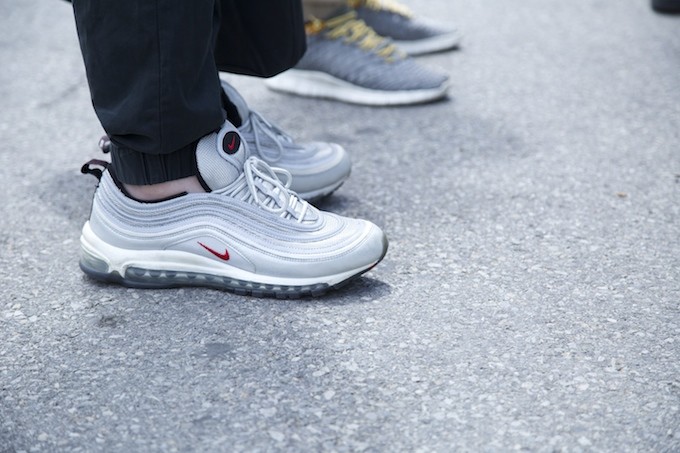 Once inside I realized we were in for an eventful afternoon. There was a long line to get cash from the ATM machine—like something you'd see in a Las Vegas casino—there were legions of people holding sneakers they were trying to unload, and it looked far, far different from my personal vision of what sneaker culture was.
It seemed absurd. I ran into a co-worker of mine, who told me that a kid and his parents had flown up from Florida to purchase a pair of size 14 "Red Octobers" for $3,500—only to find out the sneakers couldn't be authenticated. What kind of shit was this? The most I'd ever spent on a pair of sneakers was $250 for the Nike SB "MF DOOM" Dunk Hi in 2007, and the money was never provided by my folks. And, on top of that, I didn't even go to this event to buy a new pair of sneakers.
 

I didn't even go to this event to buy a new pair of sneakers.
But as we got into the heart of Sneaker Con, I saw a few more familiar faces and found my bearings, even if there were endless tables that seemed to sell the same shoes. Vendor after vendor, I saw sneakers that the whole world thought was limited. But they were all here. There were rows and rows of almost every Air Jordan you'd ever want, along with ASICS, Flyknits, New Balances, and, of course, Yeezys. I could only imagine what percentage of Yeezys ever manufactured were currently on 54th Street.
Even though I was taken aback by the manifestation of a niche subculture, I realized it wasn't so bad. People were connecting because they loved, or at least felt some type of way, about sneakers. The world that I knew and made my career from was coming alive, and I was spending the afternoon with sneakers and friends.
It's true: I was being swarmed  by people I never wanted to see on a Saturday, but I had finally made it out to a Sneaker Con. I could stop guessing why people made a big deal out of these whirlwinds and realize that these things flourish for a reason. It's not that people just want sneakers and the money that comes along with their scarcity, but they want to be around people who make them feel like they're not the only weirdo who obsesses over what they put on their feet every day. 
They're no different than me and my friends when we'd drive an hour to check out a store we'd never been to. Now that I'm older, sneaker expos might seem annoying on the surface, but they're giving a lot of people something to look forward to. Even if I'll never co-sign a 12-year-old who wants to sell you a pair of LeBrons for $800.
Matt Welty is an editorial assistant at Complex, and he doesn't want to purchase the sneakers that are currently on your feet.  You can follow him on Twitter here.