It's happened to us all before. That one pair of sneakers you've been waiting for is finally slated to drop and when the time comes......it's sold out. The heartache that ensues was enough to make our friends at Sole Collector look to remedy this problem on their Jordan Release Dates page, and we finally have it with "Release Watch".
Release Watch is the first-ever, personalized, real-time service that alerts users with up to the minute sneaker news and releases. Subscribers can follow individual shoes they are looking to grab, and will receive breaking news and verified on-sale information sent to them via email so you'll never miss another drop again.
"Sneakerheads are an obsessed breed whose tastes are very clear indicator of what silhouettes and colorways will work commercially on a broader scale in the following season," said Nick Schonberger, Deputy Editor of Complex Media. "By providing Release Watch, we're able to satisfy their needs in comprehensively tracking news about shoes and giving them the step up they need to secure limited releases. "
Head over to Sole Collector today to subscribe to Release Watch and stay in the loop.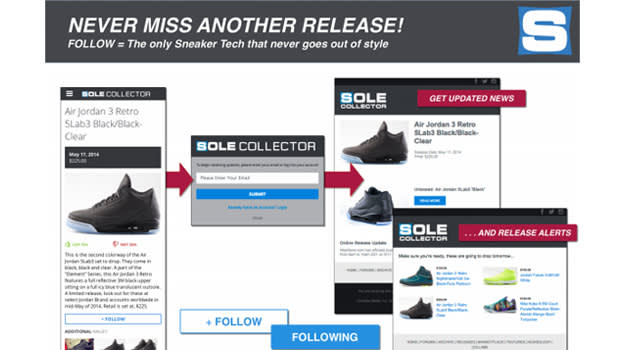 [SC]
RELATED: FIRST GLANCE: The Air Jordan Melo M10
RELATED: Everything You Need To Know About the Jordan Melo M8 Advance