After much anticiapation and speculation, the Nike LeBron 12 finally has a release date scheduled for October.
Multiple pictures and video of the LeBron 12 have surfaced over the past few weeks, and although were still waiting to hear on the exact tech details, it looks like the shoe is comprised of a composite mesh upper, with Dynamic Flywire, heel straps and an all new Zoom cushioning unit. It appears Nike set out to debunk all the problems with the LeBron 11, so the King could actually rock this year's version on court, which he only did about 10 times with last year's model.
The first colorway comes in a Turquoise/Grey-Crimson-Black combo which we've detailed numerous times before, at just about every angle concieveable. The next colorway, which has yet to surface, is rumored to be a more Heat based look, made up of Red/White-Crimson-Black and has been dubbed the "Lion Heart".
The first shoe is scheduled to drop Saturday, October 11, with the "Lion Heart" following closely behind with a October 31 date scheduled.
As of now the retail price is set at $200, which is right on par with the LeBron 11, but you never really know with Nike when it comes to prices so all that could change when the official launch comes down sometime before the NBA season tips off.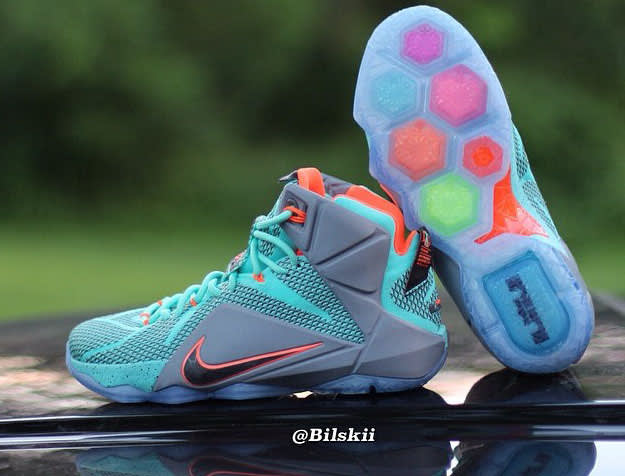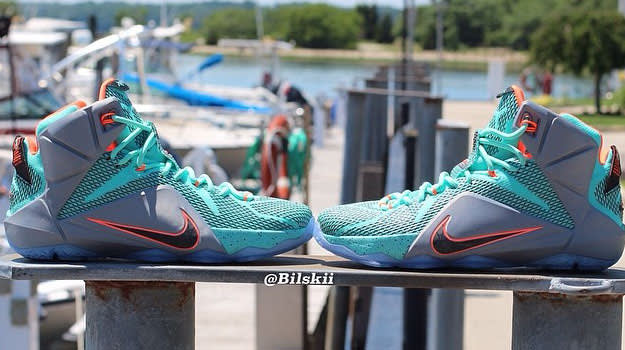 [SC]
RELATED: Here's A Closer Look At The LeBron 12
RELATED: Another Look At the Nike LeBron 12