The market for running shoes is arguably the fastest growing segment in the footwear division today. Brands are constantly coming up with new technologies and innovations to incorporate rendering runner's lighter and more flexible than ever before. The world's largest sports medicine organization, the American College of Sports Medicine (ACSM) offers up their research on what makes for a good running shoe, and how minimalist footwear is here for the long term.
The ACSM crowned VIVOBAREFOOT, a leader in the industry due to their Pure Barefoot Technology, which uses the features your foot already has, and allows them to do work naturally. Since the brands inception in 2003, VIVOBAREFOOT has utilized the minimalist footwear approach many companies are taking today, and allows your foot to use it's natural biomechanics and anatomy to do the work itself.
"At VIVOBAREFOOT, we recommend you walk in minimalist footwear before you run to help your feet regain their natural range of movement and most importantly, re-engage the big toe. It is only a matter of time before this ancient wisdom of natural movement becomes normal again. The ACSM article is an important marker in the journey back to natural movement and absolutely a step in the right direction," says VIVOBAREFOOT managing director, Galahad Clark.
Included in the article, ACSM outlined some characteristics that make a good running shoe, such as:
Minimal heel-to-toe drop: shoes with no drop or a small drop 6mm or less are the best choice for allowing the foot to normally support loading during each gait cycle.
Neutral: This means the shoe does not contain motion control or stability components. These extra components interfere with normal foot motion during weight bearing.
Light in weight: (10 ounces or less for a men's size 9; 8 ounces or less for women's size 8)
Be sure the shoe has a wide toe box. You should be able to wiggle your toes easily. Narrow toe boxes do not permit the normal splay or spread of the foot bones during running.
Check out the ACSM website for more information on their study, and don't sleep on VIVOBAREFOOT as it could be the runner you've been looking for.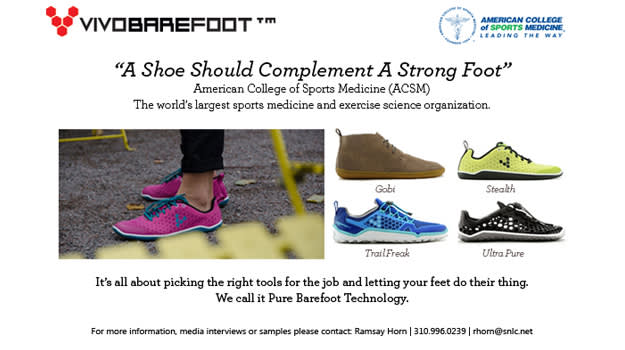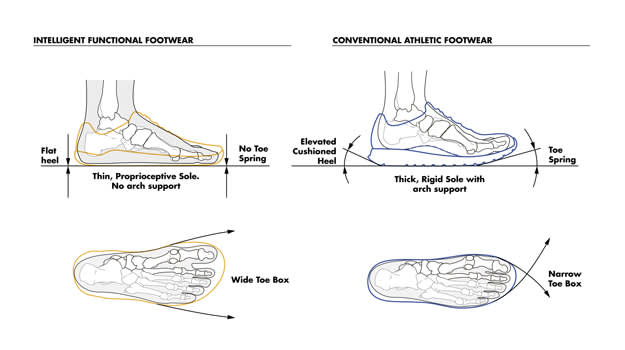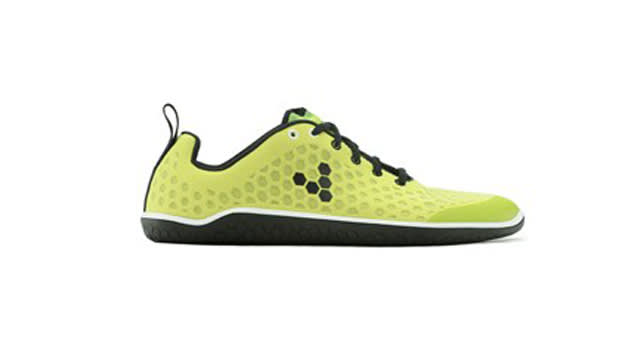 [VivoBarefoot]
RELATED: Vivobarefoot Introduces S/S '14 Collection
RELATED: Archos Annouces Activity Tracker, Smart Scale for 2014