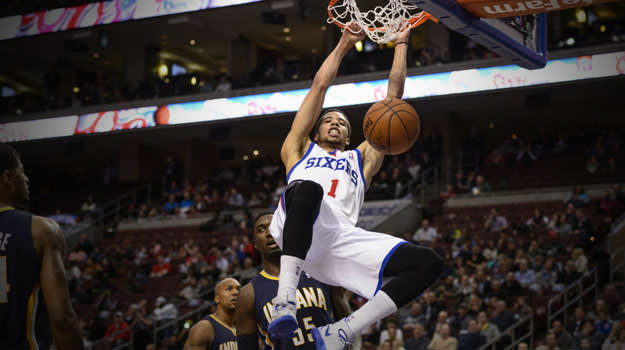 Yesterday, Michael Carter-Williams was named the 2013-14 NBA Rookie of the Year. Although the 76ers were utterly deplorable during stretches of the season, MCW powered through and managed to make the biggest impact among his rookie class. The 22-year-old point guard stood strong throughout the rough and tumble year, averaging 16.7 points, 6.2 rebounds, 6.3 assists, and 1.9 steals per game.
Over the last decade, many ROTY winners have gone on to even bigger and better things. Kevin Durant (2013-14's MVP), Derrick Rose, and Chris Paul are just a few of the players that claimed the prestigious Eddie Gottlieb Trophy in the last ten years. Another thing these three have in common is that they're now deep into their own signature shoe lines. However, as newcomers, were laced up in in-line models from some of the top hoops brands. Reminisce on rookie glory and take a look back at their earliest kicks with The Sneakers Worn by the Last 10 NBA ROTY Winners.
Riley Jones is a freelance writer from Charlottesville, VA and a contributor to Sneaker Report. With an unshakable affinity for basketball and all things pop culture, he can be found on Twitter @rchrstphr.
RELATED: 10 NBA Players That Deserve a Signature Shoe
RELATED: The Sneakers Worn by the Last 10 NBA Sixth Man Winners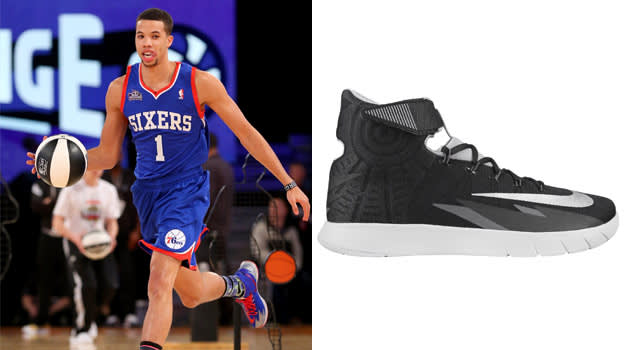 No. 1 – Michael Carter-Williams (Philadelphia 76ers)
Year: 2013-14
Sneaker: Nike Zoom HyperRev
Stats: 16.7 ppg, 6.3 apg, 6.2 rpg, 1.9 spg
Throughout the regular season, Michael Carter-Williams impressed on the court in a handful of Nike shoes, most notably the Zoom HyperRev. The former Syracuse standout was also spotted in models like the Lunar Hypergamer Low, but it didn't take long for him to find a favorite in the HyperRev. With responsive Zoom Air tooling and plenty of lockdown support, the HyperRev was perfectly suited for MCW's do-it-all style. Expect even bigger things from this kid in the not-so-distant future.
Ball like the Rookie of the Year and pick up the Nike Zoom HyperRev for $120.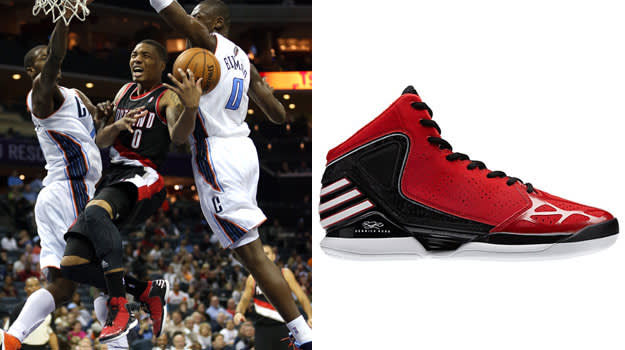 No. 2 – Damian Lillard (Portland Trail Blazers)
Year: 2012-13
Sneaker: adidas Rose 773
Stats: 19 ppg, 6.5 apg
The Portland Trail Blazers dominated last season, and point guard Damian Lillard was a big factor in their success. Just one year after his ROTY win, the speedy leader has truly come into his own. During the 2012-13 regular season, he averaged 19 points and 6.5 assists per game in the adidas Rose 773, becoming just the fourth player in history to win the Rookie of the Year award unanimously. With star caliber numbers and a knack for delivering in the clutch, there's no wonder why he's been filling in for D Rose as the face of the Three Stripes.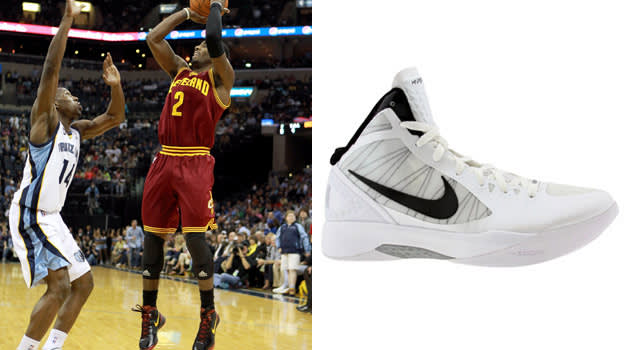 No. 3 – Kyrie Irving (Cleveland Cavaliers)
Year: 2011-12
Sneaker: Nike Hyperdunk 2011
Stats: 18.5 ppg, 5.4 apg
We think Kyrie Irving deserves his own signature shoe, do you? The Australian born standout has been on a tear since being drafted first overall in 2011, doing everything in his power to make Cleveland a legit contender. While only time will tell if he'll be able to fill the MVP-sized shoes left by LeBron James, he's well on his way. During 2011-12, Irving wore the Nike Hyperdunk 2011 on his way to living up to the hype that comes along with being the #1 draft pick.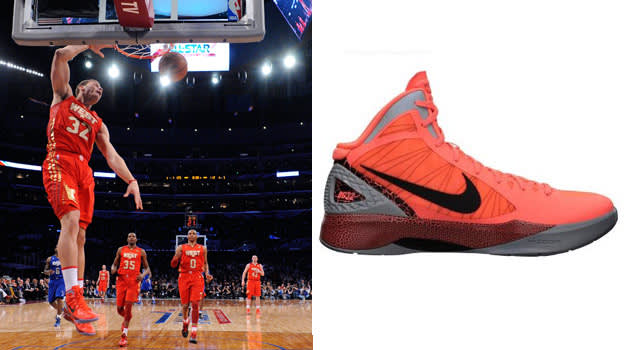 No. 4 – Blake Griffin (Los Angeles Clippers)
Year: 2010-11
Sneaker: Nike Hyperdunk 2011
Stats: 22.5 ppg, 12.1 rpg
Blake Griffin's Rookie of the Year journey was somewhat of an unusual one. Drafted in 2009, Griffin missed the entire '09-10 season due to injury, meaning in 2010-11 he was technically considered a rookie. And if his first year injury raised any doubts, they were silenced just as quickly. He averaged a double-double each game and was voted unanimously as the Rookie of the Year, becoming only the third player in history after Ralph Sampson and David Robinson to earn the honors. Even better? Blake's monstrous run was commemorated with a sick earthquake-inspired rendition of the Hyperdunk 2011.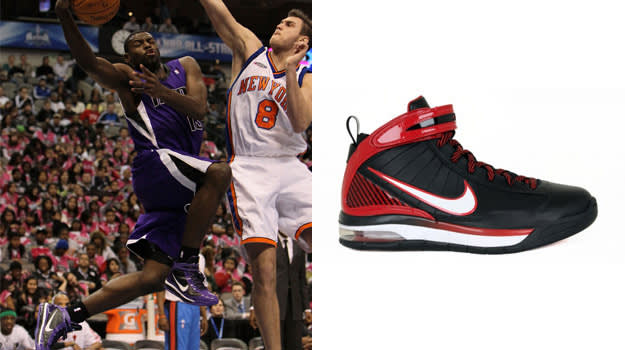 No. 5 – Tyreke Evans (Sacramento Kings)
Year: 2009-10
Sneaker: Nike Air Max Rise
Stats: 20.1 ppg, 5.8 apg, 5.3 rpg
Currently a member of the New Orleans Pelicans, Tyreke Evans spent his first four seasons with the Sacramento Kings. Although his numbers have been on a decline in recent years, Evans was a force during '09-10 in the Nike Air Max Rise. With a carbon fiber heel plate, sturdy Air Max cushioning, and an ankle lockdown strap, this model helped the small forward excel on both ends of the hardwood.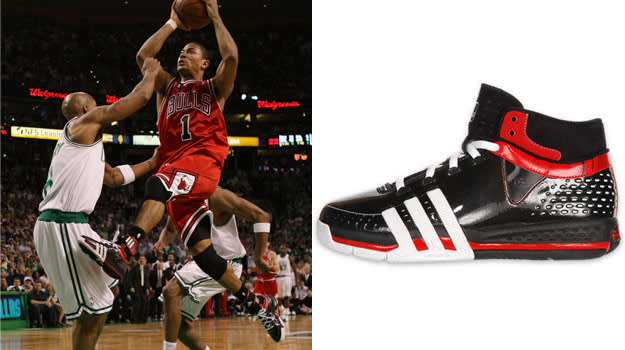 No. 6 – Derrick Rose (Chicago Bulls)
Year: 2008-09
Sneaker: adidas TS Creator
Stats: 16.8 ppg, 6.3 apg
D Rose fans have had it hard over the last couple years, but they'll be in for a treat if he's able to return to his old ways. During his rookie season, the Memphis alum made an impact out of the gate as he became the first Chicago player to drop 10+ points in his first 10 games since Michael Jordan did it himself over two decades prior. And although the adidas D Rose line had yet to launch, he donned the Three Stripes proudly in the TS Creator, a model also worn by players like Leandro Barbosa and Chauncey Biullups.
No. 7 – Kevin Durant (Seattle Supersonics)
Year: 2007-08
Sneaker: Nike Air Flight Skool
Stats: 20.3 ppg, 4.4 rpg
Years before the launch of his wildly popular signature line with Nike, and even longer before his much-deserved MVP win, Kevin Durant was a member of the Seattle Supersonics for their final season before becoming the Oklahoma City Thunder. From the jump, it was clear KD was going to be something special. As a Supersonic, he averaged over 20 points per game, putting him into the ranks of LeBron and Melo as the only teenaged players to average 20+. He got it all done in the Nike Air Flight Skool, a model built for high-flying comfort that hit shelves in PE form as a limited Quickstrike release.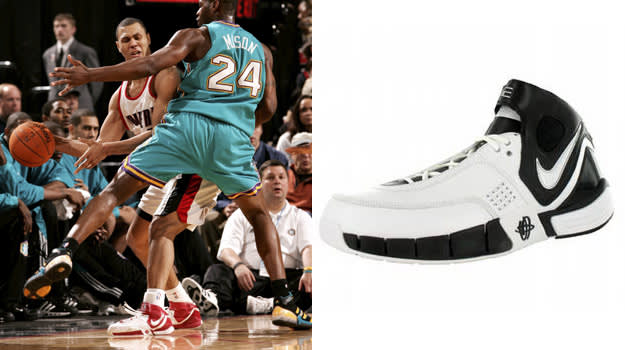 No. 8 – Brandon Roy (Portland Trail Blazers)
Year: 2006-07
Sneaker: Nike Zoom Huarache Elite II
Stats: 16.8 ppg, 4.4 rpg, 4.0 apg
Remember Brandon Roy? The three-time NBA All-Star showed plenty of potential, but things took a bad turn from the get go as he began to have knee issues. Roy managed to fight through the pain early on, earning the '06-07 Rookie of the Year honors, but more injuries and further aggravation to his knee caused a promising career to be cut short. Nevertheless, his rookie season was an impressive one, and he got it all done in the Nike Zoom Huarache Elite II.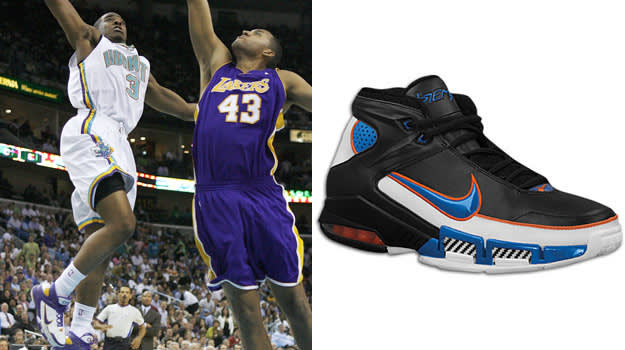 No. 9 – Chris Paul (New Orleans Hornets)
Year: 2005-06
Sneaker: Nike Air Uptempo Pro
Stats: 16.1 ppg, 7.8 apg, 5.1 rpg
Over the last 9 years, Chris Paul has established himself as THE elite point guard of the NBA. Seemingly able to do it all on the court, the scrappy PG evokes memories of Gary Payton's defense, John Stockton's playmaking, and Magic Johnson's offense. Okay, we'll admit that some of those may be taking it a little too far, but the point is, the man is nice. Before his Jordan Brand endorsement, CP3 was a Swoosh guy and wore the Air Uptempo Pro during his first season. His strong numbers gave him an easy Rookie of the Year win over Deron Williams, and before long his name was a constant fixture in MVP discussions.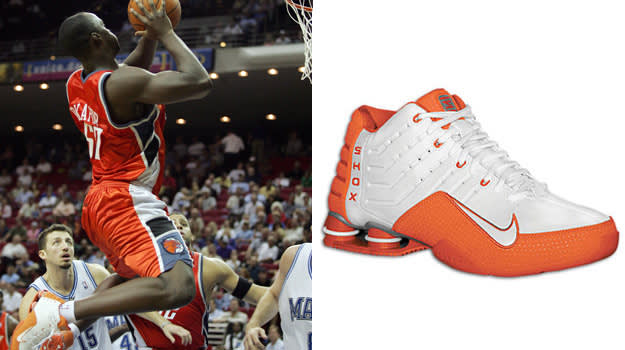 No. 10 – Emeka Okafor (Charlotte Bobcats)
Year: 2004-05
Sneaker: Nike Shox Elevate Mid
Stats: 16.1 ppg, 7.8 apg, 5.1 rpg
Although Emeka Okafor's minutes and numbers have dwindled over the years , he remains one of the league's fiercest in the paint. Known for his unforgiving defense, Okafor locked down the 2005 Rookie of the Year while wearing the Nike Shox Elevate. Featuring the brand's buzzed-about yet short-lived Shox cushioning, the Shox Elevate was one of the dozens of the brand's basketball models that used the spring-like tooling. Although big men are more often associated with a firmer, more protective cushioning such as Air Max, the Shox Elevate got the job done for Okafor as he averaged close to a double-double in his rookie season.
Riley Jones is a freelance writer from Charlottesville, VA and a contributor to Sneaker Report. With an unshakable affinity for basketball and all things pop culture, he can be found on Twitter @rchrstphr.
RELATED: 10 NBA Players That Deserve a Signature Shoe
RELATED: The Sneakers Worn by the Last 10 NBA Sixth Man Winners