The Air Jordan 1. The Converse Chuck Taylor. The adidas Crazy 8. When it comes to signature basketball kicks, the classics tend to stick with us. These aren't just shoes; they're iconic pieces of gear that were worn for triumphant wins, milestone accomplishments, and history-defining moments. The nostalgia and memories tied to these shoes won't fade away anytime soon, but what about some of the lesser remembered models?
Did you know Karl Malone had his own LA Gears? Remember Gary Payton's post-Glove signature styles? From short-lived endorsements to downright wacky designs, there are a number of great signature basketball releases that have been neglected through the years. As of late, we've seen brands like Ewing Athletics, Reebok, and Converse bring back some of their archived hoops sneakers, and it was recently announced that Etonic will be joining the fun with an upcoming re-launch of Hakeem Olajuwon's 1984 model. Still, there's a ton of great (and some not-so-great) designs out there that deserve to be acknowledged at the very least.
Whether they've yet to retro or were produced by a now-defunct company, many of these models giving new meaning to the phrase digging in the vault. Take a trip down memory lane and see if any of these 10 Forgotten Signature Basketball Models look familiar.
Riley Jones is a freelance writer from Charlottesville, VA and a contributor to Sneaker Report. With an unshakable affinity for basketball and all things pop culture, he can be found on Twitter @rchrstphr.
RELATED:10 NBA Players That Deserve a Signature Shoe
RELATED: 25 NFL Players That Deserve a Signature Training Shoe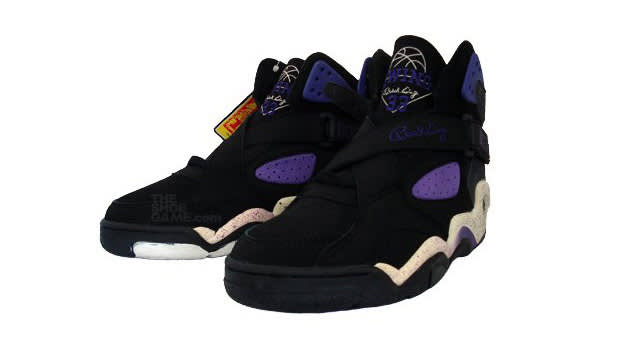 No. 10 – Ewing Rogue 2
Player: Patrick Ewing
Year:  1992
In 2012, Ewing Athletics was one of the first brands to really embrace the retro hoops comeback. Since their return, the brand has been dedicated to producing accurate re-releases of their most popular '90s styles, including the 33 Hi, Guard, and Focus. Believe it or not, there's still plenty of unearthed greatness at their fingertips. 1994's Rogue 2 is a perfect example, with its Air Jordan VII-like lockdown straps and neoprene inner bootie. Although details are sketchy, this black/purple colorway was said to be a Euro-only release, but there's no doubt that it'd be a hit in the States in 2014.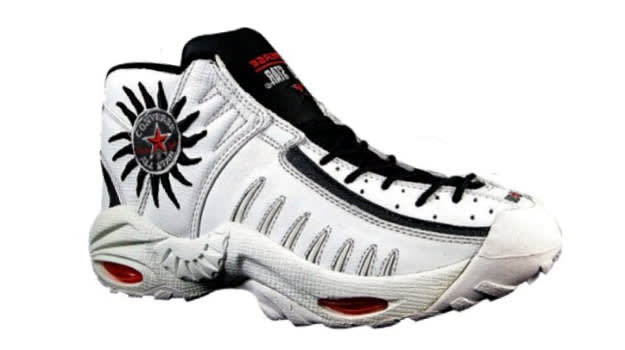 No. 9 – Converse All-Star Rodman
Player: Dennis Rodman
Year: 1997
Bad as he wanna be. With a reputation that could amount to a nightmare for any PR team, Dennis Rodman left the Swoosh for Converse in the mid-'90s, and the result was a sneaker as bold and stylish as the man himself. The only thing that the Converse All-Star Rodman had in common with the original All-Star model was its logo badge, accented by a tattoo-inspired tribal sun on the Worm's version.
No. 8 – Nike Zoom GP II
Player: Gary Payton
Year: 2000
Last year, Nike Sportswear fulfilled the wishes of many hoops fans when they brought back the Zoom Flight The Glove. That model, along with the Zoom GP1, featured a lockdown sheath which covered the laces, but the GP II let them loose. Released during the height of Nike's ultra-innovative Alpha Project, the Zoom GP II is one of those sneakers that just looks quick. Its one-piece upper is a design cue that has become commonplace in today's sneakers, and we'd love to see these back on shelves.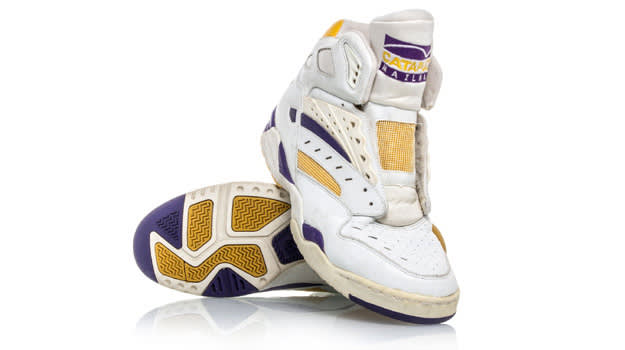 No. 7 – LA Gear Catapult
Player: Karl Malone
Year: 1991
LA Gear sneakers are most often associated with the light-up LED styles of our youth. Don't get it twisted though, because they were making some serious noise on the hardwood as well. Karl Malone's Catapult model is the perfect example, with its supportive high cut and Power Feedback System, which was like an enhanced version of Nike Air. Unfortunately, competition from industry titans like Nike, Reebok, and adidas spelled the demise of LA Gear's hoops line.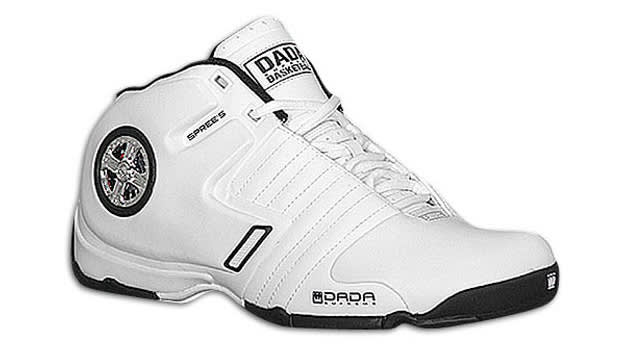 No. 6 – Dada Spree
Player: Latrell Sprewell
Year: 2004
Latrell Sprewell was one of the most talked about players of the late '90s, but usually for all the wrong reasons. From choking out his coach to a handful of off-court antics, Sprewell was also synonymous with the spinning rims of luxury vehicles. The trend came and went within the blink of an eye, but not before Dada did what any sensible sneaker company would do and made a pair of shoes complete with "rims" that keep spinning when you stop running. Yeah, some things are better left forgotten.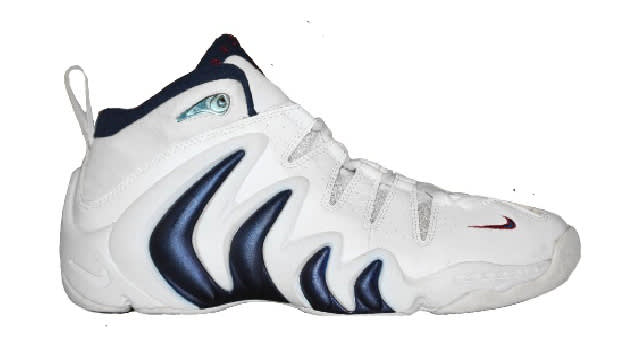 No. 5 – Nike Zoom Swoopes
Player: Sheryl Swoopes
Year: 1997
Many fans probably remember Sheryl Swoopes' first signature model, the stability strap equipped Air Swoopes from 1996. Named by Nike as one of their most iconic basketball shoes, the Air Swoopes was groundbreaking in more ways than one. However, the Zoom Swoopes model is often overlooked and we can't begin to figure out why. With a unique paw-like stability shank, plenty of Zoom Air cushioning, and a sleek shape, these would look right at home on a WNBA court in 2014.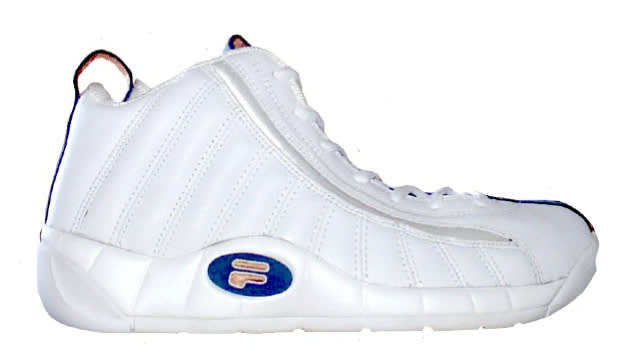 No. 4 – Fila Webber
Player: Chris Webber
Year: 1997
Chris Webber's most well-known signature models include his beefy Nike Air Max variations and, to a lesser extent, the Dada CDubbz. But did you know Webber also had a brief run with Fila? The Italian brand were already on a roll with rising stars like Grant Hill and Jerry Stackhouse on their roster, and Webber's rival helped to establish them as a serious hardwood contender. Webber summed up his move from Nike to Fila by explaining, "One problem I had was that they were selling shoes to kids for $130 and [kids] in the neighborhood were robbing each other and stealing shoes. So I had a problem with that, and I had to voice it."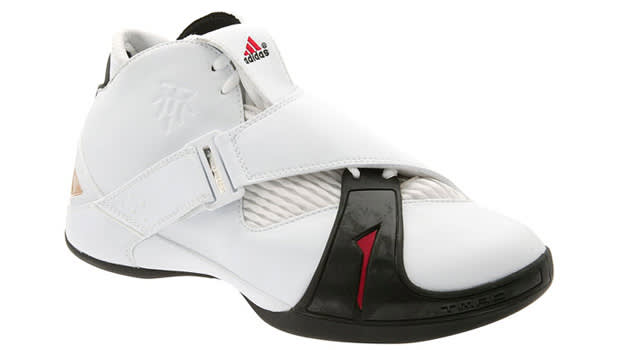 No. 3 – adidas T-Mac 5
Player: Tracy McGrady
Year: 2005
Although he never really broke out as the superstar player some of us thought he would, Tracy McGrady was one of the most exciting to watch during the 2000s, and his signature line with adidas was truly epic. The T-Mac 1 and T-Mac 3 models have already made their welcome return, but the T-Mac 5 hasn't been seen for almost a decade. The T-Mac 5 featured lockdown straps that wrapped the entire foot, and its shape was more akin to a runner than a traditional basketball shoe.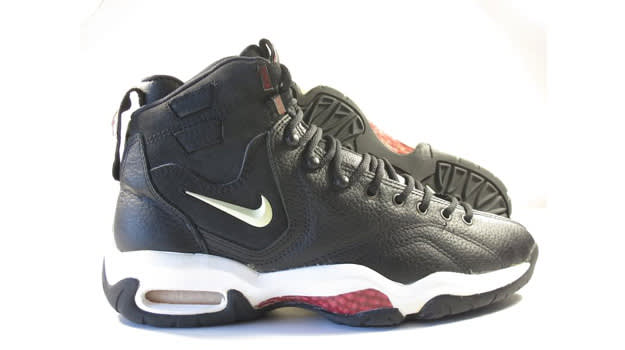 No. 2 – Nike Air Alonzo
Player: Alonzo Mourning
Year: 1997
During the '90s, the NBA was a big man's game. Guys like David Robinson, Hakeem Olajuwon, Shaquille O'Neal, and Patrick Ewing were some of the most feared players in the league. And there's no forgetting "Zo." Alonzo Mourning was known for his ferocious defense and last month, he was inducted into the Hall of Fame. One thing you won't find next to his section in the Hall of Fame is a pair of the Nike Air Alonzos, because they've been discontinued for over 15 years. With a tough, full-grain leather build and plenty of ankle support, the Air Alonzo may have looked like a boot to some, but it was a center's dream.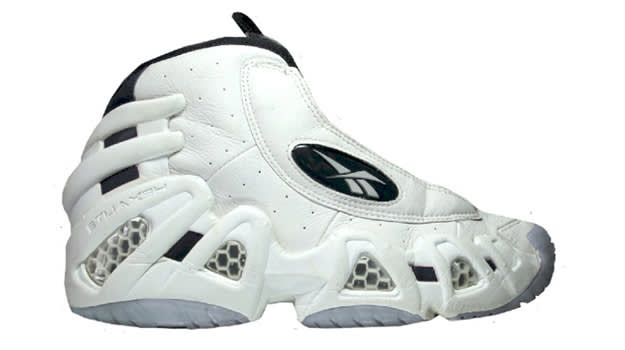 No. 1 – Reebok Preacher Mid
Player: Shaquille O'Neal
Year: 1996
Imagine the iconic "honeycomb" Hexalite sections of Allen Iverson's Reebok Question model on steroids. That's exactly what Shaquille O'Neals 1996 Reebok Preacher looked like, with its beefy, amped up Hexalite sections to cushion one of the game's fiercest big men. The Preacher was famously worn by Shaq Diesel as a member of the 1996 US Men's Olympic team and also shared a lot in common with the subsequent Dunkmob model. Reebok's been doing a a great job with their Classics program, but we'd like to see them switch up the models a bit instead of just rehashing the same shoes in different colorways.