The U.S. mens hockey team's run for the gold is over, after Canada defeated the Americans by a score of 1-0 in the semi-finals Friday afternoon.
Both outfitted in Nike jerseys, the two neighboring rivals engaged in a fast-paced frenetic game from the start. Jamie Benn of the Dallas Stars scored the lone goal of the contest early on in the second period off of a Jay Bouwmeester deflection and that would be all the Canadians needed to advance to the gold medal game against Sweden. Superb defense and world-class goaltending would dominate the rest of the way. Canada now heads into Sunday's matchup with Sweden looking to defend its gold medal from the 2010 Vancouver Games.
The victory was Canada's second win over their neighbors to the south in 24 hours, as the Canadian women bested the USA women in heartbreaking fashion with an overtime goal for the gold medal yesterday afternoon. The American men will now play Finland for a chance at the bronze medal on Saturday.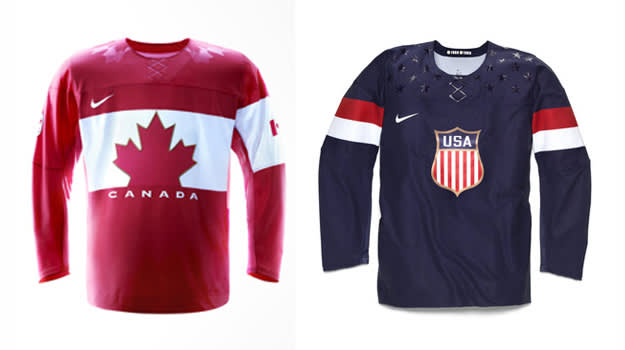 RELATED: Who Wore It Better? Breaking Down the 2014 Men's Hockey Jerseys
RELATED: Sochi vs. Vancouer: Which Winter Olympics Had The Best Gear?