Last year, Steph Curry lit up the Garden for one of the most memorable performances in recent history. Curry went off for 54 points, including shooting an unheard of 11-13 from 3-point range. His eruption came in vain though, as the Knicks bested the Warriors that night 109-105, but that didn't diminish his accomplishment in the least. The sharpshooting Point Guard also broke the all time record for three-pointers made in a season splashing in 272, breaking the mark previously held by Ray Allen in the 2005-2006 season. To celebrate Steph Curry's All Star year, record breaking performance, and his highly anticipated return to MSG, Under Armour wanted to do something special.
The UA Anatomix Spawn "The Zone" PE, were developed for just the occasion. Featuring Warriors Blue and gold, the sneaker is the first PE in team colors to hit retail this year. On the shoe, Under Armour added some of Steph's career numbers and accolades that add to the overall design and look. The tongue includes Steph's number 30 and his initials, SC, under it.
Act quickly, as the PE will be available in limited quantities at UA.com and Eastbay.com, beginning tomorrow at 12pm ET for $119.99. If you happen to live in New York, the sneakers will also be available at the Foot Locker on 34th St.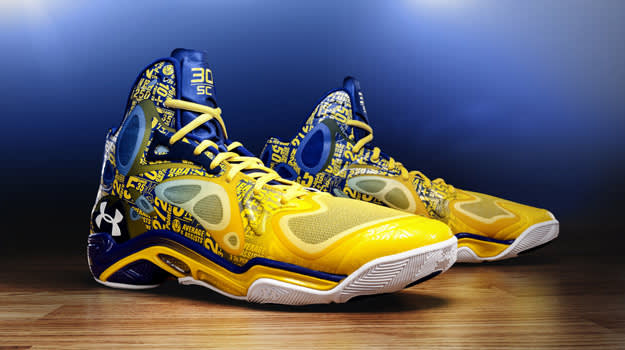 [UA]
RELATED: INTERVIEW: Breaking Down The UA Anatomix Spawn With Under Armour Designer Ross Klein
RELATED: NBA Star Curry Trades Nikes In for Under Armour