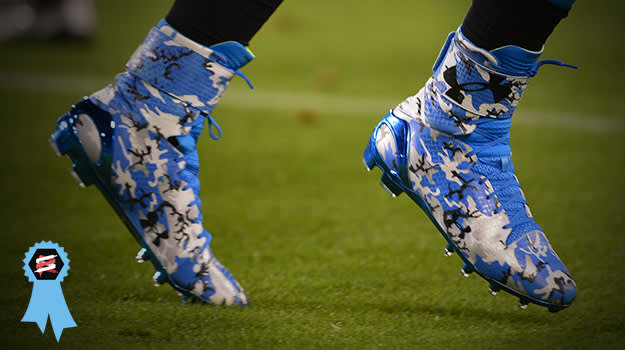 Monday Night Football was great last night featuring a barn burner matchup between the Carolina Panthers and New England Patriots. The Panthers were red-hot with five wins in a row and what team would be better than the New England Patriots to offer up some resistance to the streaking Panthers. The game went down to the wire, but Cam Newton prevailed over Tom Brady by throwing three touchdowns as Carolina won a close 24-20 game to extend Carolina's winning streak to seven games.
There were a few big games in the NBA last night as well. Russell Westbrook helped lead the Thunder to a comeback from a double digit deficit against the Denver Nuggets. Westbrook dropped 30 points in the 115-113 victory. Wesley Matthews also had a solid game with 24 points, as Portland managed to win their seventh game in a row in the young NBA season. These are the Shoes That Won Last Night.
Rafael Canton is a freelance writer from Queens, NY and contributor to Sneaker Report. Anytime there is a conversation about the NBA, music, or nutella, he can be found in the thick of the discussion. He can be found on Twitter @RafelitoC7.
RELATED: The Shoes That Won Last Night: Ben Roethlisberger Leads Steelers to Rare Win, Belmont upsets North Carolina Tar Heels
RELATED: The Shoes That Won Last Night: Florida State, Ohio State, and Alabama Remain Undefeated, Kyrie Irving Slays Wizards with 41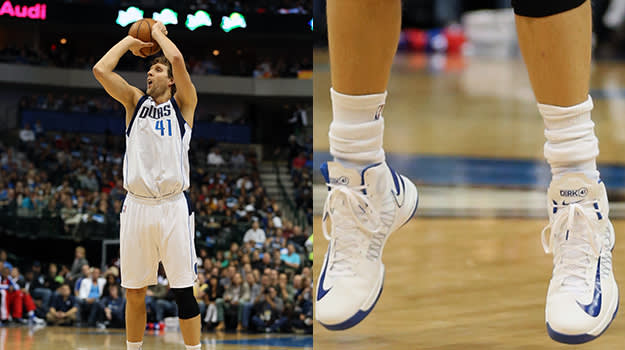 Shoe: Nike Hyperdunk 2012 PE
Player: Dirk Nowitzki
Game: Dallas Mavericks vs. Philadelphia 76ers
You can't teach an old dog new tricks, but that's perfectly fine for Dirk Nowitzki. The Mavericks power forward and future hall of famer is always going to operate well out of the pick and roll and finish post ups and isolations regularly. Nowitzki came through again in Dallas' 97-94 victory over the Philadelphia 76ers. Nowitzki finished with 20 points, 10 rebounds, and 3 assists in the win doing what he does best which is control the offensive flow of the game for Dallas as they took over the game in the second half.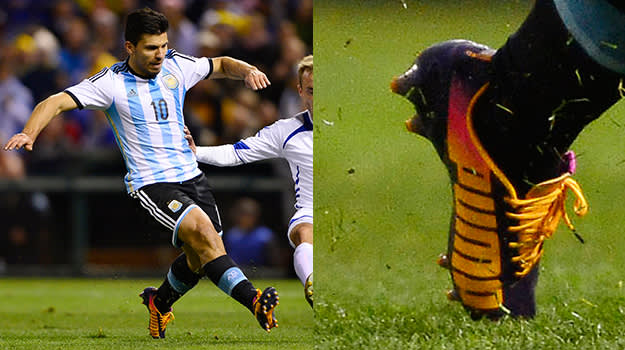 Shoe: Puma evoSPEED 3.2 FG
Player: Sergio Agüero
Game: Argentina vs. Bosnia-Herzegovina
In just a friendly matchup, Sergio Agüero dominated with 2 goals for Argentina in their victory over Bosnia-Herzegovina yesterday. Agüero scored on a rebound in the 39' after Bosnia goaltender Asmir Begovic charged out to stop teammate Rodrigo Palacio and then collided with the shooter. The Argentina forward then caught a stretch pass from Maximiliano Rodriguez in stride to extend the lead for Argentina to two at 66'.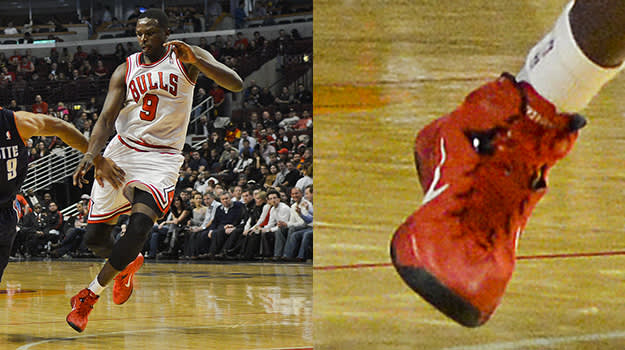 Shoe: Nike Hyper Quickness
Player: Luol Deng
Game: Chicago Bulls vs. Charlotte Bobcats
The Chicago Bulls were able to squeeze out a tough 86-81 victory over the Charlotte Bobcats. The key to that game was the play of forward Luol Deng. The two-time All-Star was able to get his shot going by scoring 21 points and did a nice job on the boards with 8 rebounds. Deng knocked down a key three late to extend the Bulls lead to four points making the game strictly a free throw contest and securing Chicago's fifth straight win in the early part of the NBA season.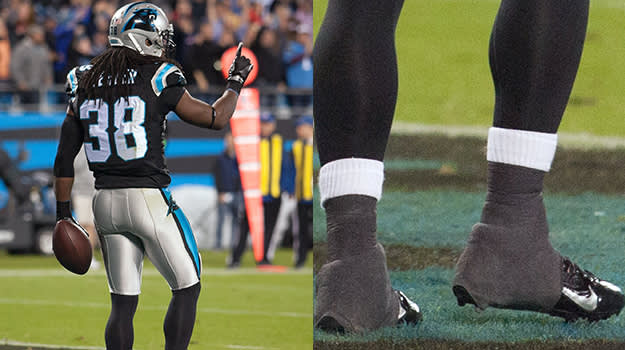 Shoe: Nike Alpha Pro TD
Player: Robert Lester
Game: Carolina Panthers vs. New England Patriots
With the game on the line, Robert Lester made a big play to save his team and preserve a victory. The play came, despite a quick hiccup that involved the referee tossing a flag for a pass interference call but luckily that was rescinded. At the end of the day, Carolina Panthers defensive back Robert Lester picked off Tom Brady's pass in the end zone securing a 24-20 victory for the Panthers an extending their record to 7-3 after the win.
Shoe: Nike Zoom KD VI
Player: Keith Appling
Game: Michigan State Spartans vs. Portland Pilots
Michigan State is ranked number one in the nation for the first time in over twelve years and they owe a ton of their success to guard Keith Appling. The Michigan State Senior continued his strong start to the college basketball season by scoring 25 points and dishing for 7 assists in the Spartans' relatively easy 82-67 victory over the Portland Pilots. Appling is building quite the resume this season in the Zoom KD VI and has stepped up as the overall success of Michigan State is reaching new heights.
$130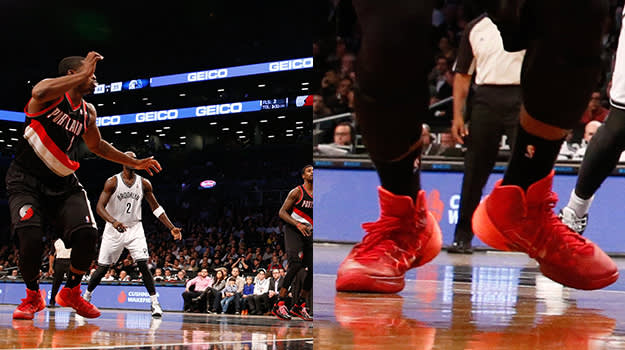 Shoe: Nike Hyperdunk 2013
Player: Wesley Matthews
Game: Portland Trail Blazers vs. Brooklyn Nets
Portland's starting lineup is a tough squad to beat in the NBA. The Blazers had their seventh win in a row as they defeated the Brooklyn Nets 108-98. The Blazers got a strong performance from starting shooting guard Wesley Matthews in the double digit victory. Matthews scored 24 points while knocking down 5 three-pointers and collecting rebounds. He's proved to be a solid long range option shooting 51 percent from three for the Blazers and contributes to their great spacing on the floor that has them on fire from the arc.
Shoe: Nike LeBron X PE
Player: Jabari Parker
Game: Duke Blue Devils vs. UNC Asheville Bull Dogs
Duke is one of the top teams in college basketball and one of the keys for the entire season is freshman forward Jabari Parker. Parker did a lot in a short amount of time with 21 points, 10 rebounds, and 4 assists for the Blue Devils in their 91-55 rout of the UNC Asheville Bull Dogs. The beautiful thing was that Parker was able to do all of that in just 19 minutes of action showing how he can affect a game in many ways just with his presence.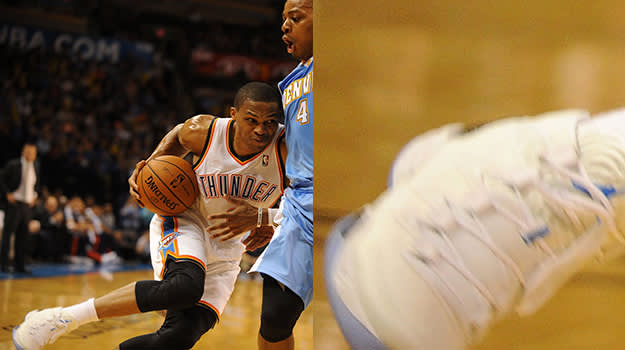 Shoe: Jordan XX8 SE
Player: Russell Westbrook
Game: Oklahoma City Thunder vs. Denver Nuggets
The Oklahoma City Thunder are entering a crucial part of their NBA season schedule  as they have a six-game homestand which they should take advantage of. The Thunder got off to a rough start against the Denver Nuggets last night by falling behind by double digits. Thank the great doctors in the NBA that they have Russell Westbrook back from knee surgery. Westbrook brought his team back as they were able to pull off a close 115-113 win over the Nuggets. Westbrook had 30 points, 12 rebounds, and 7 assists in the win showing how he can affect an NBA game in many different ways on the regular.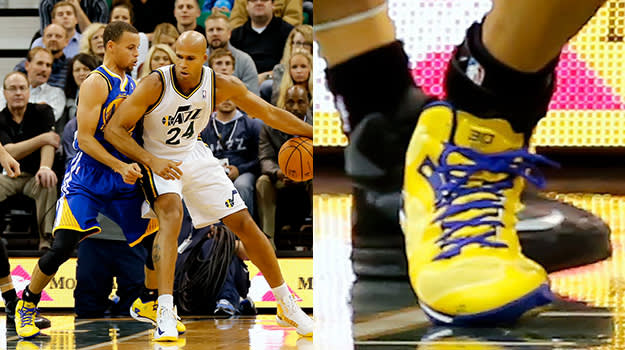 Shoe: Under Armour Micro G® Anatomix Spawn PE
Player: Stephen Curry
Game: Golden State Warriors vs. Utah Jazz
It doesn;t matter what day it is. What opponent is on the schedule. Steph Curry is just going to light up NBA teams on repeat. The Golden State Warriors lit up the hapless Utah Jazz 98-87 with Curry leading the charge. The Warriors guard and son of former NBA player Dell Curry had 22 points, 6 rebounds, 8 assists, and 3 steals in Golden State's victory over Utah. He of course was able to knock down 4 triples all while wearing the  Under Armour Micro G Anatomix Spawn.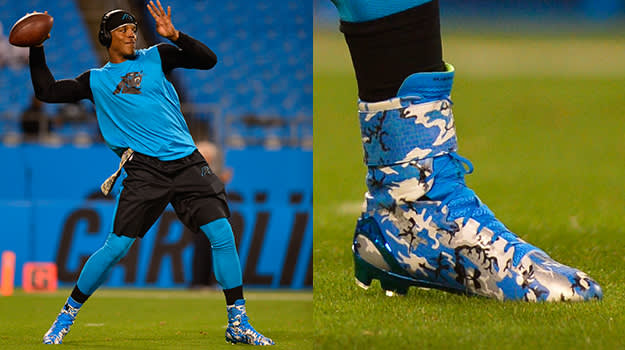 Shoe: Under Armour Cam Highlight Camo PE
Player: Cam Newton
Game: Carolina Panthers vs. New England Patriots
When it comes to NFL players who have bounced back, Cam Newton has to be at the top of the list. Newton had been much maligned over the past year for his lack of wins and his attitude on and off the field as well. Newton has shined over the past couple of months as the Panthers have won six games in a row this season. The Panthers continued their winning ways by defeating a tough competitor in the New England Patriots on Monday Night Football 24-20. Newton was a big part of the victory with 209 passing yards and 3 touchdowns as Newton and the Panthers escaped a tough matchup. The best part was that Newton did it in style wearing a unique Camo PE of his signature Under Armour Cam Highlight cleats.
Rafael Canton is a freelance writer from Queens, NY and contributor to Sneaker Report. Anytime there is a conversation about the NBA, music, or nutella, he can be found in the thick of the discussion. He can be found on Twitter @RafelitoC7.
RELATED: The Shoes That Won Last Night: Ben Roethlisberger Leads Steelers to Rare Win, Belmont upsets North Carolina Tar Heels
RELATED: The Shoes That Won Last Night: Florida State, Ohio State, and Alabama Remain Undefeated, Kyrie Irving Slays Wizards with 41