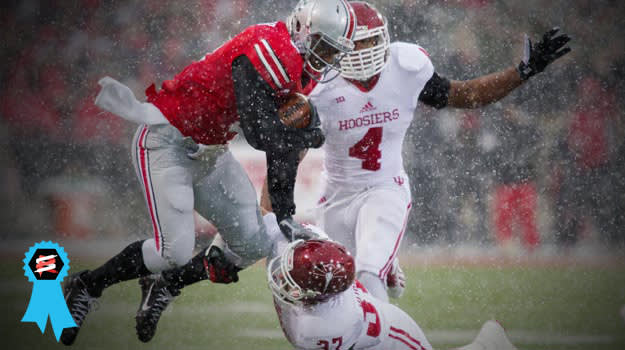 There's blowouts, and then there's the sort of games that happened yesterday in college football. For starters, No. 11 South Carolina piled on the points to drop Coastal Carolina 70-10. From Tuscaloosa, No. 1 Alabama remained undefeated at 11-0 as they shut out Chattanooga 49-0. But the day's most one-sided game was between Idaho and Florida State, where the Seminoles scored touchdown after touchdown for a 80-14 win.
Along with these decisive wins from some of the nation's top teams, there was a stunning upset in Tuscon as unranked Arizona dropped Oregon 42-16 on the back of a stellar day from junior running back Ka'Deem Carey, who found the end zone on four occasions. The huge Pac-12 upset puts the Ducks at 9-2 on the season.
In college hoops action, the No. 1 ranked Michigan State Spartans kept the wheels in motion with a 87-76 win over Oklahoma, while No. 24 UNC dispatched Richmond 82-72.
In Oakland, the Portland Trail Blazers continued their run as the most surprising success of the 2013-14 NBA season with their 10th straight win after dropping Golden Sate 113-101. LaMarcus Alrdidge was a force to be reckoned with, dropping 30 points, 21 rebounds, 3 assists, 3 steals, and 3 blocks on the Warriors.
Riley Jones is a freelance writer from Charlottesville, VA and a contributor to Sneaker Report. With an unshakable affinity for basketball and all things '90s, he can be found on Twitter @rchrstphr.
RELATED: The Shoes That Won Last Night: Close Calls in College Hoops, Kevin Love Continues to Dominate in 361 Degrees PE
RELATED: The Shoes That Won Last Night: Drew Brees Powers Saints to Victory, Kendall Williams Goes Crazy for Lobos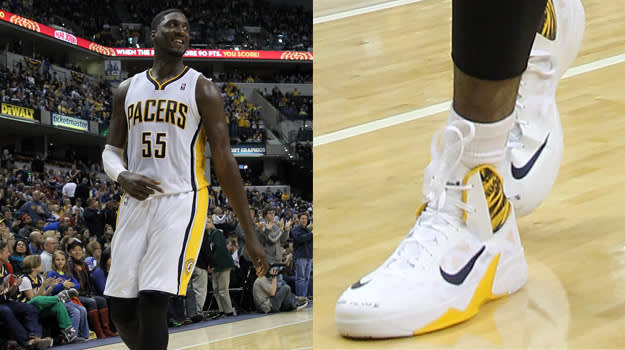 Shoe: Nike Hyperfuse 2013
Player: Roy Hibbert
Game: Indiana Pacers vs. Philadelphia 76ers
Key Stat: 27 points, 13 rebounds, 6 blocks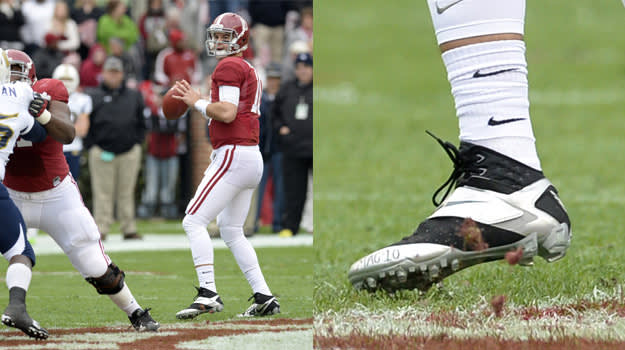 Shoe: Nike CJ81 Elite TD
Player: AJ McCarron
Game: Alabama vs. Chattanooga
Key Stat: 13/16, 171 yards, 2 TD

$120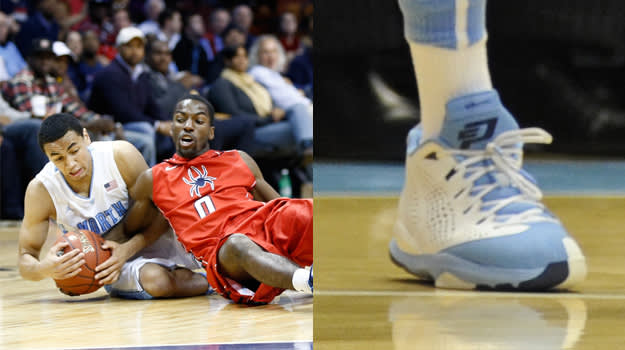 Shoe: Jordan CP3.VII
Player: Marcus Paige
Game: North Carolina vs. Richmond
Key Stat: 26 points, 5 rebounds

$125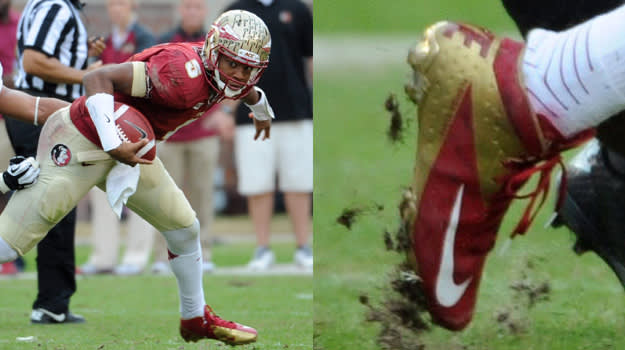 Shoe: Nike Vapor Talon Elite Low
Player: Jameis Winston
Game: Florida State vs. Idaho
Key Stat: 225 yards, 4 TD

$110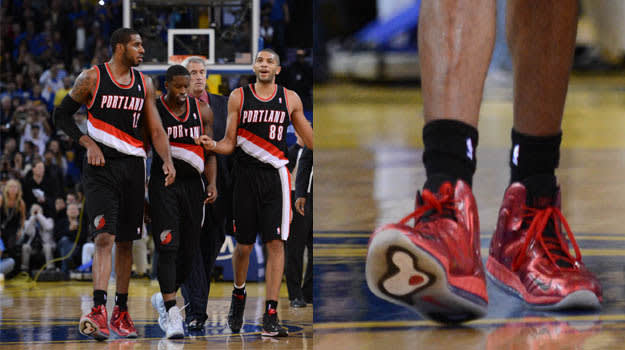 Shoe: Nike Air Max Hyperposite
Player: LaMarcus Aldridge
Game: Portland Trail Blazers vs. Golden State Warriors
Key Stat: 30 points, 21 rebounds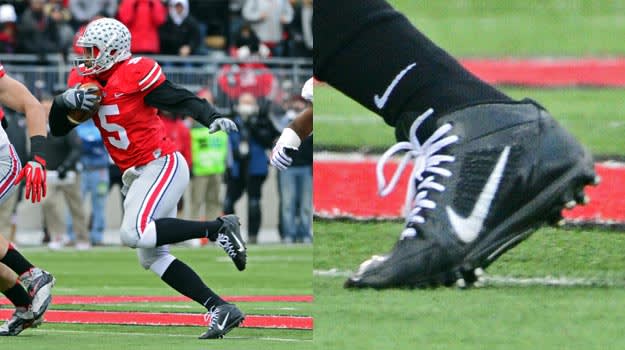 Shoe: Nike Alpha Pro Low TD
Player: Braxton Miller
Game: Ohio State vs. Indiana
Key Stat: 11/17, 2 passing TD, 144 rushing yards, 2 rushing TD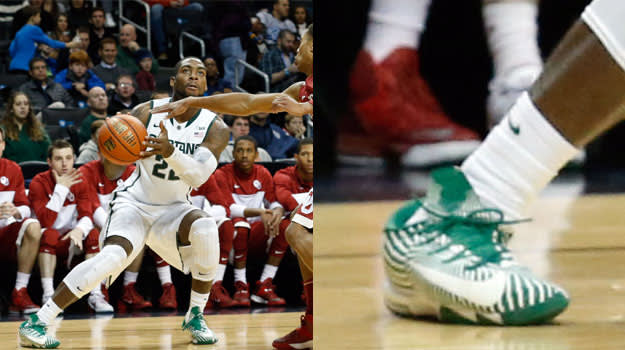 Shoe: Nike KD VI PE
Player: Braxton Miller
Game: Michigan State vs. Oklahoma
Key Stat: 18 points, 10 rebounds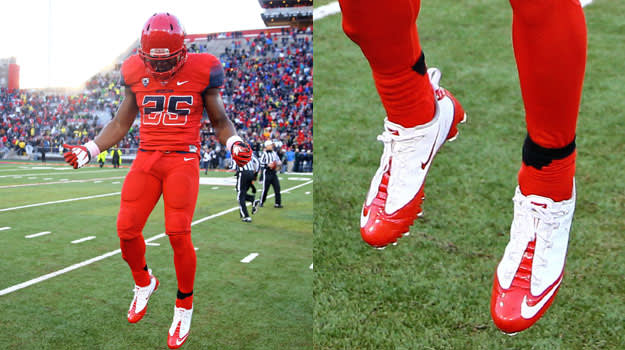 Shoe: Nike Zoom Vapor Carbon Fly 2
Player: Ka'Deem Carey
Game: Arizona vs. Oregon
Key Stat: 206 rushing yards, 4 TD

$130
Riley Jones is a freelance writer from Charlottesville, VA and a contributor to Sneaker Report. With an unshakable affinity for basketball and all things '90s, he can be found on Twitter @rchrstphr.RELATED: The Shoes That Won Last Night: Close Calls in College Hoops, Kevin Love Continues to Dominate in 361 Degrees PE
RELATED: The Shoes That Won Last Night: Drew Brees Powers Saints to Victory, Kendall Williams Goes Crazy for Lobos