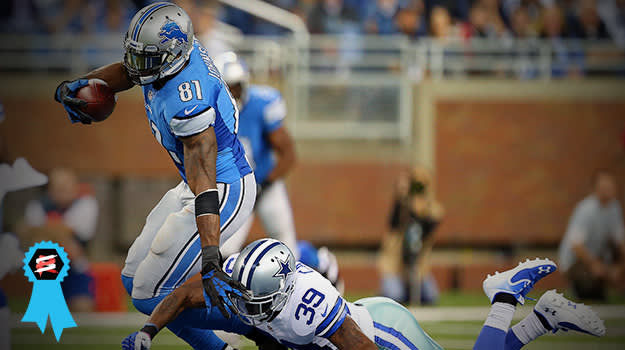 The MLB World series has now turn into a best-of-three matchup. The Boston Red Sox defeated the St. Louis Cardinals 4-2 last night in a tough contest. Outfielder Jonny Gomes hit a three-run home run in the sixth inning to turn a tie ball game into a 4-1 advantage for the Red Sox. With the series tied 2-2 now, the trophy is up for grabs with the Red Sox having a slight advantage of two home games to the Cardinals' 1.
Week Eight was the week of offensive explosions. Calvin Johnson had 329 receiving yards in a Lions nail-biter win over the Dallas Cowboys, Drew Brees threw 5 touchdown passes in a Saints 35-18 victory over the Buffalo Bills, and Marvin Jones caught 4 touchdown passes in a Bengals rout of the New York Jets. There were a ton of great individual performances making us remember how great some of the offensive players in the NFL can be and how they can impact a game. Take a look at The Shoes That Won Last Night.
Rafael Canton is a freelance writer from Queens, NY and contributor to Sneaker Report. Anytime there is a conversation about the NBA, music, or nutella, he can be found in the thick of the discussion. He can be found on Twitter @RafelitoC7.
RELATED: The Shoes That Won Last Night: Cardinals Take 2-1 World Series Lead, No. 21 South Carolina Downs No. 5 Missouri in 2OT
RELATED: The Shoes That Won Last Night: Paul George Leads in Scoring, Charlotte Upsets New York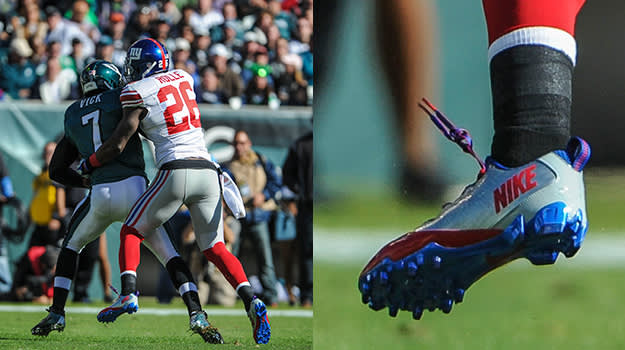 Shoe: Nike Zoom Vapor Carbon Fly 2 TD
Player: Antrel Rolle
Game: New York Giants vs. Philadelphia Eagles
Can you believe the Giants are only two games behind int he race for the NFC East crown? In what might be one of the worst divisions in NFL history, the Giants have a slight chance to win a division championship despite losing their first six games of the season. Part of the Giants season struggles has been due to the weak defensive play. Antrel Rolle changed that in the Giants 15-0 shutout of the Eagles. Rolle had 5 tackles, 1 sack, and 1 interception, making plays all over the field to help hold Philadelphia to just 200 yards of total offense.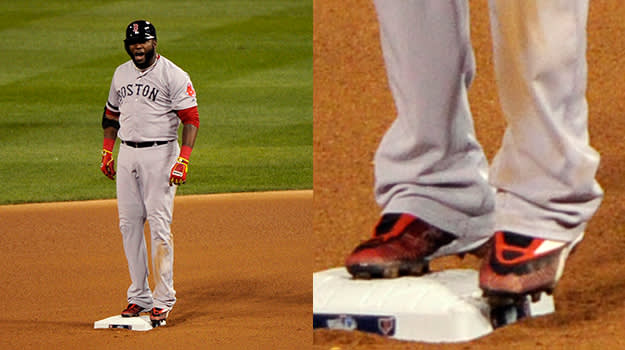 Shoe: Reebok Cooperstown Low
Player: David Ortiz
Game: Boston Celtics vs. St. Louis Cardinals
David Ortiz is always finding ways to contribute to his team no matter what the situation is. With the Red Sox down 2-1 in the World Series, Ortiz had 3 hits and scored 2 runs in the Red Sox 4-2 victory over the Cardinals. Ortiz always finds a way to get on base and with the great hitting across the entire Red Sox lineup it's not too hard to envision Ortiz scoring easily.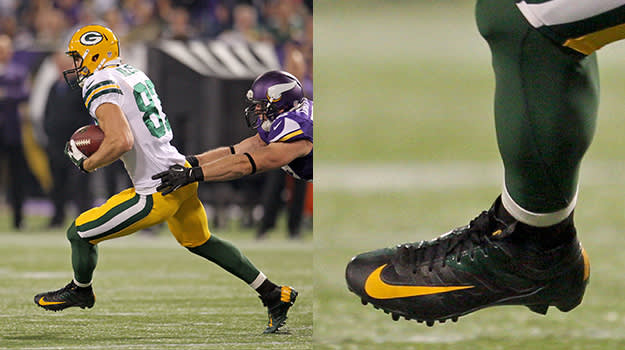 Shoe: Nike Vapor Pro Low TD 3/4
Player: Jordy Nelson
Game: Green Bay Packers vs. Minnesota Vikings
The Green Bay Packers had their way with the Minnesota Vikings to push their record during this regular season to 5-2. Part of that forceful push was from wide receiver Jordy Nelson. Nelson had 7 receptions, 123 yards receiving, and 2 touchdowns in the Packers' 44-31 victory over the Vikings. Nelson got the Packers off to a good start on offense with a touchdown catch in the first quarter to even the score 7-7. Nelson then caught his second touchdown in the second quarter on a 76-yard hookup with Aaron Rodgers to give the Packers a 17-10 lead in the first half. The Nike Vapor Pro Low has been a consistent when it comes to Nelson's cleat choice this season.
$90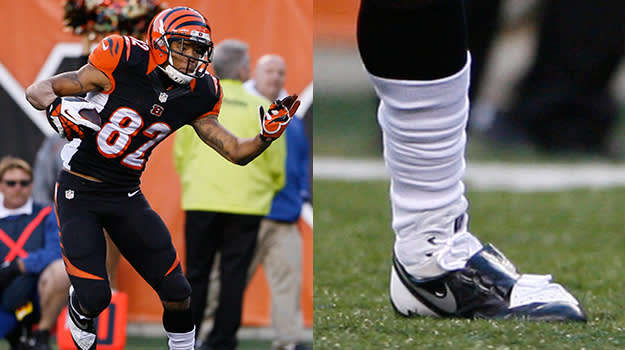 Shoe: Nike CJ81 Elite TD
Player: Marvin Jones
Game: Cincinnati Bengals vs. New York Jets
The Cincinnati Bengals absolutely had their way with the New York Jets. The Jets couldn't stop a nosebleed yesterday let alone stopping wide receiver Marvin Jones. Jones had 122 receiving yards and an astounding 4 touchdown catches in Cincinnati's 49-9 victory over the Jets. Three of Jones' touchdowns came in the first half where the Bengals scored 28 in that half alone. Four touchdowns is hard to achieve, but Jones got the job done helping the Bengals boost their record to 6-2.
$120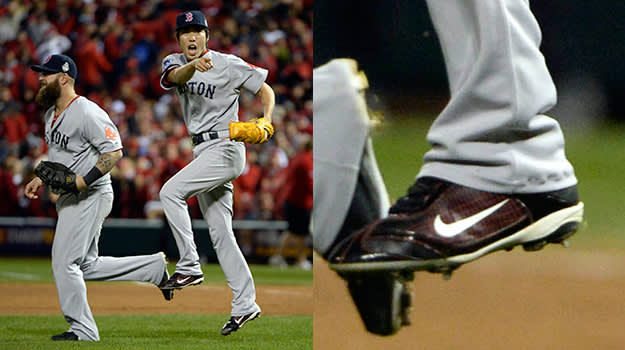 Shoe: Nike PE's
Player: Koji Uehara
Game: Boston Red Sox vs. St. Louis Cardinals
We usually don't hand out the shoes that won last night to closer's, but Koji Uehara gets a special nod for his game-closing play in the Red Sox victory over the St. Louis Cardinals. The Red Sox star closer ended the game by picking off runner Kolten Wong in the ninth inning to seal the victory. This was the first time in MLB history that a World Series game ended on a pickoff, so hats off to Uehara for the amazing play.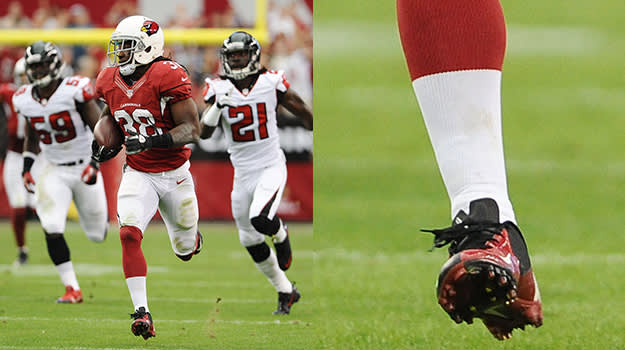 Shoe: Nike Vapor Talon Elite
Player: Andre Ellington
Game: Arizona Cardinals vs. Atlanta Falcons
The Arizona Cardinals were able to pull even with their record at 4-4 on the season after defeating the Atlanta Falcons 27-13. Andre Ellington rushed for 154 rushing yards on 15 carries and scored a touchdown. Ellington's lone score came in the second quarter as an 80-yard breakthrough run led to a 14-6 lead for the Cardinals.
$110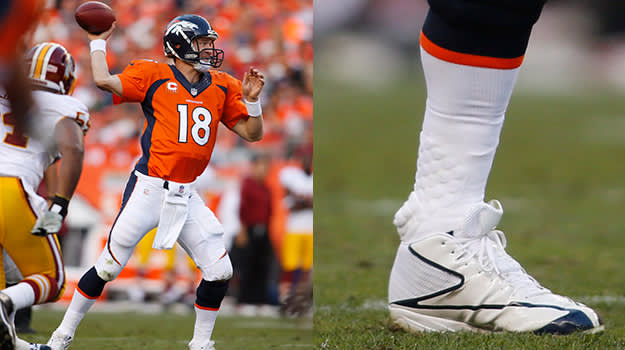 Shoe: Reebok Zig Blaze Mid SD4
Player: Peyton Manning
Game: Denver Broncos vs. Washington Redskins
Can anyone stop Peyton Manning? Despite one subpar performance against the Colts, Manning got back on track with 4 touchdown passes. Manning did throw 3 interceptions, but he had some great plays that overshadowed his mistakes. After being down 21-7 against the Redskins in the third quarter, the Broncos ran off 38 unanswered points highlighted by three touchdown passes from Manning in the fourth quarter to lead the Broncos to a 45-21 victory and a 7-1 record.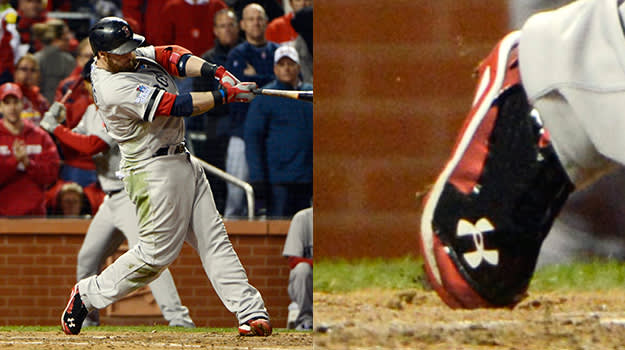 Shoe: Under Armour Yard Mid ST
Player: Jonny Gomes
Game: Boston Celtics vs. St. Louis Cardinals
Many people or just Red Sox fans have complained about Red Sox manager John Farrell's decision to start Jonny Gomes over Daniel Nava despite Nava' great overall season as a starting outfielder for the Red Sox. Gomes rewarded Farrell's decision when he smacked a Seth Maness pitch to score three runs and break a 1-1 tie in the sixth inning. The home run proved to be the difference of the game for the Sox as they tied the World Series at 2-2.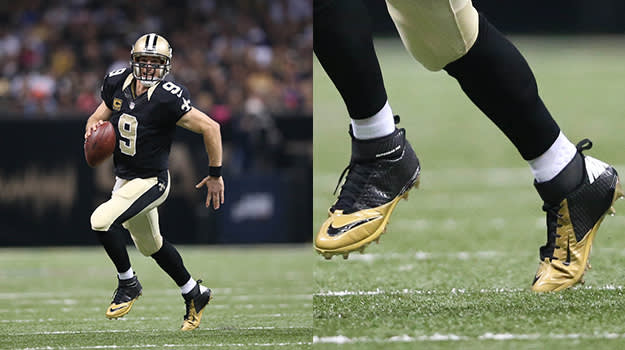 Shoe: Nike Lunar Super Bad Pro D
Player: Drew Brees
Game: New Orleans Saints vs. Buffalo Bills
Drew Brees has continued to produced as he has aged at the quarterback position. Brees threw for 5 touchdowns and 332 yards in New Orleans' 35-18 victory over the Buffalo Bills. brees' 5 touchdowns accounted for all of the Saints' scoring. Two of Brees' touchdowns went to Kenny Stills which seemed to be the electrifying option. Stills caught a 69-yard touchdown as well as a 42-yard touchdown pass from Brees in the win. The Saints now have a record of 6-1.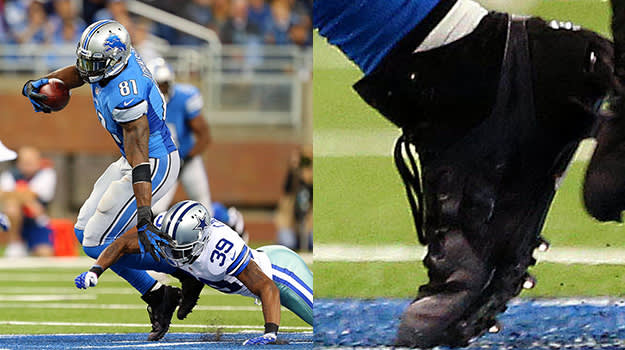 Shoe: Nike CJ81 Elite TD
Player: Calvin Johnson
Game: Detroit Lions vs. Dallas Cowboys
Is there a better wide receiver than Calvin Johnson? Judging on the wild cheering and jubilation from the fantasy owners that had Johnson playing yesterday, you might think the Lions won a Super Bowl game. Johnson was putting up Madden numbers as he had 14 receptions, 329 receiving yards, and 1 touchdown catch. Johnson's yard total was the second highest number in NFL history behind the 336 yards receiving Flipper Anderson had for the Los Angeles Rams against the New Orleans Saints on Nov. 26, 1989, in a game that went into overtime. He had an 87-yard catch which was his longest in three years. Even better, the Lions were able to win 31-30 on a last-second touchdown run by quarterback Matthew Stafford to win the game and push their record to 5-3. It's got to be those Nike CJ81 Elite TD's.
$120
Rafael Canton is a freelance writer from Queens, NY and contributor to Sneaker Report. Anytime there is a conversation about the NBA, music, or nutella, he can be found in the thick of the discussion. He can be found on Twitter @RafelitoC7.
RELATED: The Shoes That Won Last Night: Cardinals Take 2-1 World Series Lead, No. 21 South Carolina Downs No. 5 Missouri in 2OT
RELATED: The Shoes That Won Last Night: Paul George Leads in Scoring, Charlotte Upsets New York