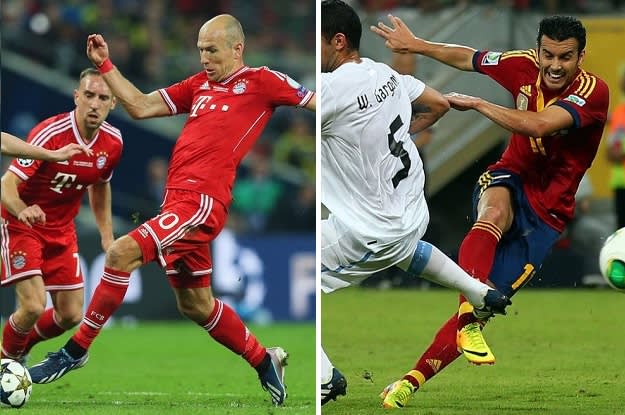 Where would soccer be without all the dangerous, hardworking, creative, energetic wingers of the world? Yes – wingers are the most important players on the pitch. Ok, so I might be a bit biased on this since I was a winger through my career, but as fans we live for the excitement a winger can provide when taking on defenders down the line and swinging balls into the box. It is an important job and one that can earn you a reputation as being a generous teammate.
Here, we take a look at the 10 best wingers currently playing and the boots they have on their feet. Note that we considered real wingers on this, and not players who primarily play up top. You might notice a common theme with the boots on the list (one pair shows up on 6 of the 10 players) but there is a twist at the end! This is What the 10 Best Wingers Wear and Why.
Bryan Byrne is the founder of 
RELATED: What the 10 Best Defenders Wear and Why
RELATED: What the 10 Best Attacking Midfielders Wear and Why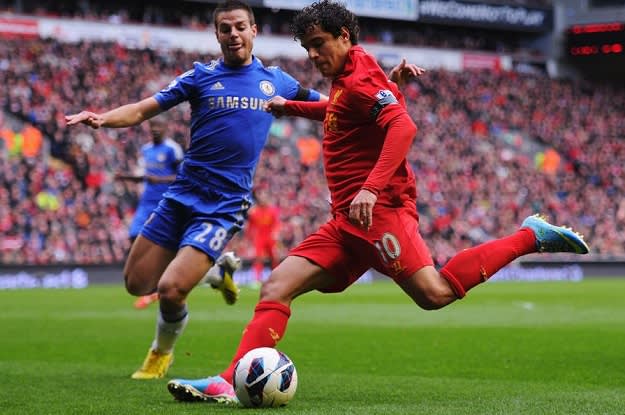 No. 10 – Philippe Coutinho x Nike Vapor IX
Liverpool and Brazil
The one player on this list that I would advise people to watch out for this season – Coutinho is as creative as the come. Although he missed out on Brazil's impressive Confederations Cup win this summer, his performances for Liverpool near the end of last season were top class and demonstrated the abilities he has.
There are several boots that I feel would suit Coutinho's game, with the adidas F50 adiZero being the primary one, but instead he is a Nike player. The Mercurial Vapor IX is his weapon of choice and they do offer him some added performance bonuses with the dimpled upper, in particular, offering him some extra control on the ball as he shoots down the line and cuts in past defenders.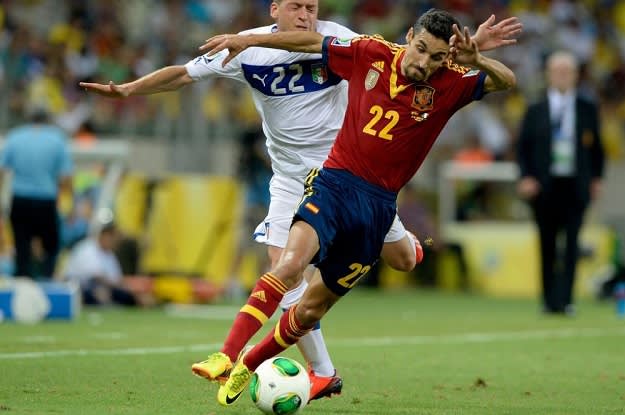 No. 9 – Jesus Navas x Nike Vapor IX
Man City and Spain
If it wasn't for his sharp case of anxiety, I'm sure we would have seen Navas playing with one of the best clubs in Europe a few seasons back. Having seemingly dealt with his fear of being away from Sevilla, he has joined his former coach at Man City and is ready to show the EPL what he is all about.
Another Nike player, Navas looks very natural in the explosive speed boots. His creative flair and ability to get own the line offer a direct connection with what every wide player expects from their footwear – a clean touch on the ball and solid traction.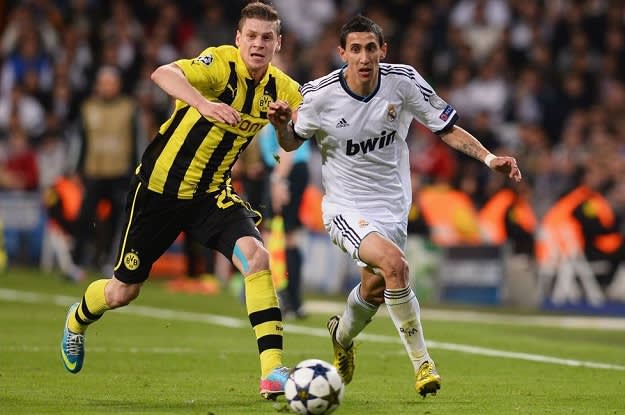 No. 8 – Angel Di Maria x adidas Predator LZ
Real Madrid and Argentina
One of the most consistent performers in a Real Madrid jersey over the past few seasons, Di Maria has been a true creator and has a keen eye for offering his teammates goals on a platter. Over the past 3 seasons, he has assisted on 53 goals while also scoring 25. Generous and deadly – a good combo!
Out of the norm, Di Maria currently wears the adidas Predator LZ. It is not the type of boot I would expect a player of his style and value to wear, but boy does he perform effectively in them. His ability to create and score goals match really well with the Hybrid style of the boots, and I am sure he benefits from the several different lethal zone regions.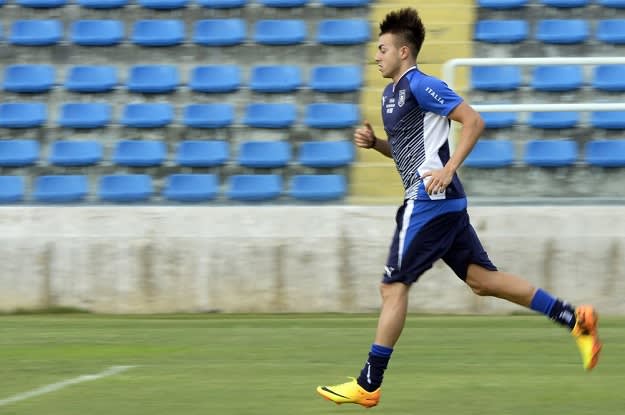 No. 7 – Stephan El Shaarawy x Nike Vapor IX
AC Milan and Italy
El Shaarawy had the difficult task of filling in for Zlatan Ibrahimovich when he left AC Milan a season ago and he managed to do it with extremely respectful performances. He is primarily a winger, but we did see him play up top for a large part of this season. When on the wing, he has the ability to beat defenders one on one and get great crosses into the box.
Being that he has replaced Zlatan, it would only make sense that El Shaarazy would be wearing the same boots as him, yet they are very different styled players. In my opinion, it is the bold color choices from Nike that complement the AC Milan wide man best – have you seen his hairstyle lately?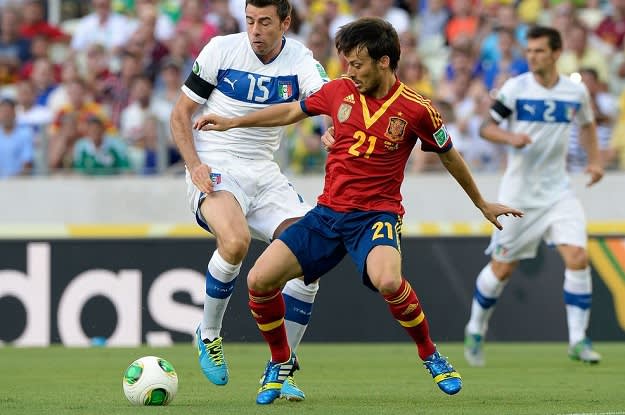 No. 6 – David Silva x adidas Nitrocharge 1.0
Man City and Spain
There weren't many standout performances from Man City players in the EPL this past season, except for David Silva. For the second season running, he put in some top quality performances and was the primary creator of all things that Man City did right.
Silva's choice in boots is definitely an odd one since the adidas Nitrocharge is advertised as a boot that is styled for the "engine" player. But, this just proves that a company's advertising strategies don't always give us the full story behind a boots performance. With a more central role coming this season (City has signed Navas, who is also a right winger) Silva seems to be ready for a new challenge – position and boot wise!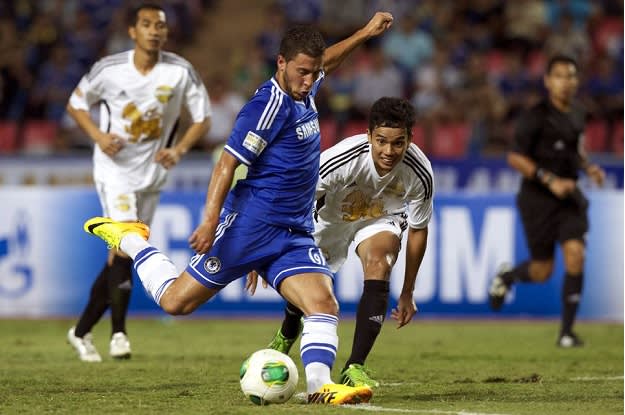 No. 5 – Eden Hazard x Nike Vapor IX
Chelsea and Belgium
Hazard is one of the most promising talents in Europe right now, with his performances for Chelsea last season providing a new spark to an at times lifeless midfield. Not only is he a creator, but he also has a keen eye for goal and is one of those players that is not afraid to shoot on site.
Considering he is a player with extreme flair, it only seems right that Hazard would be sporting the swoosh brand. It only seems natural that he would be wearing the Mercurial Vapor IX and you can tell from his quick feet and ability to create space that he is comfortable wearing them.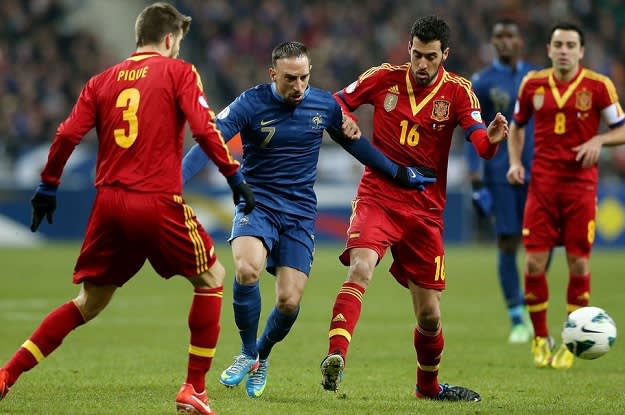 No. 4 – Franck Ribery x Nike Vapor IX
Bayern Munich and France
Ribery is no stranger to controversy off the pitch, but his on field performances always stand out for the right reasons. His wide play last season was a key factor in Bayern's success domestically and in Europe. Known as a creator, it is his lightning speed and ability to take on defenders 1vs1 that really sets his game apart from other wingers.
Ribery has long been loyal to the swoosh and the Mercurial range. In fact, you might even recall his role as the "pink panther" a few seasons back. If he hasn't looked to switch silos, it becomes obvious that they are a boot that suits his fast paced style and ability to beat defenders on the dribble at pace.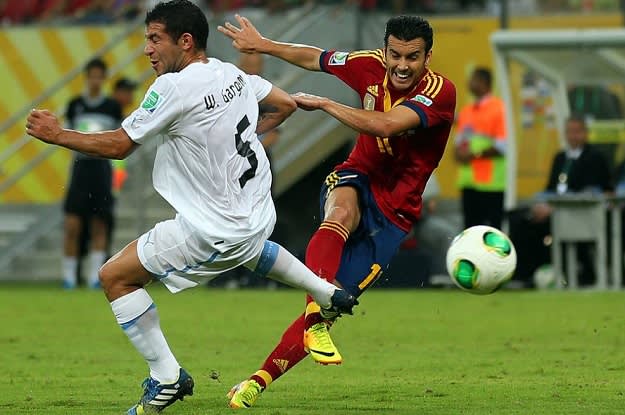 No. 3 – Pedro x Nike Vapor IX
Barcelona and Spain
So often, Pedro has been outshone by names of the players he plays alongside yet he has continually been a key player for Barcelona. It is actually pretty hard to stand out when you play with the likes of Messi, Xavi and Iniesta but Pedro has managed to hold down a spot out wide and contribute in the best possible way – by being an influential creator for others.
On his feet, Pedro is another that sports the apparent trusted choice of wingers – the Mercurial Vapor IX. Since he is the not the ongoing highlighted player at Barcelona, it is nice that he gets to wear boots the allow him to stand out – in color that is! Playing wise, they definitely allow him to shine but I could also see him doing damage in something like the adidas F50 adiZero.
No. 2 – Arjen Robben x adidas F50 adiZero
Bayern Munich and Holland
There is always an air of frustration placed alongside Robben's name, with the Dutch winger often doing 95% right and 5% wrong. But this past season, he took on a true leaders mentality and helped lift Bayern Munich to an extraordinary treble and he capped it all off by scoring the winning goal in the Champions League final. If you have ever watched him play, you will know Robben plays on the right, but is left footed. He absolutely loves that bended shot to the far post.
Surprisingly, Robben is the first player on our list to wear the adidas F50 adiZero – a boot I would consider to be one of the more natural choices for wide players who like to beat defenders with their pace. If anything, I see the Predator LZ as a more natural option since he loves to cut inside and strike shots with his left. The F50 is definitely a top option for any winger and they suit Robben's pacey, quick footed style.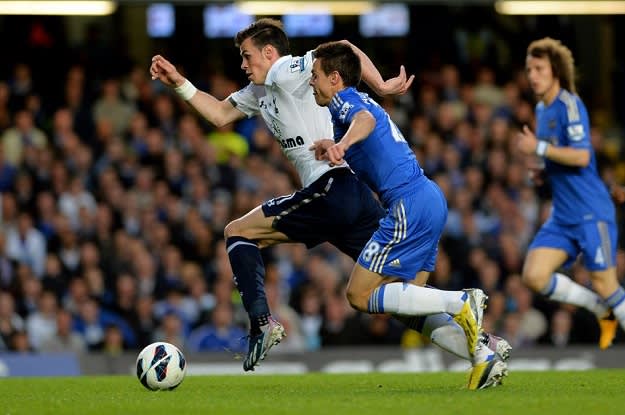 No. 1 – Gareth Bale x adidas F50 adiZero
Tottenham Hotspur and Wales
There are not many player names that come close to being mentioned in the same breathe as Cristiano Ronaldo and Lionel Messi – but Bale is definitely one. The Spurs winger is probably one of the most sought after players at the moment, with his attacking abilities getting more impressive every season. Last year, he was a goal scoring phenomenal and his crazy free kicks are a joy to watch.
Bale has become a central figure in adidas advertising and it seems like they have no problem pointing out the fact that he and Messi wear the same boots. Bale is big, strong and pacey so the F50 adiZero offers him lightweight performance and the ability to control the ball in tight spots. They complement his game and his style of play.
RELATED: What the 10 Best Defenders Wear and Why
RELATED: What the 10 Best Attacking Midfielders Wear and Why