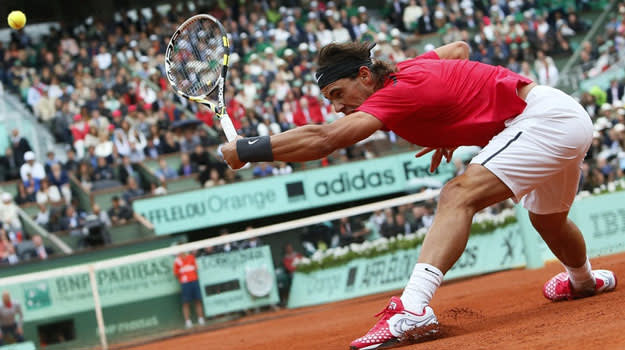 The French Open is a wholly unique tournament in that its playing surface and the tournament's position as the first Grand Slam event of the summer make it a challenge equally enormous for top players such as Rafael Nadal and Roger Federer as well as unseeded upstarts like Gaston Gaudio. To manage their game in these difficult conditions, players choose a variety of different sneakers in an attempt to keep themselves grounded while dashing around on the court's slick clay while also keeping their legs fresh in what can be grueling five-set affairs. These are The Sneakers Worn for the 10 Past French Open Men's Singles Champs.
CLICK TO CONTINUE STORY
RELATED: Nike Unveils Footwear Collection for 2013 French Open
RELATED: The Sneakers Worn by the 10 Most Notable Men's Singles Champs of the Australian Open
Doug Sibor contributes to Sneaker Report, Complex Media, and Bleacher Report, and can often be found shuttling between Fenway Park, Gillette Stadium and TD Garden. If you wish to discuss sports, sneakers, reality TV or acceptable meats to use as pizza toppings, follow him here.

No. 10 - Sergio Tacchini Clay Court
Athlete: Juan Carlos Ferrero
Year: 2003
Spaniard Juan Carlos Ferrero entered the 2003 French Open seeded third overall, and he was clearly at the top of his game as he overpowered opponents Albert Costa and Martin Verkerk in straights sets in both the semifinals and finals, winning the only major of his career. "The Mosquito," as he was known, chose to wear the clay court specialty shoes made by Italian designer Sergio Tacchini, a former tennis pro himself who got into the apparel game after his retirement. Tacchini's shoes have fallen out of fashion after the company was sued by (and ultimately settled out of court with) Martina Hingis in 2001, who claimed that Tacchini's poor footwear caused multiple injuries that shortened her career. Ferrero bailed soon as well, switching over to Lotto shoes shortly after winning at Roland Garros.

No. 9 - Diadora Protech DA2
Athlete: Gaston Gaudio
Year: 2004
One of the great one hit wonders in the history of major championships, the unseeded Gaudio rode victories over Lleyton Hewitt and David Nalbandian (among others) to reach the finals, where he engaged in an all-time classic battle with heavy favorite Guillermo Coria. Down two sets to love and having won just three games all match, Gaudio found a way to rally and take the title in a stunning five sets, winning the final frame 8-6. Gaudio chose the Diadora Protech DA2 for this incredible run, making use of the Axeler Air Flow grid integrated into the outsole to increase flexibility in the forefoot while also providing extra stability in the midfoot and heel. The sneaker also featured shock-absorption in the forefoot and heel, as well as a durable rubber compound outsole that served Gaudio well in his final, marathon match.

No. 8 - Nike Air Max Breathe Free II
Athlete: Rafael Nadal
Year: 2005

The first of Nadal's seven French Open titles saw him stifle a Gaudio-like contender in the finals (Mariano Puerta), a man who like Gaudio was unseeded and on an improbable run. Nadal had turned 19 mere days before the match, but responded to losing a first set tiebreaker with the maturity of a seasoned pro as he took home the title in four sets. He wore the Nike Air Max Breathe Free II for the occasion, a shoe which provided the Catalan with all the cushioning he needed for the seven grueling matches required to win the title. The Breathe Free II featured a Phylon midsole with a TPU shank interlock in the forefoot and heel to cushion against impact and provide stability for the foot, while the Zoom Air forefoot unit and a maximum-volume heel Air-Sole unit likewise offered further comfort.

No. 7 - Nike Air Max Breathe Free III
Athlete: Rafael Nadal
Year: 2006 
Now seeded No. 2 overall and officially established as a superstar, Nadal stormed into the 2006 Finals against Roger Federer having lost only two sets in his six previous matches. After dropping the opening set to the Swiss star, Nadal took the next three, and with it the championship. On his feet, Nadal was wearing the latest version of Nike's Air Max Breathe Free line, the Breathe Free III. While it did share many features such as Nike's durable DRC rubber outsole compound with the previous year's model, the III also had a redesigned upper that saw the tongue overhauled to give the wearer a more snug fit through the toe box. The traction of the shoe was also repurposed, with the outsole's soft rubber tread pattern allowing for sudden, explosive shifts in direction on the slippery Paris clay.

No. 6 - Nike Air Max Breathe Cage
Athlete: Rafael Nadal
Year: 2007
Built with a similar design to the Breathe Free II, the Cage was Rafa's shoe of choice as he secured his first three-peat at Roland Garros. After losing just two sets in his six matches prior the final in 2006, Nadal did not lose a single set in the 2007 tournament before dropping just one against Roger Federer in the finals, holding on to win another title in what was rapidly becoming his signature event. The Breathe Cage integrated a combination of Max Air and Zoom Air cushioning, while also featuring a lightweight, breathable mesh upper to provide optimal comfort. The Cages got their name from the Direct DragOn material covering the upper and improving durability and support over previous models.

No. 5 - Nike Air Max Breathe Cage II
Athlete: Rafael Nadal
Year: 2008
Rafa made it four in a row in 2008, this time not losing a set the entire tournament after destroying Roger Federer in the finals 6-1, 6-3, 6-0. With the win, he tied Björn Borg's record of four consecutive French Open titles (during the open era), and ran his career record at the tournament to a sterling 28-0. He chose the Nike Air Max Breathe Cage II as the shoe to help him assert his dominance, as Nike tweaked the previous year's model to provide additional foot support, superior comfort, and improved durability. While Nadal certainly didn't need durable shoes considering how short most of his matches were, their outstanding ventilation helped keep him cool during the hot Parisian summer.

No. 4 - Nike Air Zoom Vapor VI
Athlete: Roger Federer
Year: 2009
There would be no five-peat for Rafael Nadal, who after setting a French Open record with his 31st consecutive win lost in the fourth round to Robin Söderling. Federer—the world's No. 1 player—stepped into the void and defeated Söderling in the finals for his first ever title at Roland Garros, becoming the sixth male in tennis history to complete a career Grand Slam. Featuring Lunar Lite cushioning imported from their running shoes combined with a Flywire construction in the upper and Air Zoom cushioning in the heel, the Nike Air Zoom Vapor VI provided a well-balanced mixture of minimal weight and outstanding cushioning. The herringbone tread pattern on the outsole provided excellent traction on the slippery Paris clay, a must-have for competition in this tournament.

No. 3 - Nike Air Max Courtballistec 2.3
Athlete: Rafael Nadal
Year: 2010 
Nadal returned to the winner's circle in 2010, capturing his fifth French Open title as he once again stormed through the tournament without losing a set. His last victim this time was Robin Söderling who, while appearing in his second consecutive finals, was nevertheless no match for the Catalan left-hander. Nadal chose the Nike Air Max Courtballistec 2.3 for the tournament, a sneaker which implemented DragOn X technology in the upper to improve durability and breathability. A combination of Lunarlite foam in the forefoot and Max Air in the heel offered outstanding cushioning, while a midfoot shank provided tremendous stability. With all of these improvements, the 2.3's weight dropped by an ounce compared to the 1.3.

No. 2 - Nike Air Max Courtballistec 3.3
Athlete: Rafael Nadal
Year: 2011
Nadal was challenged like never before in 2011, playing his first-ever five set match (in the first round against John Isner) and defeating Roger Federer in a closely-contested finals. Nadal's fifth French Open title equaled Björn Borg's record for most all-time in the open era, although it was his first as the No. 1 overall seed after he ascended to the world's top ranking at the end of the 2010 season. Nike modified the Air Max Courtballistec 3.3 with Nadal specifically in mind, adding enhanced DragOn 2X technology to the upper to maintain the shoe's shape during explosive lateral movement. The sneaker also once again featured the Lunarlon and Max Air cushioning for on and off-court comfort.

No. 1 - Nike Air Max Courtballistec 4.3
Athlete: Rafael Nadal
Year: 2012
Nadal made it a second three-peat in winning last year, earning the record for most French Open titles by a male and tying Pete Sampras' record for most wins in any one major by a male. Nadal managed to edge Novak Djokovic in a closely contested final that was played over two days and lasted nearly four hours, and fortunately for the Catalan his Nike Air Max Courtballistec 4.3 sneakers were up to the task. An increase of mesh in the upper made the 4.3 a lighter, more breathable version than the previous year's model, and Nike brought back the DragOn 2X technology to fortify the upper against potential damage caused by players' aggressive sliding on the clay.