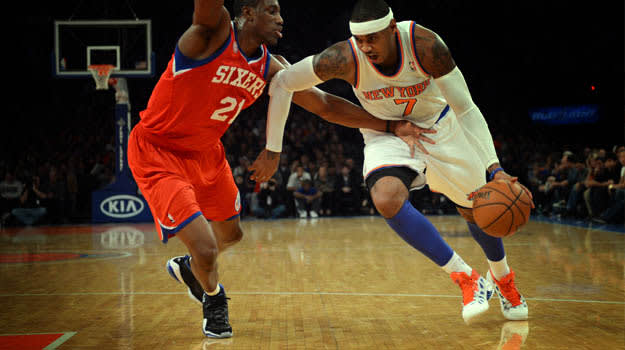 Carmelo Anthony's road to the forefront of the NBA has been filled with ups and downs, trade rumors, drama and everything else you can possibly imagine. Yet, through all the challenges that the New York Knicks forward has had to face, he continues to get better year in and year out. Today, Melo officially won his first scoring title, an accomplishment that has been a long time coming. Perhaps most fitting, in all regards, Melo has silenced the naysayers by leading the Knicks to an Atlantic Division title with a 54-28 record. What's most impressive, is how Carmelo Anthony has become an undisputed leader both on and off the court for the Knicks this season. On the way to his nearly 29 points per game, Melo put up huge numbers this season, including 8 games with 40 points or more and a career-best matching 50 points to beat the Miami Heat just weeks ago. At just 28 years old (at least for a few more weeks), Melo's future is looking brighter than it ever has. The scoring title might be his newest achievement but putting up serious points is is something he's been doing for 12 seasons now. These are The Sneakers Worn for Carmelo Anthony's 10 Highest Scoring Games.
Nick Engvall has written for Complex Sneakers and Sole Collector. The Sacramento-native currently resides in New York and loves sneakers, Sour Patch kids, and California. Follow him
RELATED: Sneakers Worn for the 25 Highest Scoring Seasons in NBA History
RELATED: A History of Tracy McGrady in the adidas T-MAC
<!--nextpage-->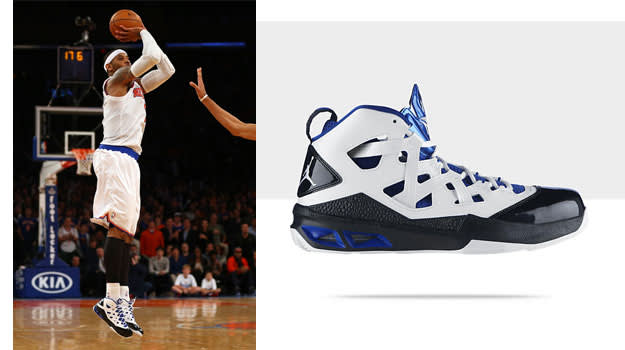 No. 10 - Jordan Melo M9
Date: 1/1/2013
Points: 45
Opponent: Portland Blazers
Carmelo celebrated the new year this season in a pair of his Jordan Melo M9s to face the Blazers. However, Portland walked away the winner despite the 45 points Anthony scored.
<!--nextpage-->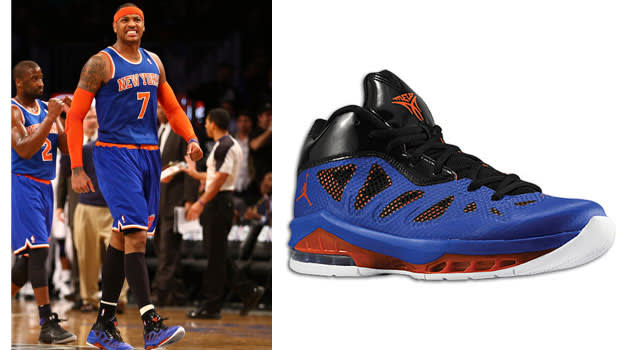 No. 9 - Jordan Melo M8 Advance
Date: 12/11/2012
Points: 45
Opponent: Brooklyn Nets
The rivalry that everyone anticipated between the New York Knicks and Brooklyn Nets has yet to disappoint. In December of 2012, Brooklyn hosted the neighboring Knicks and Carmelo Anthony. Melo shot 63% from the field and knocked down 10 of 11 from the free throw line to lead the Knicks to a nail-biting 100-97. Anthony finished with 45 and hit 5 of 7 from 3-point land before it was all said and done.<!--nextpage-->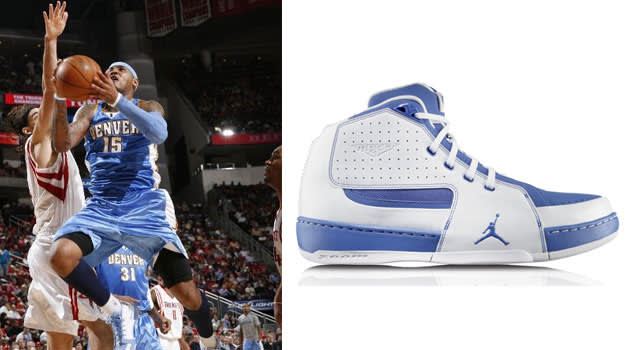 No. 8 - Jordan Melo M6
Date: 3/15/2010
Points: 45
Opponent: Houston Rocket
Just after the All Star break in 2010, Melo and the Nuggets headed to Houston to take on the Rockets. Anthony dropped a cool 45 on 51% from the field but it wasn't enough to the win, as the Rockets came out on top.
<!--nextpage-->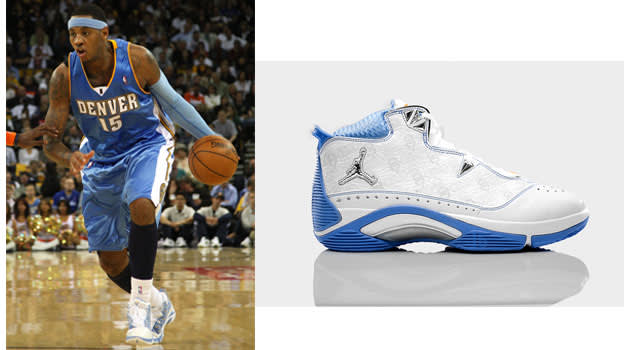 No. 7 - Jordan Melo M5
Date: 12/10/2008
Points: 45
Opponent: Minnesota Timberwolves
Early in the 2008-2009 at 24 years old, Carmelo Anthony had begun to step into his role as leader of the Denver Nuggets. Unfortunately for the Minnesota Timberwolves, he was out to prove himself and the Nuggets were off to a solid start at 14-7. Melo went 16 for 29 and hit half of the 8 3-pointers he attempted to lead Denver to victory with 45 points.
<!--nextpage-->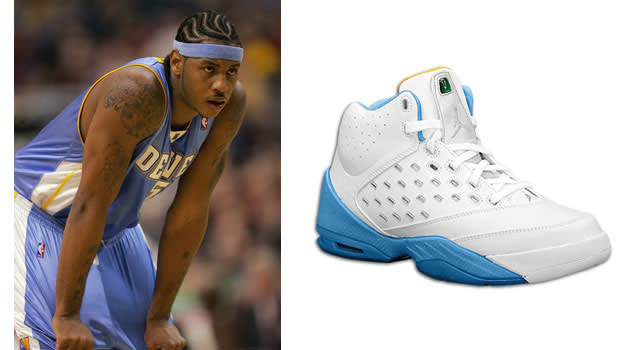 No. 6 - Jordan Melo 5.5
Date: 12/27/2005
Points: 45
Opponent: Philadelphia 76ers
In December of 2005, a 21 year old Carmelo showed his true potential for the first time in the league. Melo and the Nuggets took on the Philadelphia 76ers in Denver. Carmelo had one of the best games of his young career, going 17 for 30 and putting up 45 in the points column. Unfortunately for the Nuggets, the 76ers edged them out with a 108-106 victory.
<!--nextpage-->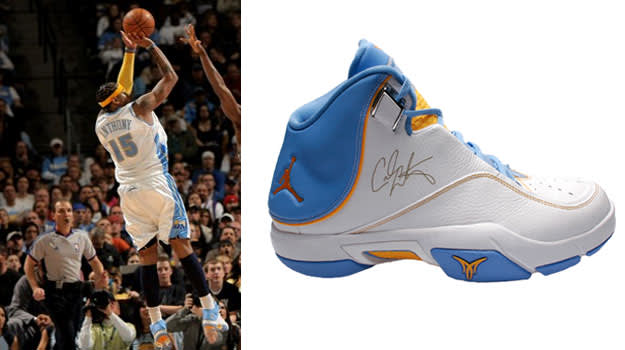 No. 5 - Jordan Melo M4
Date: 4/5/2008
Points: 47
Opponent: Sacramento Kings
In 2008, Melo and the Nuggets hosted the Sacramento Kings. Anthony led the charge for Denver wearing the Jordan Melo M4. However, the Kings were able to outlast the 47 points by Melo and grab a rare win at the Pepsi Center.
<!--nextpage-->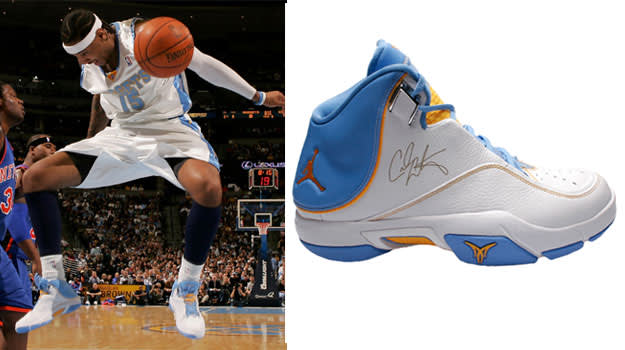 No. 4 - Jordan Melo M4
Date: 2/8/2008
Points: 49
Opponent: Washington Wizards
February 8th of 2008 was arguably Melo's best game. Anthony played like he was a part of the NBA Jam video game running off a series of consecutive buckets. He was "on fire" as they say, hitting 19 of 26 shots on his way to 49 points, including 3 of 3 from downtown, and an easy victory for Denver.
<!--nextpage-->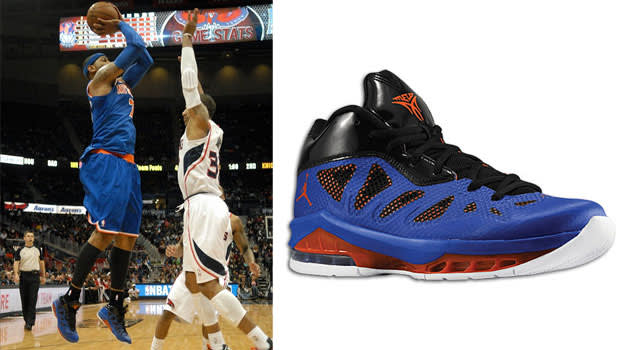 No. 3 - Jordan Melo M8 Advance
Date: 4/3/2013
Points: 50
Opponent: Atlanta Hawks
It's safe to say that the Melo M8 Advance has been good to Anthony. A number of his best point totals have come wearing the M8 advance, including the 50 points against LeBron James and the Heat just a few weeks ago. Melo hit 18 of 26 and was 7 of 10 from 3-point range, as the Knicks handed the Heat a rare loss at home in Miami.
<!--nextpage-->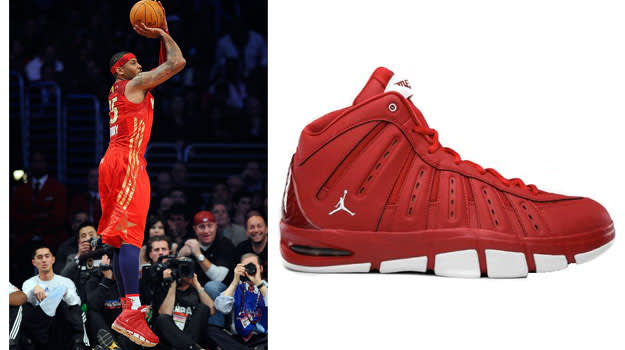 No. 2 - Jordan Melo M7 Advance
Date: 2/7/2011
Points: 50
Opponent: Houston Rockets
Days before All Star Weekend, Anthony hit the court in his All Star edition Melo M7. Melo was nothing but net, starting the game by hitting 7 straight from the field. The Rockets couldn't stop him. Melo finished 16 of 24 and 50 points but Houston got the win.
<!--nextpage-->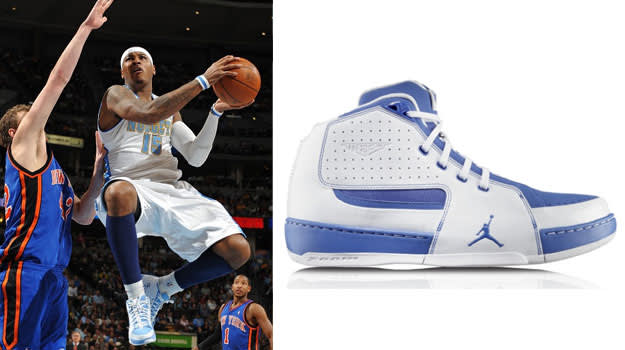 No. 1 - Jordan Melo M6
Date: 11/27/2009
Points: 50
Opponent: New York Knicks
Melo's 6th signature was on his feet for his first 50 point outing. The Nuggets hosted the Knicks in Denver and Melo was in the zone. He hit 17 of 28 shots from the field and combined it with 17 of 18 from the free throw line to lead Denver to victory.
RELATED: Sneakers Worn for the 25 Highest Scoring Seasons in NBA History
RELATED: A History of Tracy McGrady in the adidas T-MAC