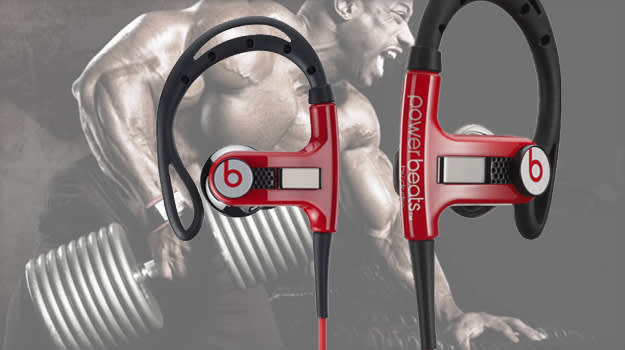 Sure, trying to get a beach body in time for summer is motivation enough, but let's face it—sometimes you just need a little bit of encouragement to get your lazy ass in the gym. For many of use, that added motivation comes in the form of music. When it comes to workout headphones, it's the same problem runners face: will they stay in your ear? Well if you're relying on those generic white ones that came with your phone, the answer is no.
However there are options out there that can be trusted to provide high quality sound and stay locked in as you push yourself to the limit. Here are The 10 Best Headphones for Working Out.
RELATED: Gear Guide: The 10 Best Running Headphones To Buy Now
RELATED: FIELD TEST: 5 Watches Every Runner Should Consider
RELATED: The Best Workout Songs of 2013
RELATED: The 10 Best Workout Songs of 2014 (So Far)
<!--nextpage-->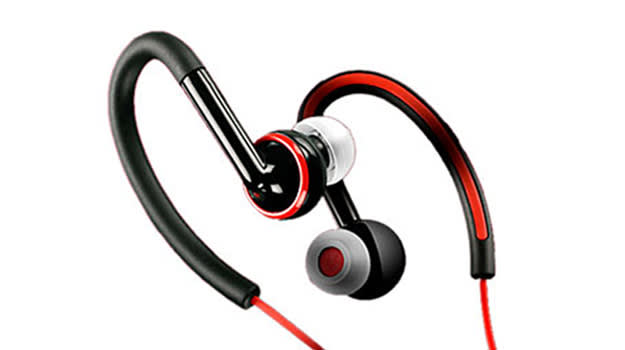 No. 10 - Motorola MOTOACTV SF200 Sports Headphones
You probably wouldn't think of looking at Motorola for your gym headphone needs, but that's not a bad place to start with the MOTOACTV SF200. These durable around-the-ear headphones keep your feet moving to the beat and stand up against your toughest workouts. The headphones feature a sweat proof design for ultimate comfort, and a built-in mic that lets you manage your tunes hands-free.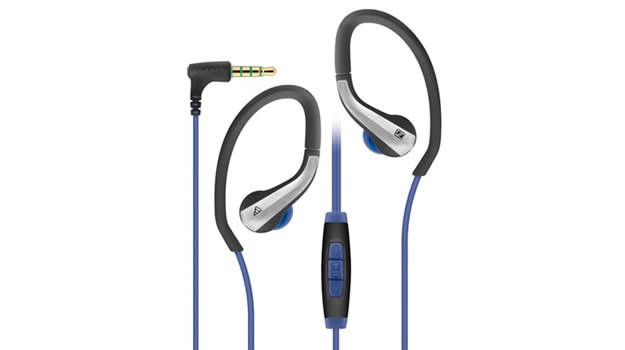 No. 9 - Sennheiser adidas OCX 685i Sport
Sennheiser knows its headphones, and adidas its sports. Pair the two together, good things are bound to happen. The CX 685 brings great-sounding music to the gym, outdoors, or wherever your workout takes you. The headphones provide exceptional sound and stay in the ear comfortably thanks to a patent-pending, slide-to-fit holding mechanism. It's also waterproof and mic-enabled.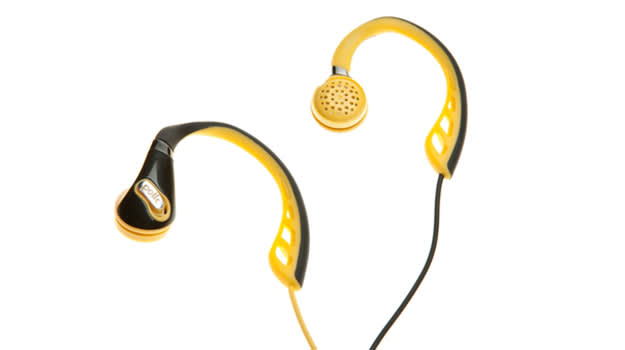 No. 8 - Polk Audio UltraFit 500
The Polk Audio UltraFit 500 is a minimalist-friendly headphone designed specifically for a various types of fitness activities, including running and training. The unique earpiece fits snuggly in the ear, while the around-the-ear design keeps the headphones from slipping out while you pump out those reps. The UltraFit 500 doesn't include a mic, however its moderate noise suppression allows athletes to be aware of their surroundings. A great bargain for any athlete.
$40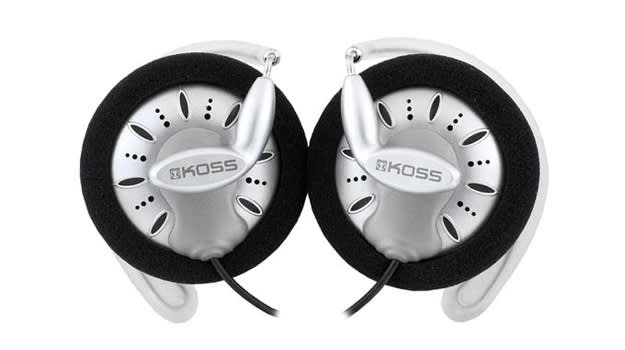 No. 7 - Koss KSC 75
The Koss KSC 75 is an entry-level headphone that offers high quality sound without breaking the bank. The series has been around for quite some time now, and it's because it's so damn effective. These ear-clip headphones feature titanium drivers for crisp sound, and an open-back design for a comfortable fit. The unique construction of the headphones make them perfect for wearing under caps or helmets, and perfect for any gym rat looking for some sweet sounding music. The Koss KSC 75 also comes with a lifetime manufacture's warranty, so let's face it: you can't ask for much from a 20-dollar headset.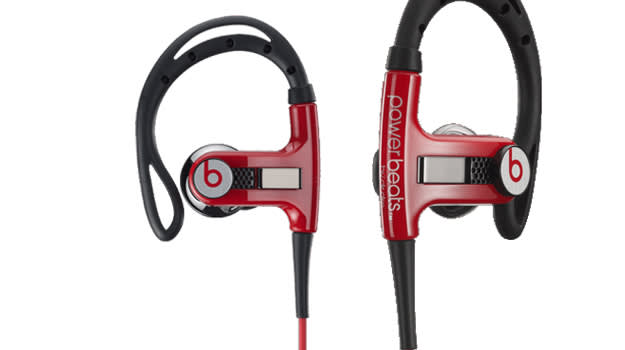 No. 6 - Beats by Dr. Dre Powerbeats
Listen, we know the over-the-ear Pro Beats are the shit. But for the sake of not looking like a douche at the gym, leave them in the studio. And in stead, pick up a pair of more workout-appropriate Powerbeats. With an ergonomic around-the-ear design, the Powerbeats do a much better job of staying put than standard in-ear buds. Of course, you still get the high quality bass you'd expect from any Beats by Dre headset. The only knock on these is that they don't seem to be very moisture proof. The price is a little steep too.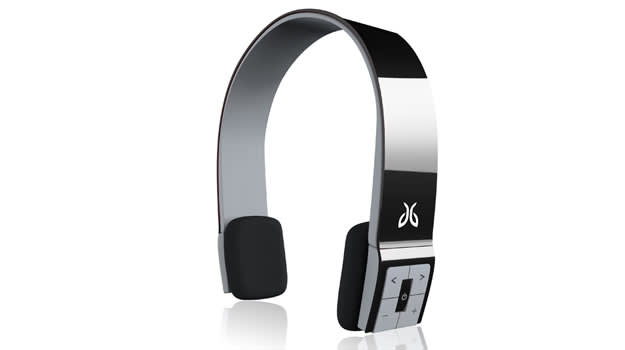 No. 5 - JayBird Sportsband Bluetooth
The JayBird Sportsband has consistently been featured on our list of best running headphones, but it's just as effective in the gym. The Bluetooth-enabled headphones connect wirelessly to your music device, making tangled cords are a thing of the past. The Sportsband features premium music & call quality, with warm bass, tuned to "eliminate listener fatigue" during long workouts. Yes, they're sweat-proof.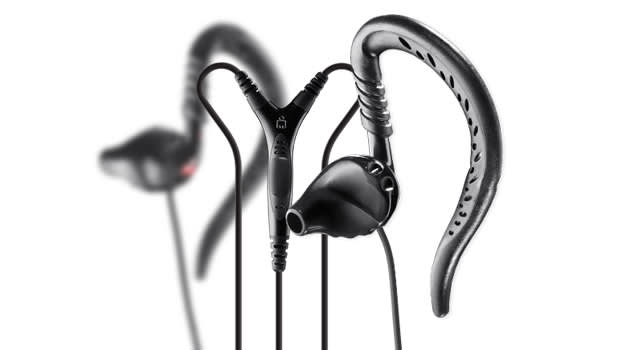 No. 4 - Yurbuds Focus Pro
Yurbuds has pretty much taken over the fitness headphone category in recent years, and the Focus Pro is one of the better models from the brand. The around-the-ear buds feature a 3-button sweat and water resistant microphone that gives you complete control of your music and phone calls (not that we recommend answering the phone while you're pumping iron). The Focus Pro can be used with any mobile device, though they are specially formatted to cater to iPhone users, as they can be fully integrated with Siri for hands-free use.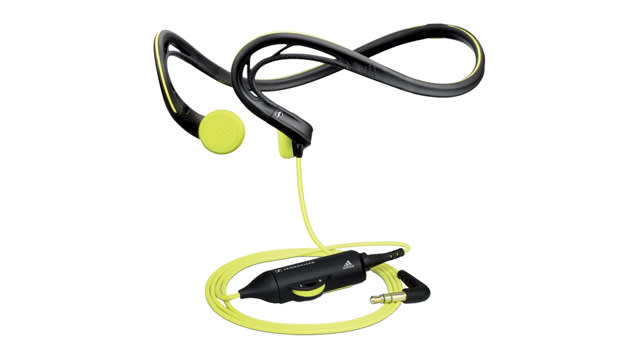 No. 3 - Sennheiser adidas PMX 680
No matter how intense your workout, the Sennheiser adidas PMX 680 is up to the task. With an ergonomic design to match its brilliant sound quality, the PMX 680 locks securely in and around the ears to deliver your music of choice. A Kevlar cord is designed to take a thorough beating, but just to be safe, don't go dropping a 50 lb. free weight on the headset (assuming you can lift that much to begin with). The headset is sweat and water resistant, and comes with a 2-year warranty.
 $80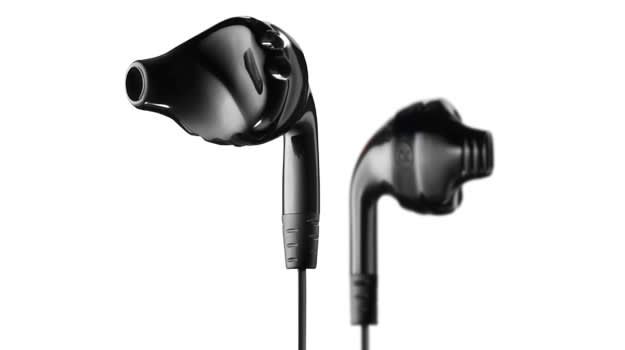 No. 2 - Yurbuds Inspire Pro
While the Inspire Pro is just as great as the Focus Pro when it comes to sound quality, we've discovered that the former locks into the ear a bit more securely than its counterpart. Other than that, the two are pretty similar in function. The buds feature Yurbuds' Twistlock technology for a reliable fit, and allow more ambient noise than most other earphones at the same volume levels. Additional features include a waterproof mic for easy use.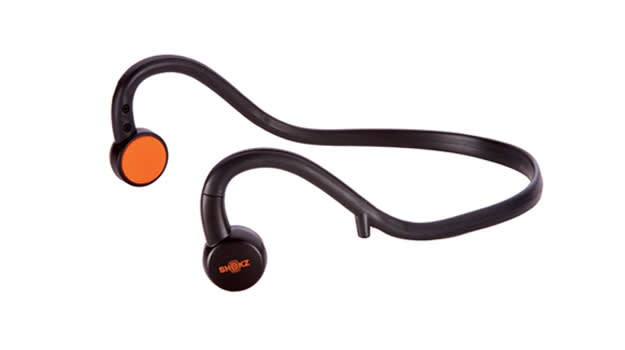 No. 1 - AfterShokz Sportz M2 with Mic
The first iteration of the AfterShockz headphones was well-received by athletes, so the brand rolled out the more recent M2 model that is slightly smaller, and has a built-in mic. Using a military special ops bone construction technology, these revolutionary headphones rest in front of the ear, rather than in it, to deliver music through the listener's cheekbones to the inner ear—talk about high-tech. The innovative technology keeps lets your ears focus on your surroundings, and let your cheekbones absorb sweet sound waves. Crazy, we know.
$80
Gurvinder Singh Gandu is a New York City-based contributing writer for Yahoo! Sports and Sneaker Report. A California-raised, performance gear and footwear expert, Follow him here to keep up with all things performance.
RELATED: Gear Guide: The 10 Best Running Headphones To Buy Now
RELATED: FIELD TEST: 5 Watches Every Runner Should Consider
RELATED: The Best Workout Songs of 2013
RELATED: The 10 Best Workout Songs of 2014 (So Far)