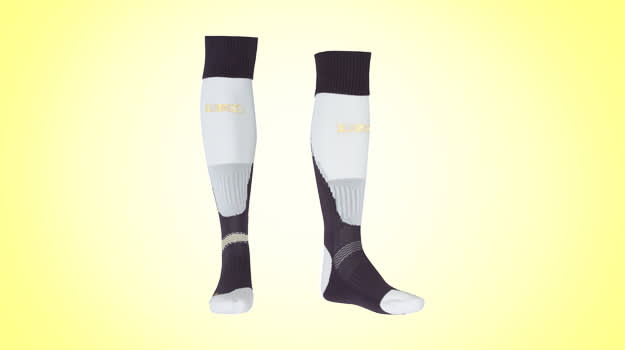 Socks are probably the least sought after of the three items that make up a proper football/soccer kit. The jersey captures all the headlines and the short shorts allow you to show off those quads of steel, but it is the socks that clothe the feet that go in the boots that eventually kick the ball. Feel me? Plus, they are what you could call the swag cherry on top of any footy uniform, if you feel so inclined. Club teams and national sides alike often throw some extra steeze on the socks just to let you know it's game time. Sock technology has also come some way from the day the first socks were invented and left your feet sweatier than a pig in a sauna. Yeah, writing about socks is sort of funny, but these are 10 Socks We Want and Why.
CLICK TO CONTINUE STORY
RELATED: The 25 Best Soccer Cleats of All Time
RELATED: The Complete Guide to Matching Soccer Shoe to Field Type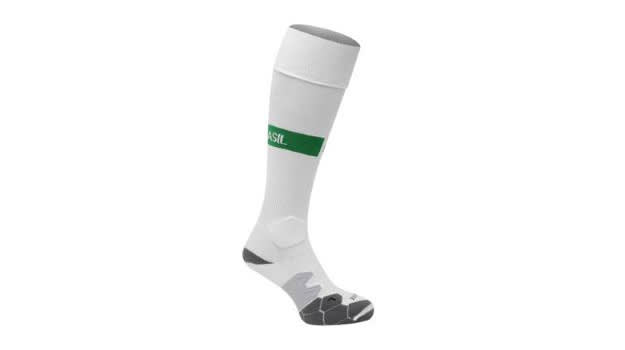 No. 10 - Nike 2013/2014 Brazil Socks
Why: The World Cup is returning to the home of the beautiful game in 2014, and though the squad looks a little shaky it would be stupid to bet against them taking home the trophy. These have all the Nike Dri-Fit features as well as heel padding for when frustrated defenders start whacking.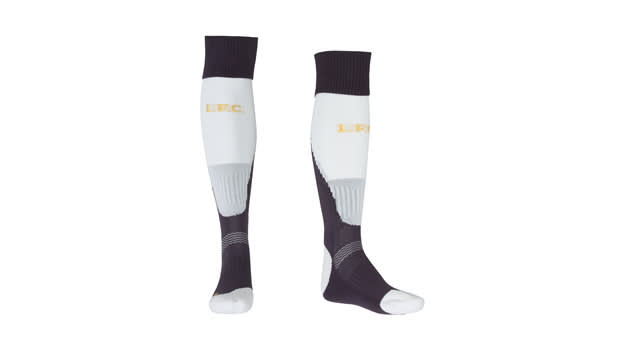 No. 9 - Warrior Liverpool 2012/2013 Third Socks
Why: Warrior's (lax brand alert) first foray into super club football actually turned out pretty well. The clean socks also boast a very comfortable anatomical fit, as well as a uniquely knitted fabric construction and ribbed elastic openings.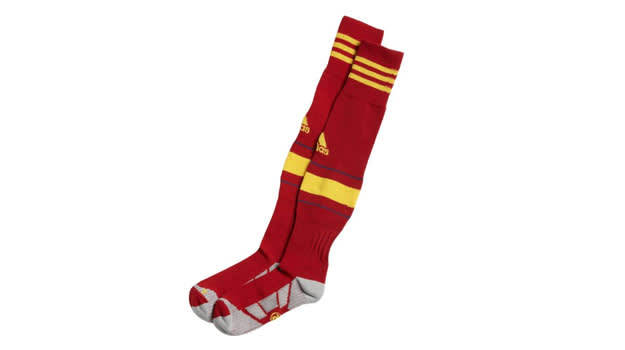 No. 8 - adidas 2012/2013 Spain Home Socks
Why: Spain has won the past three major international trophies on the trot. They use these things to pass the ball in patterns unimaginable to people of other nationalities. When you see the colors of that flag coming towards you, it might all just be over.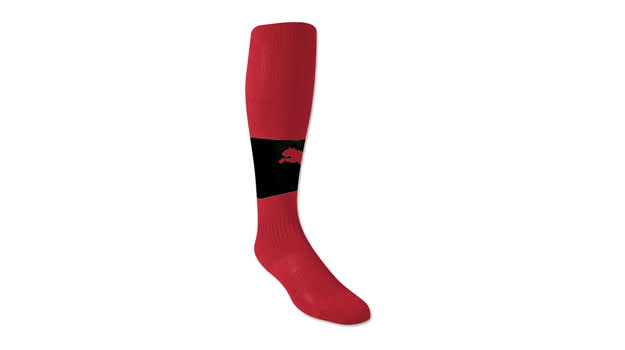 No. 7 - Puma Power Tech Socks
Why: The Puma logo is pretty intimidating and that thick lower half stripe is pretty nice as well. They also feature mesh ventilation over the top and back of the foot as well rib support above the ankle and rib arch support at the foot.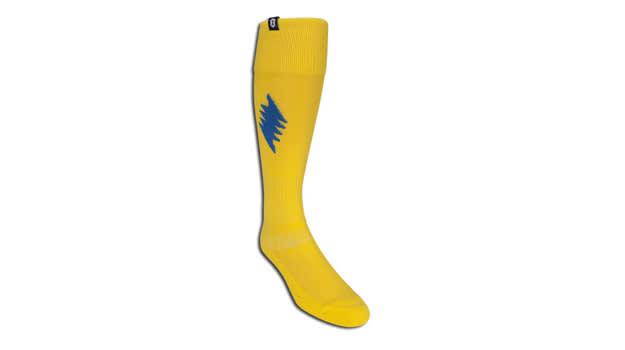 No. 6 - Pele Edison Electrics Sock
Why: This sock is named after and by the sporting brand of the greatest soccer player of all time: Pele. Plus they have lightning bolts sewn into them, so they make you faster. Not really, but they look mighty cool.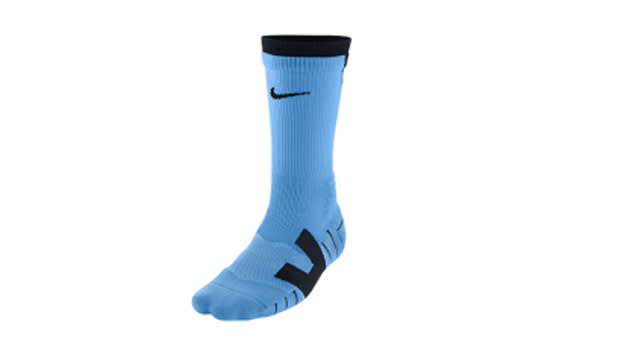 No. 5 - Nike Vapor Crew Sock
Why: Unless you are a chump you don't wear actual full-length soccer socks to practice. Get your game up and forget about the safety of your shins.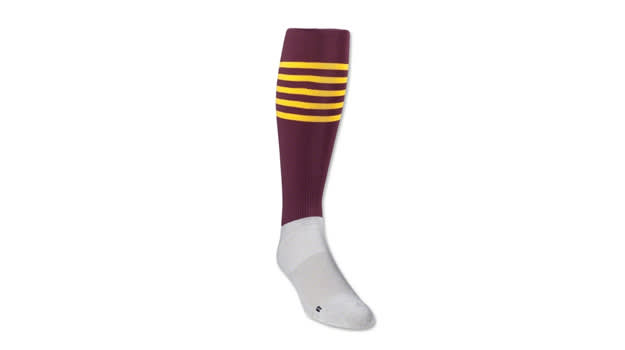 No. 4 - Umbro Manchester City 2012/2013 "Away" Sock
Why: After this year, Manchester City and all of their riches will be rocking the Nike swoosh, so this is your last chance ever to get some Umbro Manchester City socks. Not to mention they are fly as anything. The stripe color combo is one of the best out. Throwback swag whose days might just be numbered at the Eastlands.
No. 3 - Nike Barcelona 2013/2014 Away Sock
Why: Why wouldn't you want to dress your feet with what the dudes who own literally the best feet in football dress their feet in. Seriously, these things must have extra cushions, though Nike says they just have your standard Dri-Fit and heel/toe cushioning. They also have an innovative performance foot-bed (found in all of Nike's newer models) to help those of y'all that get that occasionally get that terrible "Charlie Horse" pain in the arch of your foot when lacing up.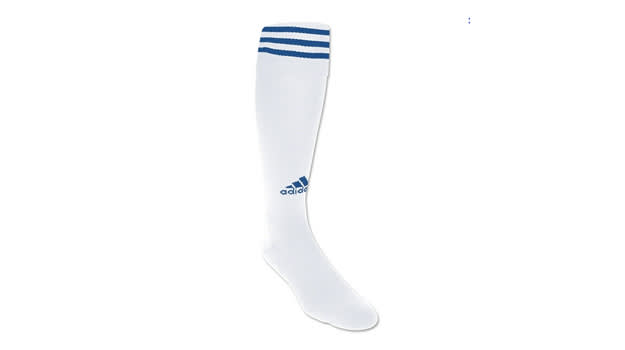 No. 2 - adidas Copa Zone Cushion
Why: Anyone who ever partook in the glory that is recreational soccer when they were little knows that socks were rarely provided as part of the uniform, thus providing the best opportunity to swag out. These are the classic adidas with the three stripes at the top. Copa zone cushioning to boot.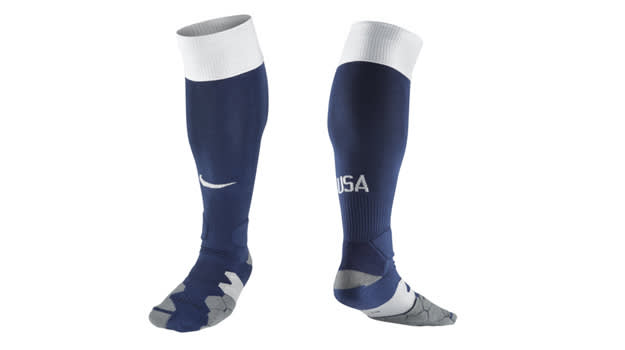 No. 1 - Nike USA 2013/2014 Nike Centennial Home Sock
Why: These socks are a part of history. Both in the fact that they complete the Yanks' 100th anniversary home kit and that they played a major role in the last two historic World Cup qualifiers: a victory over Costa Rica in what is being called "The Snow Game" and the nil-nil draw against Mexico that gave the United States' only its second qualifying point at Azteca ever. The sock also incorporates Nike's Dri-Fit technology and heel/toe cushioning.
RELATED: The 25 Best Soccer Cleats of All Time
RELATED: The Complete Guide to Matching Soccer Shoe to Field Type