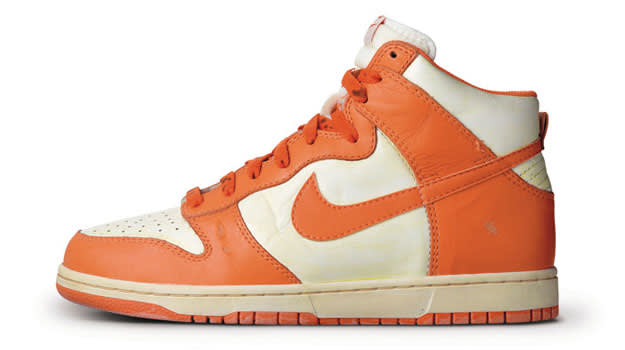 The Dunk was created by Nike as a signature shoe for the nation's top college programs in 1985 following the release of the Air Force 1 in 1982 and success of the Air Jordan 1 earlier that year. The Dunk borrowed its high leather upper and perforated vamp from the Air Force 1, giving it the appearance of being a very similar shoe. However, it also had some of its own innovations that made it uniquely suited for the college game.
Since collegiate players often attack with more pace than their NBA counterparts, the Dunk featured a lower profile outsole compared to the Air Force 1. This change reduced the overall weight of the shoe and kept players closer to the ground and more attuned with the action on the court, thus making it a favorite of some of the nation's best young point guards.
The Dunk's "Be True To Your School" campaign became its hallmark as the shoes were routinely seen on the feet of some of the country's best college players during the 1985-86 and 1986-87 seasons, with some players even continuing to wear them in 1987-88. Here are the 10 Best Performances in the Nike Dunk.
Doug Sibor contributes to Sneaker Report, Complex Media, and Bleacher Report, and can often be found shuttling between Fenway Park, Gillette Stadium and TD Garden. If you wish to discuss sports, sneakers, reality TV or acceptable meats to use as pizza toppings,

RELATED: The 10 Best Performances in Nike Air Force 1s
RELATED: The 10 Best Performances in the Air Jordan I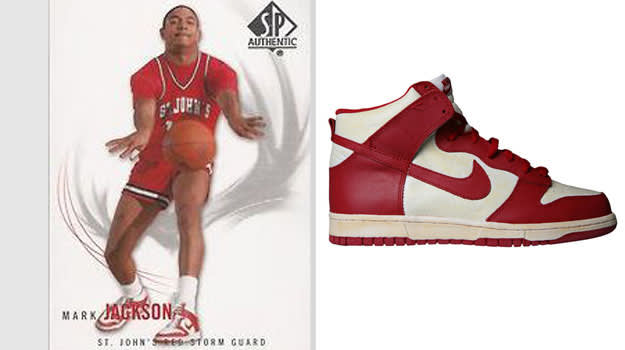 No. 10 - Mark Jackson, St. John's University

Stats: 19 points, 4 rebounds, 11 assists, 2 steals
Game: 2/25/1987 vs. Syracuse Orangemen

On his way to being named a second team All-American and setting the school record for career assists, Mark Jackson had a typically strong game against Syracuse in his Nike Dunks. Utilizing the shoe's revised paneling to give him greater movement on the court, the shifty point guard led his team both in scoring with 19 points and in assists with 11. His ability to slash to the hoop kept his team in the game despite an off night from their primary shooters, and the reduced weight of the Dunks allowed Jackson to play all 40 minutes.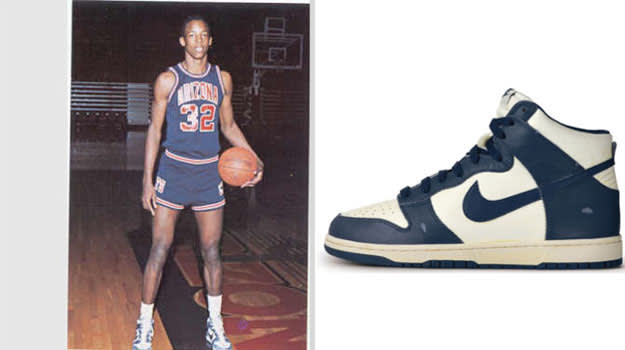 No. 9 - Sean Elliott, University of Arizona

Stats: 26 points, 6 rebounds, 4 assists
Game: 3/13/1987 vs. University of Texas El-Paso Miners

After leading his team on a late surge just to make the NCAA tournament, Sean Elliott proudly battled to keep the Wildcats' season alive in this first round clash with UTEP. Elliott's Nike Dunks helped the versatile small forward lift up his team when nobody else could get it going from the floor, staying comfortable and cool while sinking shots thanks to the padding in the collar and perforations on the vamp. While Elliott's superb effort wouldn't be enough to save his team's season, he would go on to become a first team All-American in each of the next two years.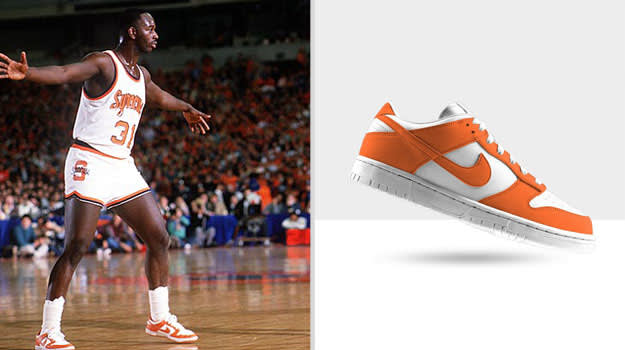 No. 8 – Dwayne "Pearl" Washington, Syracuse University

Stats: 33 points, 3 rebounds, 7 assists
Game: 2/12/1986 vs. Villanova Wildcats

"Pearl" was on top of his game on this night against Villanova, flawlessly executing his patented "shake and bake" thanks to his low Nike Dunks. The playground legend utilized the lower profile outsole of the Dunks to stay grounded and blow by his opponents before they even knew what happened. His moves certainly were working against the Wildcats as Pearl got easy scores at the basket time and again, shooting a masterful 10-of-15 from the floor while also hitting 13 of his 17 free throw attempts.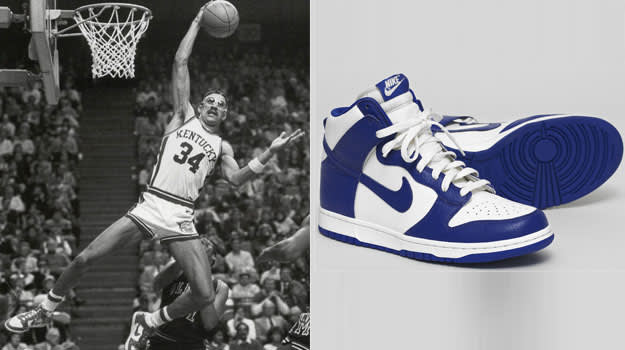 No. 7 - Kenny "Sky" Walker, University of Kentucky

Stats: 32 points, 8 rebounds, 2 assists
Game: 3/16/1986 vs. Western Kentucky Hilltoppers

Before he was an NBA Slam Dunk champion, Kenny Walker took to the skies in Lexington in his Nike Dunks. In this second round clash in the NCAA tournament, Walker used the stability provided by the high leather upper of his shoes to thoroughly dismantle WKU as he set an NCAA tournament record by going 11-for-11 from the floor. His ability to elevate over interior players thanks to his stable, lighter weight Dunks helped Walker lead his team on this night and all the way to the Elite Eight before being eliminated by LSU.
No. 6 - Derrick Coleman, Syracuse University

Stats: 20 points, 19 rebounds, 5 assists, 4 blocks, 2 steals
Game: 2/2/1988 vs. Providence Friars

Coleman sported Dunks long after they ceased to be the shoe of choice for most college players, making use of the paneling on the upper to roam freely around the paint. In this Big East matchup against the Friars, Coleman had NBA scouts drooling as he posted a monster stat line in leading Syracuse to a blowout win. The big man's athleticism was greatly aided by his Dunks, which allowed him to get out and run the break along with his teammates as he converted numerous easy attempts at the rim.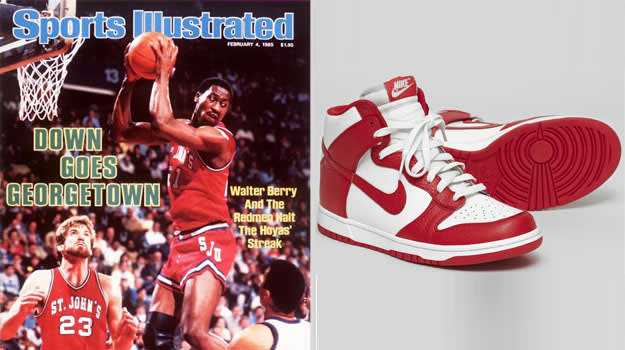 No. 5 - Walter Berry, St. John's University

Stats: 31 points, 11 rebounds, 1 assist
Game: 3/14/1986 vs. Montana State Bobcats

While he's often forgotten due to his lackluster pro career, Walter Berry was considered one of the best players in the nation in 1985-86 when he was named a first team All-American and won the Wooden Award for the most outstanding player in college basketball. Thanks to the durable leather upper of his Nike Dunks, the slashing small forward was able to keep his feet and ankles protected as he got to the hoop with ease and shot a sensational 10-of-16 in guiding his No. 1-ranked St. John's team to victory in this NCAA tournament first round matchup.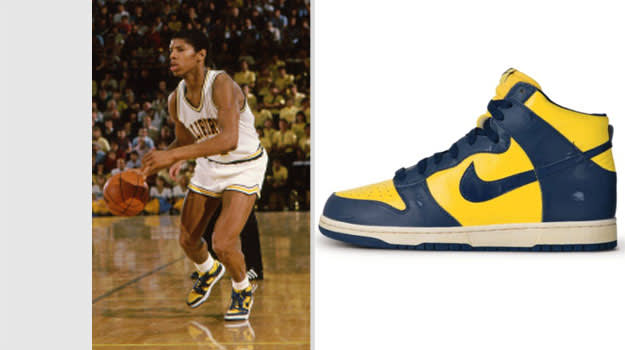 No. 4 - Kevin Johnson, University of California Berkeley

Stats: 22 points, 10 rebounds and 12 assists
Game: 1/22/1987 vs. Arizona Wildcats

The tone for KJ's outstanding pro career was set by his performances in his Nike Dunks while at Berkeley. He recorded the first triple-double in the program's history on the night against Arizona, using the durability of his Dunks to maintain his breakneck pace throughout this contest that stretched into double overtime. Elevating over his opponents thanks to the lighter weight of his shoes, KJ grabbed his tenth and final rebound with his team up by one point and with one second remaining in the second overtime, locking down the Bears' victory.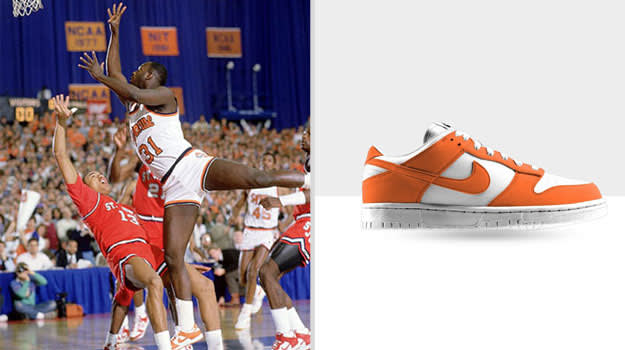 No. 3- Dwayne "Pearl" Washington, Syracuse University


Stats: 20 points, 3 rebounds, 14 assists, 2 steals; Big East Tournament MVP
Game: 3/8/1986 vs. St. John's Red Storm

In the finals of the Big East tournament, Pearl was simply outstanding in his low cut Dunks as he gouged the St. John's defense all night long. The freedom of movement allowed by the low cut upper helped Washington slash into the lane and open up easy shot opportunities for his teammates. This ability to distribute allowed Washington to set a single-game high for assists in the Big East tournament, a record that has yet to be broken. Washington was honored for his tremendous play all tournament long, winning the MVP award despite the fact that Syracuse lost a one-point heart breaker after Pearl's game-winning shot attempt at the buzzer was blocked.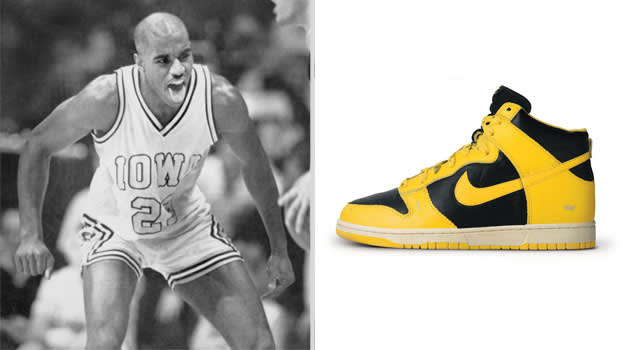 No. 2 - Roy Marble, Iowa University

Stats: 29 points, Tournament MVP Award
Game: 12/1/1986 vs. Northeastern Huskies

The incredibly athletic Marble had a game perfectly suited for the Nike Dunks; he made use of the high leather upper to stabilize himself and the lighter weight to cut all over the court, and thanks to this combination he is still the leading scorer in the history of Iowa basketball. In the finals of the 1986 Great Alaska Shootout the swingman used this skillset to dominate Northeastern and their star Reggie Lewis, as he paced his team with 29 points and snagged tournament MVP honors. Marble's barrage was part of a phenomenal overall team effort, as the Hawkeyes (all wearing Dunks) set a tournament scoring record with 284 points in their three games.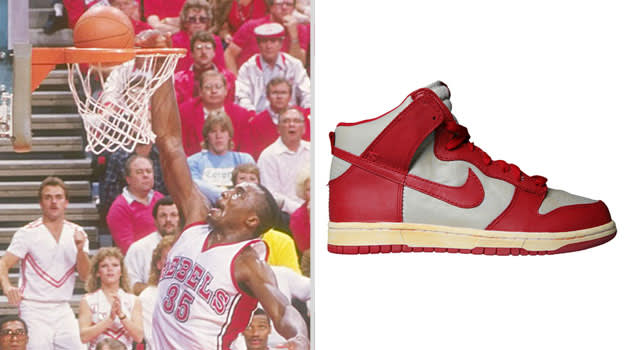 No. 1 - Armen Gilliam, University of Nevada-Las Vegas

Stats: 38 points, 13 rebounds, 4 assists
Game: 3/20/1987 vs. Wyoming Cowboys

Gilliam is a legend at UNLV, and in this Sweet 16 matchup against Wyoming "the Hammer" showed why he was one of the most feared power forwards of his day. Owning the paint in his Nike Dunks thanks to the stability and durability of the leather upper's revised paneling, Gilliam eviscerated the Cowboys' defense as he made 17 of his 24 shots, with many of those coming at or near the rim. He also used his shoes to bully those who tried to cover him around the glass, snagging seven offensive rebounds and generating numerous easy putbacks for himself as a result.

RELATED: The 10 Best Performances in Nike Air Force 1s
RELATED: The 10 Best Performances in the Air Jordan I