RELATED: The Sneakers Worn For The 15 Best UNC Performances Of All-Time
RELATED: The Sneakers Worn For The 15 Best Duke Performances Of All-Time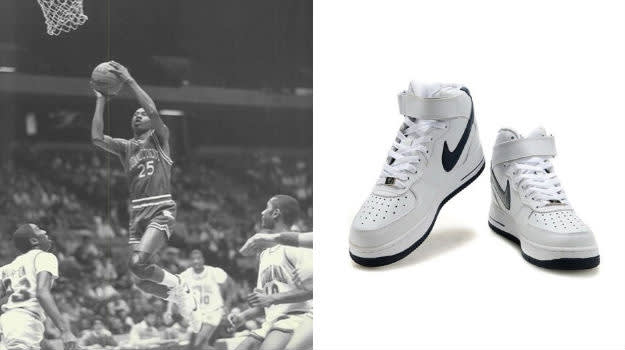 No. 15 - UConn Wins The NIT In 1988
The Player: Phil Gamble
The Sneaker: Nike Air Force One
Taking the journey one step at a time, Jim Calhoun's first major achievement was winning the National Invitational Tournament in 1988. The leader of the unit was Phil Gamble, who was named Most Valuable Player 1988 NIT tourney and was also named to Big East All Freshman Team in 1985-86. This would be the beginning of something bigger for the Huskies, and Gamble was the big bet that started the payoff.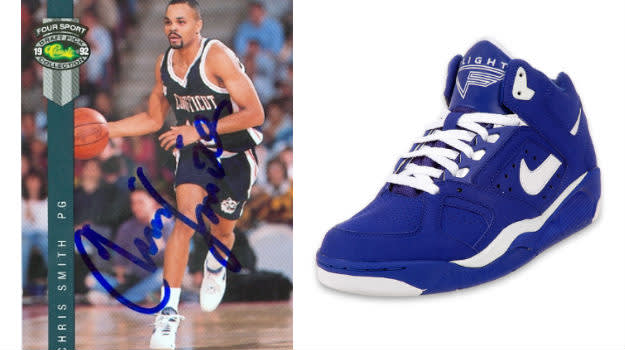 No. 14 - UConn Wins Its First Big East Championship
The Player: Chris Smith
The Sneaker: Nike Air Flight Lite
In 1979, UConn was one of the original seven founding schools of the Big East conference, and yet it took another 11 years until the Huskies were able to bring their first conference championship to Storrs. One of the leaders of that squad was Chris Smith, who left the Huskies as the program's all-time leading scorer and all-time three-point shooter.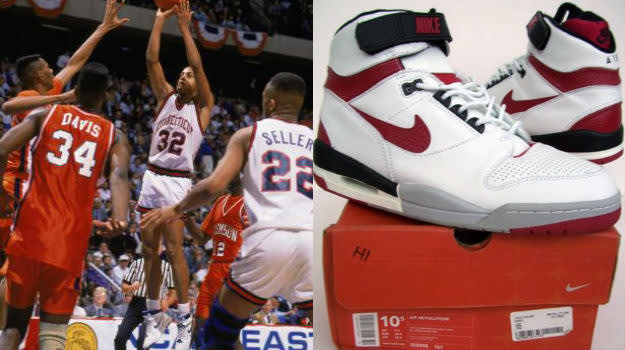 No. 13 - "The Shot"
The Player: Tate George
The Sneaker: Nike Air Revolution
While winning the Big East championship was nice, the college basketball world began to feel the ripples coming from Storrs when Tate George's buzzer beater versus Clemson in the 1990 to put the Huskies into their first Elite 8 since 1964. The 71–70 victory forever embedded George into NCAA history, ans would be a sign of things to come for Calhoun's Huskies.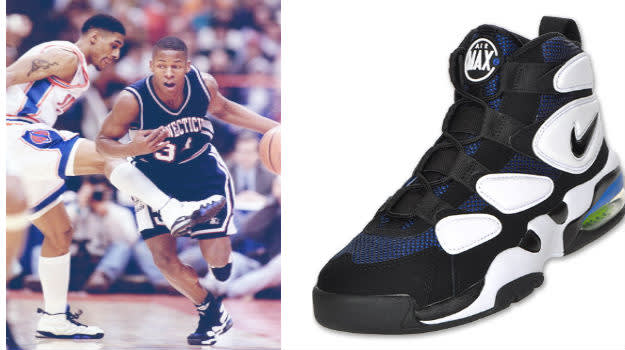 No. 12 - The Ray Allen Era
The Player: Ray Allen
The Sneaker: Nike Air Max Uptempo II
Arguably the greatest shooter of all-time got his start in Storrs running screens and getting his Jesus on under Jim Calhoun. Allen earned almost every accolade a college hooper could during his career at UConn, as he was named USA Basketball's Male Athlete of the Year in 1995, earned first-team All-American honors and the Big East Player of the Year award in 1996. Shuttlesworth, I mean Allen, finished as UConn's 3rd all-time leading scorer and set a single-season school record by making 115 threes in 1995–96.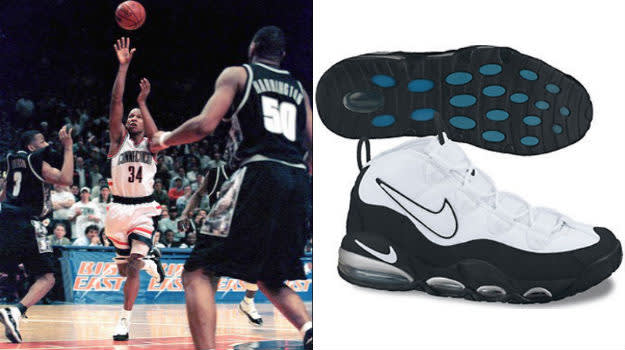 No. 11 - UConn Completes The Comeback, Wins 2nd Big East Championship
The Player: Ray Allen
The Sneaker: Nike Air Max Uptempo
Just look at the photo for one second. Look. Yep, there's Allen Iverson, the man who was on the brink of Big East immortality by bringing the Big East championship back to Georgetown in 1996. The Hoyas were up 74-63 on the Huskies and all hope seemed lost on the Huskies faithful, but they forgot that they had Jesus on their team. Ray Allen put the Huskies on his back and eliminated the 11-point deficit, which was capped with an off-balance prayer of a shot that miraculously went in. Make that Big East Championship number two for UConn, praise Jesus.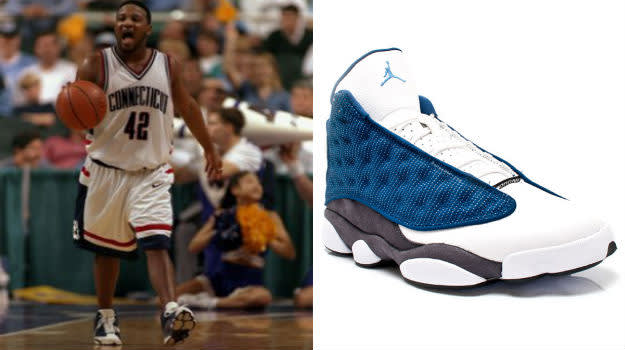 No. 10 - UConn Reaches Their First Final Four
The Player: Khalid El-Amin
The Sneaker: Air Jordan XIII
There are few players that I've loved in college more than Khalid El-Amin. Seeing a slow, chunky, loudmouth and cocky guard out there giving opponents THAT WORK was a dream come true for a fellow husky hooper like myself. El-Amin was one of the leaders of a loaded 1999 Huskies squad that also featured Richard Hamilton and Jake Voskuhl. UConn ousted Gonzaga in the Elite 8 to make their first Final Four appearance in school history, but they wouldn't be finished just yet.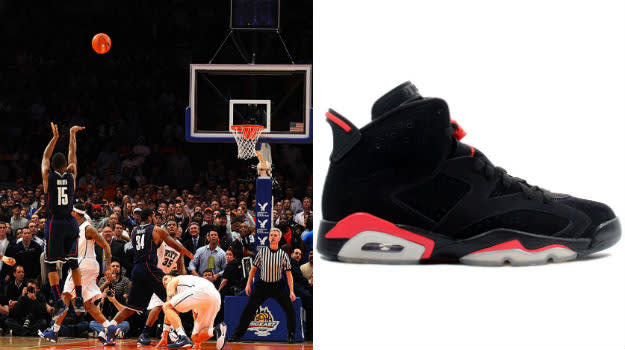 No. 9 - Cardiac Kemba Walker Delivers A Step-Back From Hell To Waka Flocka Flame
The Player: Kemba Walker
The Sneaker: Air Jordan VI
Kemba Walker's memorable game-winner versus Pittsburgh in the 2011 Big East Championship will forever stick in one's mind. However, I genuinely feel bad for former Pitt Panthers big man Gary McGhee for a number of reasons.
Shame on the Pitt defender who initially had responsibility on Kemba Walker, but switched for reasons unknown which forced McGhee to defend the scariest player in college basketball.

All of my friends referred to McGhee as Waka Flocka Flame. We're not proud of it, but....dude definitely looked like Waka.

McGhee might forever be known to the general public as the guy who crumpled in a massive heap via a hellacious step-back jumper from Kemba Walker. Good grief.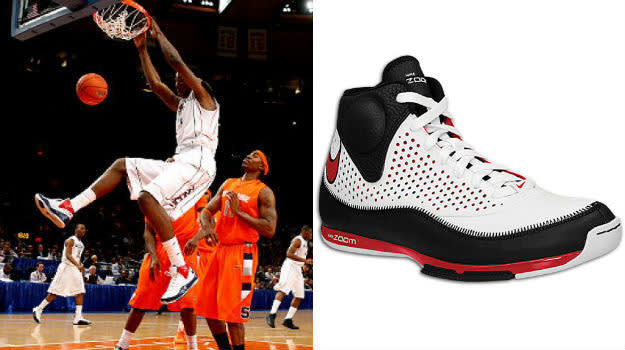 No. 8 - Connecticut And Syracuse Give Us The Longest Game In Big East History
The Player: Hasheem Thabeet
The Sneaker: Nike Air Zoom BB II
In the quarterfinals of the 2009 Big East Tournament, UConn and Syracuse squared off in a six-overtime marathon contest that literally would not end. I can vividly remember the following:
Hasheem Thabeet, AJ Price AND Stanley Robinson all fouled out on a UConn team that wasn't deep at all
Jonny Flynn single-handedly lifted his draft stock to the 6th pick in the 2009 draft. (one pick ahead of Stephen Curry) Oh, and Flynn's playing in Australia now. Whoops.
Kemba Walker and Craig Austrie put up a combined 6-31 shooting performance and I'm still not sure how UConn stayed in this game.
Eric Devendorf put an interesting cap to his rollercoaster career with a shot for the ages.
This was the longest game in Big East history, and the second longest game in NCAA history. UConn never trailed in the first five overtime periods, but Syracuse would eventually win 127–117.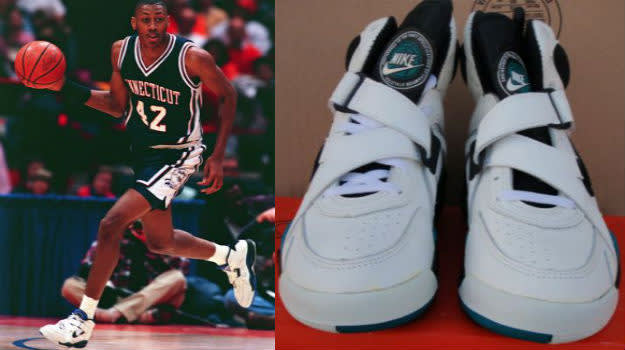 No. 7 - Donyell Marshall Becomes First Husky Consensus All-American
The Player: Donyell Marshall
The Sneaker: Nike Air Force '93 High
There are some that will say that Donyell Marshall's career at Connecticut was the best any player ever had as a Husky. Marshall was UConn's first consensus first-team All-American and was a finalist for the 1993-93 national player of the year. Marshall also led the Big East in scoring (25.1 points/game) and blocks (111) as a junior, and would eventually be drafted No. 4 by the Minnesota Timberwolves in 1994 NBA Draft.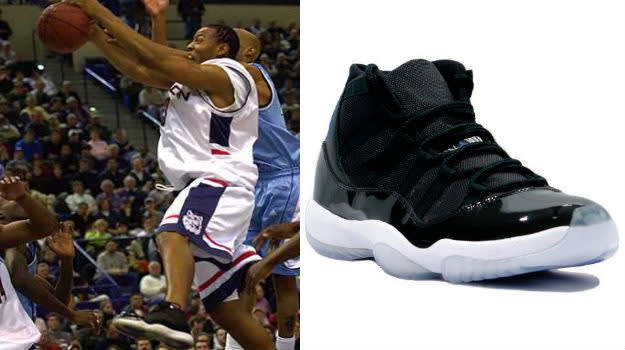 No. 6 - The Legend Of Tough Juice Begins
The Player: Caron Butler
The Sneaker: Converse Chuck Taylor All-Star
The story of Caron Butler goes all the way back to his days growing up in Racine, Wisconsin. Saying life wasn't easy would be an understatement for Butler, as he was selling drugs at age 11 and was arrested 15 times by the age of 15. It took trouble for Butler to find his love for the game of basketball, but once he found that love he began delivering trouble to the opponent on a regular basis. Butler spent two years at UConn and during his sophomore season he averaged 20.3 points per game while leading the Huskies to Big East regular season and tournament titles. Butler also shared Big East Player of the Year award with  Pitt's Brandin Knight and was named a second-team All American. Butler would later earn the nickname "Tough Juice" while playing for the Washington Wizards, but that reputation had already been earned before he stepped foot in the NBA.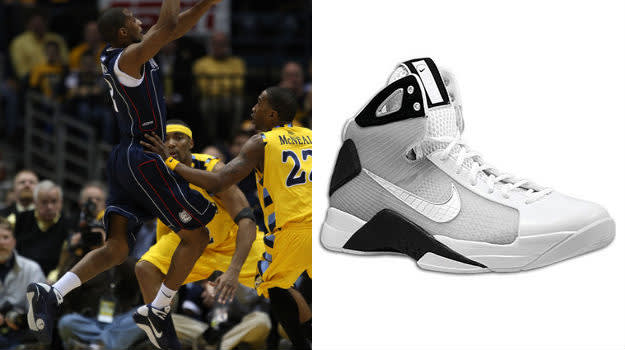 No. 5 - AJ Price Gets Coach Jim Calhoun Win #800
The Player: AJ Price
The Sneaker: Nike Air Hyperdunk
Jim Calhoun had hit rarefied air in the coaches' circle with win #800 as only fellow greats like Wooden, Krzyzewski, Knight and Smith had hit a similar career milestone. Win #800 came vs. Marquette, as AJ Price put on an epic performance with 36 points in the road victory. Calhoun would finish with 866 career victories, ranking him 6th all-time amongst all D-1 head coaches.
No. 4 - Jim Calhoun Retires, A Young Protege Emerges
The Player: Kevin Ollie
The Sneaker: Nike Air Max Uptempo 2
After accumulating those 866 wins, three national titles, a slew of players matriculate their way to the NBA and debilitating health, Jim Calhoun decided that it was time to retire. When looking for a replacement, he went to the one person who would be as passionate and as dedicated as he was to the Huskies. Kevin Ollie. Ollie, seen here with his head buried in a towel, has always been one of the smartest players in basketball, even if he wasn't the most gifted athletically. Its the reason why many believe he'll succeed as the next Huskies head coach, because if anyone knows what it takes to achieve at the highest level, its the man who played for 13 different NBA teams during his career.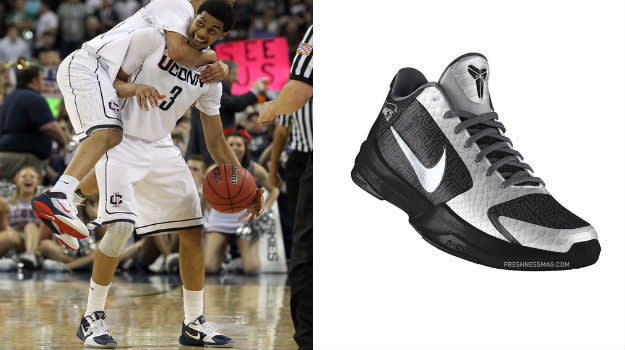 No. 3 - An Epic Defensive Performance Nets Connecticut 3rd National Championship
The Player: Jeremy Lamb
The Sneaker: Nike Zoom Kobe V
While Kemba Walker had been pushing the Connecticut Huskies along as the leader, it was clear that if UConn was going to have any actual success he was going to need some help. Freshman sensation Jeremy Lamb stepped into the supportive role and provided a much needed threat for Calhoun's squad by becoming the second-leading scorer on the team. Lamb was instrumental in getting UConn to their third national championship, as Lamb shot 11-15 from long range, the best 3-point percentage by any player to make it to the Final Four.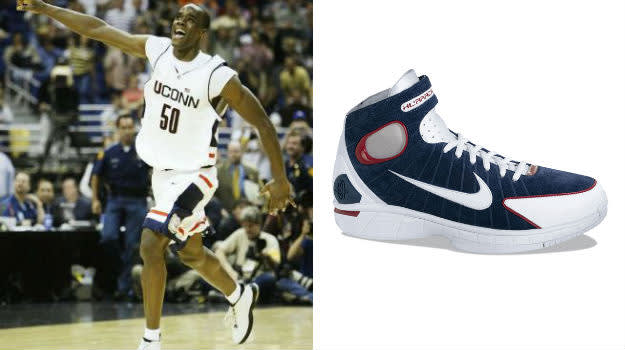 No. 2 - Emeka Okafor Cements His Legacy, Brings UConn Their Second NCAA Title
The Player: Emeka Okafor
The Sneaker: Nike Air Zoom Huarache 2K4
The foundation of the 2004 Connecticut Huskies was built on streaky scoring, running the floor and staunch defense. The staunch defense piece was held down by the man in the middle in Emeka Okafor. The man with the 3.8 GPA and about as many blocks per game, helped UConn win their second national championship in six seasons in an 82-73 win over Georgia Tech in the Alamodome.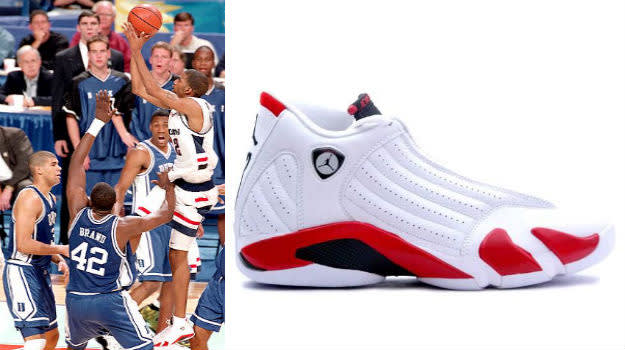 No. 1 - UConn Wins Their First National Championship Vs. Duke
The Player: Richard Hamilton
The Sneaker: Air Jordan XIV
The man with the coolest nickname in UConn history also had the smoothest game. Richard Hamilton was a scoring machine at Connecticut, with a silky jumper, a crafty slashing ability and a stone-cold demeanor, he earned the nickname that was given to him, Rip. (Although the legend goes that he actually got the nickname from ripping his diapers off as a child, but I digress.) With Duke standing in their way from college basketball immortality, the shooter from Coatesville went to battle with the shooter from Anchorage in Trajan Langdon, and Hamilton's 27 trumped Langdon's 25 and the Huskies captured their first NCAA championship in a 77-74 victory. Rip would be named the tournament's Most Outstanding Player, and I'm pretty sure he'll never have to pay for drinks in Storrs ever again.
Eddie Maisonet is the Editor-In-Chief of The Sportsfan Journal, contributor to SLAM Online and Sneaker Report, and loves women who wear big hoop earrings. Follow him on Twitter to keep up with more of his shenanigans and tomfoolery.
RELATED: The Sneakers Worn For The 15 Best UNC Performances Of All-Time
RELATED: The Sneakers Worn For The 15 Best Duke Performances Of All-Time