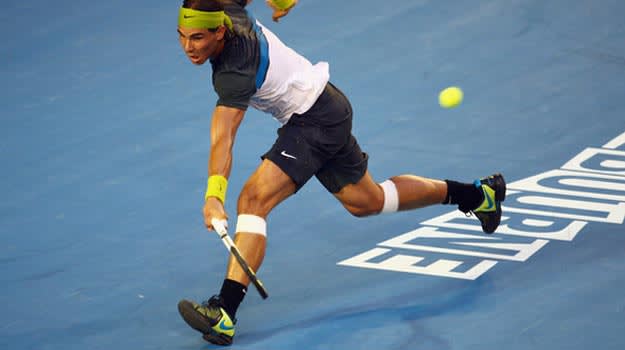 Every January, the best tennis players in the world descend on Melbourne for the Australian Open. The first Grand Slam event of the season, the Open has produced
RELATED: The 25 Best Sneakers Worn by US Open Men's Singles Champions
RELATED: The 50 Most Influential Sneaker Sponsorships in Sports History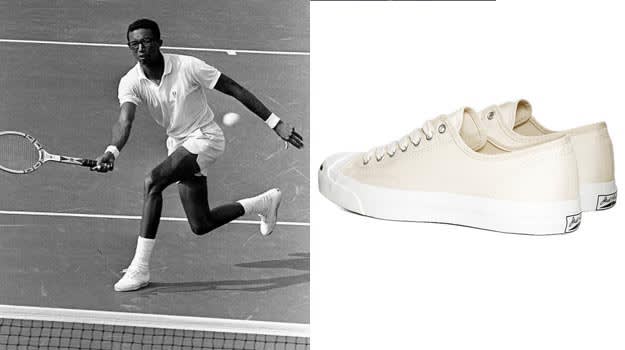 Arthur Ashe x BF Goodrich Jack Purcell
Year and Opponent: 1970 vs. Dick Crealy (above)
Score: 6–4, 9–7, 6–2
The first (and only) African-American ever to win a singles title at Wimbledon, the US Open and the Australian Open, Arthur Ashe is considered one of the great pioneers in the history of sports. His performance at the 1970 Australian Open, where he defeated Dick Crealy in the finals, is even more impressive when considering that he did it in B.F. Goodrich Jack Purcells. While considered fashionable now, Purcells were also used for racket sports before the proliferation of sneakers in the late 70s. The rubber sole and canvas upper provided Ashe more protection and traction than traditional court shoes, giving him an edge over his competitors who had yet to adapt to the times.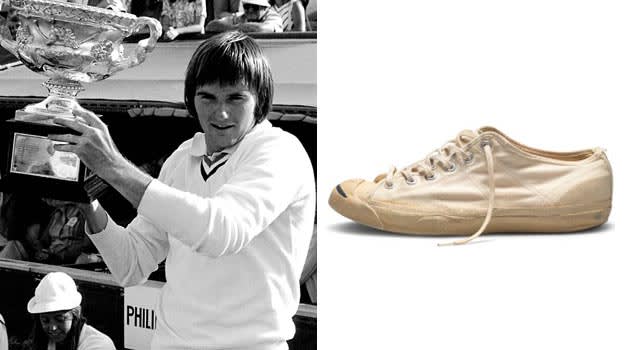 Jimmy Connors x Converse Jack Purcell
Year and Opponent: 1974 vs. Phil Dent (above)
Score: 7–6 (9–7), 6–4, 4–6, 6–3
Connors was just a young man of 21 when he won the 1974 Australian Open over Phil Dent, edging his opponent in four closely-contested sets. This original bad boy of tennis would go on to get his own signature shoe in 1984, but until then he would have to settle for the same Jack Purcells worn by many in the past. Although Converse had purchased the trademark rights from B.F. Goodrich, the shoe remained largely the same. The heavy rubber sole did little to prevent Connors from dominating the national tennis scene in the 70s, and in fact he was ranked No. 1 in the world for a then-record 160 consecutive weeks from mid-1974 to late 1977.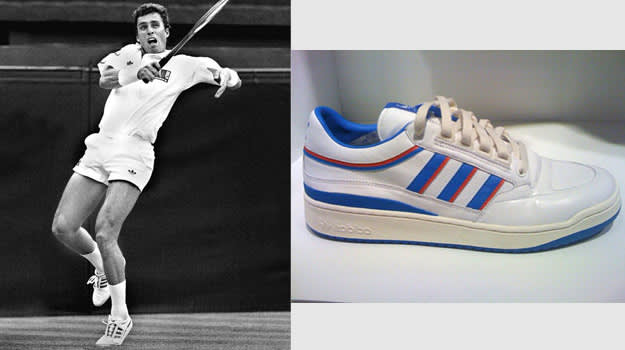 Ivan Lendl x adidas Lendl Competition II
Year and Opponent: 1989 vs. Miloslav Mečíř
Score: 6–2, 6–2, 6–2
Year and Opponent: 1990 vs. Stefan Edberg (above)
Score: 4–6, 7–6 (7–3), 5–2 (retired)
Although he lacked the outlandish personality of some of his more marketable competitors, Ivan Lendl was one of the most successful tennis players in history. He even got his own signature line from Adidas beginning in 1984; it was in his Lendl Competition that he took home the Australian Open in 1989, upgrading to the Competition IIs for his 1990 win. The Competition II featured a mesh upper to keep the Czech star's feet cool and comfortable, while the classic adidas pellets in the intersole provided Lendl with phenomenal flexibility as he darted all over the court.
Year and Opponent: 1991 vs. Ivan Lendl (above)
Score: 1–6, 6–4, 6–4, 6–4
Year and Opponent: 1996 vs. Michael Chang
Score: 6–2, 6–4, 2–6, 6–2
In 1984, Becker became the first unseeded player ever to win a Wimbledon title. Following that virtuoso performance, he became a mainstay in all the Grand Slam events, winning six of them. In the 1991 Australian Open, he defeated Ivan Lendl in the finals wearing his signature Diadora Becker. The shoe feature a rarely seen upper, one made of kangaroo leather, and the soft comfort it provided helped Becker prevent Lendl from winning his third Open in a row. By 1996, Becker had switched to Lotto Futuras, perhaps deciding that the comfort of the leather was negated by the heat they trapped in the shoe.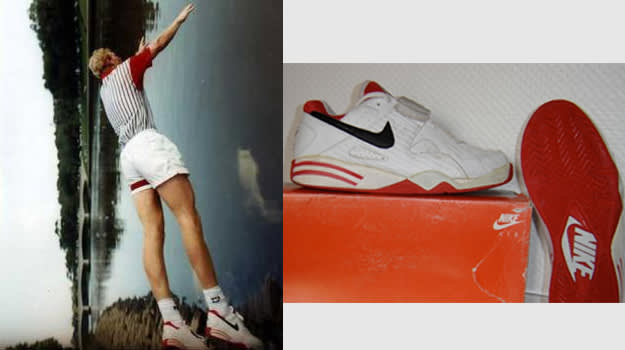 Jim Courier x Nike Supreme Court
Year and Opponent: 1992 vs. Stefan Edberg (above)
Score: 6–3, 3–6, 6–4, 6–2
Year and Opponent: 1993 vs. Stefan Edberg (above)
Score: 6–2, 6–1, 2–6, 7–5
In 1992 and 1993, Jim Courier defeated Stefan Edberg in consecutive Australian Open Finals. Both times, he did it rocking his Nike Supreme Courts, a shoe whose signature design feature was the midfoot strap across the top that gave the shoe an optimally snug fit. They also provided excellent cushioning with Nike Air stretching the length of the sole. Courier's comfort on the court was clear whenever he played, as the red-headed American took home four major titles in less than two years and spent 58 weeks ranked as the world's No. 1 player.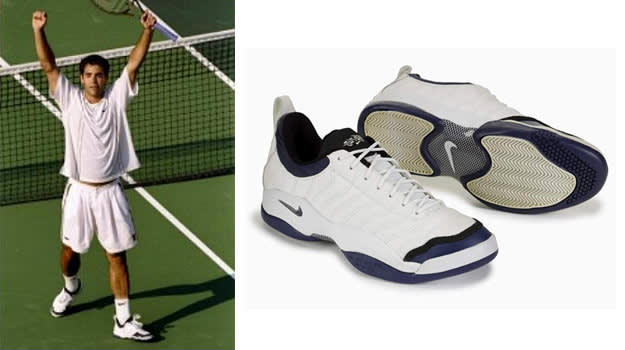 Pete Sampras x Nike Air Oscillate
Year and Opponent: 1994 vs. Todd Martin
Score: 7–6 (7–4), 6–4, 6–4
Year and Opponent: 1997 vs. Carlos Moya (above)
Score: 6–2, 6–3, 6–3
One of the greatest players in the history of tennis, Sampras also benefitted from a big marketing push by Nike. When he won the 1997 Australian Open, Sampras was wearing his signature Nike Air Oscillate, a shoe designed specifically for a man considered to be the ultimate perfectionist. Like Sampras, this shoe had it all: a mesh tongue with synthetic leather upper for comfort in the brutal Australian summer, Zoom Air cushioning for marathon matches, and a tight herringbone pattern for incredible traction on the slippery hard court. For his personal model, Sampras even got his own special size: 10.25.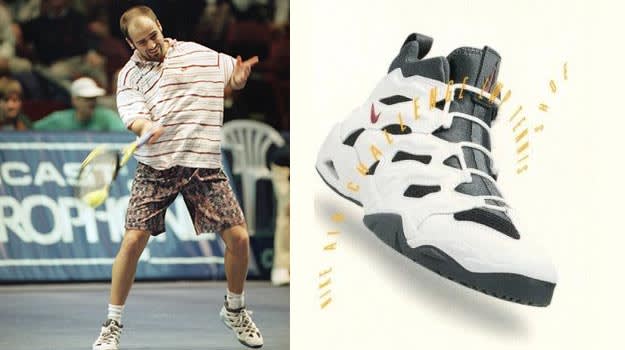 Andre Agassi x Nike Air Challenge LWP
Year and Opponent: 1995 vs. Pete Sampras (above)
Score: 4–6, 6–1, 7–6 (8–6), 6–4
Year and Opponent: 2000 vs. Yevgeny Kafelnikov
Score: 3–6, 6–3, 6–2, 6–4
Year and Opponent: 2001 vs. Arnaud Clément
Score: 6–4, 6–2, 6–2
No player in the history of tennis has proven to be as marketable as Andre Agassi, and so it should come as no surprise that the three-time Australian Open champion has had a long line of signature shoes; when he defeated Pete Sampras to take his first Open in 1995, Agassi was already wearing his sixth pair of Nikes. These shoes—Nike Air Challenge LWPs—were incredibly light, utilizing Nike Air cushioning and a Phylon midsole that allowed the explosive Agassi to quickly get to and return any of his opponents' shots.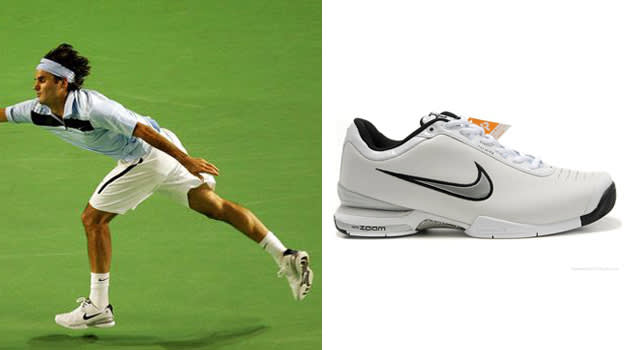 Roger Federer x Nike Air Zoom Vapor IV
Year and Opponent: 2004 vs. Marat Safin
Score: 7–6 (7–3), 6–4, 6–2
Year and Opponent: 2006 vs. Marcos Baghdatis
Score: 5–7, 7–5, 6–0, 6–2
Year and Opponent: 2007 vs. Fernando González (above)
Score: 7–6 (7–2), 6–4, 6–4
Year and Opponent: 2010 vs. Andy Murray
Score: 6–3, 6–4, 7–6 (13–11)
Perhaps the most decorated player in the modern era, it comes as no surprise that Federer has won in Melbourne four different times. Always a Nike man, the Switzerland native took home the 2007 title in particularly spectacular fashion as he failed to lose a set the entire tournament, thanks in large part to his Air Zoom Vapor IVs. Focusing on speed with these shoes, Nike included a Counter Speed Fit upper made of lightweight synthetic, keeping the shoe incredibly light. The full-length herringbone on the sole allowed Federer to make quick cuts all over the court, and the shoe's signature Heat Block system significantly reduced the amount of summer heat reaching his feet.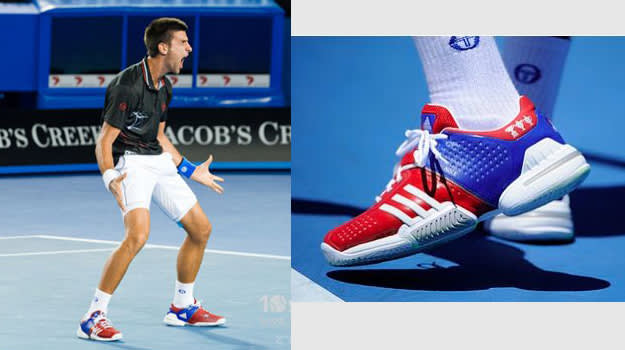 Novak Djokovic x Adidas Barricade 6.0
Year and Opponent: 2008 vs. Jo-Wilfried Tsonga
Score: 4–6, 6–4, 6–3, 7–6 (7–2)
Year and Opponent: 2011 vs. Andy Murray
Score: 6–4, 6–2, 6–3
Year and Opponent: 2012 vs. Rafael Nadal (above)
Score: 5–7, 6–4, 6–2, 6–7 (5–7), 7–5
The Djoker is right up there with Federer in terms of Australian Open dominance, having won the tournament in three of the last five years. In taking down Rafael Nadal in last year's finals, he showed the combination of power and speed that have made Djokovic an absolute force on the court. His adidas Barricade 6.0 (in his own personal Serbian-themed colorway) feeds right into this type of well-balanced game, blending the lightweight synthetic upper with its signature Claw and Torsion System to give him a lethal mix of quickness and stability.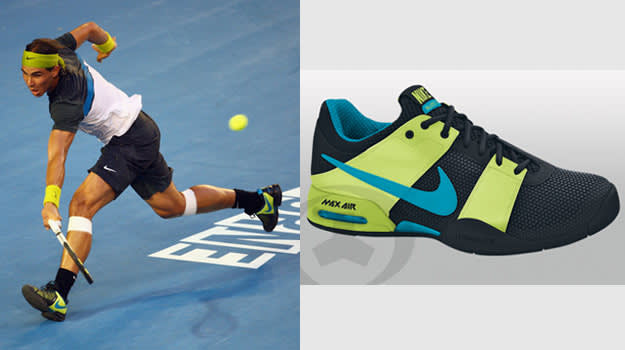 Rafael Nadal x Nike Air Max Courtballistecs 1.3
Year and Opponent: 2009 vs. Roger Federer (above)
Score: 7–5, 3–6, 7–6 (7–3), 3–6, 6–2
Given how much success he's had in his career, it is somewhat surprising that Nadal has won just once at the Australian Open. His 2009 victory over Roger Federer was a classic, though, with the match lasting a full five sets. Nadal's Nike Air Max Courtballistecs 1.3 kept him fresh for that marathon finals, as the Spaniard utilized the incredible support provided by the Lunarlite forefoot and Max Air Unit in the heel to stay light on his feet and out ahead of Federer's forehand screamers. The Drag-On X toe protector and herringbone outsole ensured that Nadal's feet stayed gripped to the court, keeping him healthy and fueling his victory.
RELATED: The 25 Best Sneakers Worn by US Open Men's Singles Champions
RELATED: The 50 Most Influential Sneaker Sponsorships in Sports History