How's your Singles Awareness Day treating you? Are you tired of staring down click-thirsty photos of friends and acquaintances celebrating today's commercial holiday with rare gifts, dinner, and soon-to-be-rotting flowers of every variety? I hear you. But just when we started thinking we'd braved the worst that the day had to offer, Kylie Jenner and Tyga appeared on our Instagram feeds to remind us that carefully curated love is real—and it's celebrated with helicopter rides and suede pant suits (of course).
Jenner has been coyly dodging any posts with her beau for the better part of the day, instead opting for some thot-level selfies of herself wearing a two-piece ensemble that left little to the imagination (she looked great though!). Surely, we thought, this signals trouble in paradise. After all, what 18-year-old isn't posting pictures with her significant other on the single most reviled holiday of the year?
And then this happened: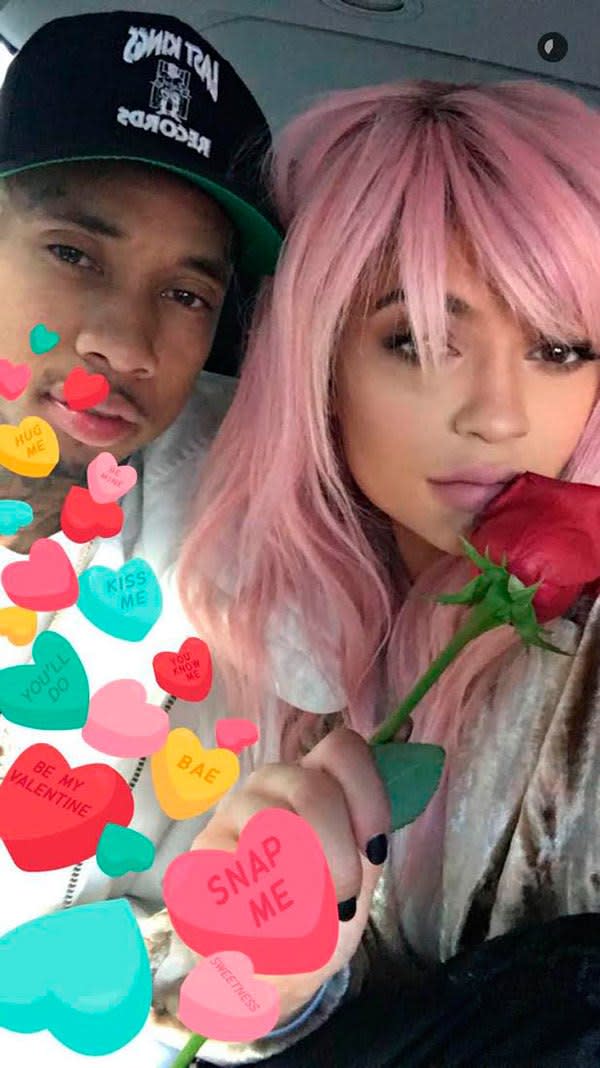 While there's been a ton of back-and-forth about whatever the hell is going on with these two—let's not forget that time he moved out of her house a mere months ago—a series of Snapchats posted from Kylie's account earlier today would suggest that all's well with the youngest Jenner sister and her 26-year-old boyfriend/former roommate/publicity co-conspirator. And all this came packaged with pink hair, some candy hearts, and a red rose to boot. Celebrities—they're just like us.