Three ex-coworkers from Vice Media—Alexandra Serio, Kareem Ahmed, and Max Nelson—have decided to become coworkers again, this time as their own bosses. Enter: NYC.TV, a digital public access platform they launched as a beta site in early June.
Though the three are good friends who are fluent in Internet humor, don't be fooled—their start-up company isn't built on jokes. "We're not just three people that think we know what cool Internet videos are," says Max Nelson, NYC.TV's Director of Business Development and Head of Partnerships. "We've spent years watching content and working with producers and developing show ideas." Other than Vice, they all have years of video and marketing experience from various reputable companies, like The New York Times, Vox Media, and SFX Entertainment.
But the idea of NYC.TV did spring from various friendships. "We have a lot of friends who make video and they all have the same questions: Can I have money to make a video, and how do I get my film distributed?" says CEO Kareem Ahmed. Basically, the platform aims to provide financial aid for New York-based filmmakers, and then an outlet for them to showcase their work—Ahmed says they act as "bookends." But they're starting from scratch, which means they need help from other people to get the ball rolling. NYC.TV is currently collecting donations over at Kickstarter (with prizes from cool artists like Ryder Ripps, Mr. Kiji, and Dessie Jackson), and the majority of the funds are going straight to filmmakers. 
Executive Creative Director Alexandra Serio was also influenced by the communities public access TV created. "It was inspired by public access as a reference point because there's nothing on the Internet that is locally invested in creative communities," she says. "We really wanted to develop something that spoke to New York City creatives that we're doing stuff, but also have the ability to project that globally. So that was the reference point: like public access, but public access is like a government FCC regulation, so it's free. NYC.TV is definitely an initiative that's for profit so that's kind of where we differ."
Video submissions have already started flooding Serio's inbox (she has received about 100 in the past two weeks), but she expects more and more as the company grows. There aren't many rules to what kind of submissions they accept. Ahmed adds, "Creative oversight is very loose." There are no restrictions on genre or subject matter, but they're currently only focusing on filmmakers who are based in New York. "It's like your reaction to it," Serio explains her screening process. "Most of it comes down to creativity. It could be completely amorphous and defy genre as long as it's creative and fun and it's delightful to watch. Does it tell a narrative, does it tell a story, is it a documentary, is it tight, is it something you can sit and spend three to four minutes to watch and learn something? Or, is it produced really well?" With videos that have great ideas at their core but lack production value, NYC.TV steps in to help make them better. Serio continues, "Like some of the stuff that we've seen, we write back and we're like, 'Hey, this is great, we love the concept, but the production value is a little bit lower, would you be amenable to a reshoot with sound?'"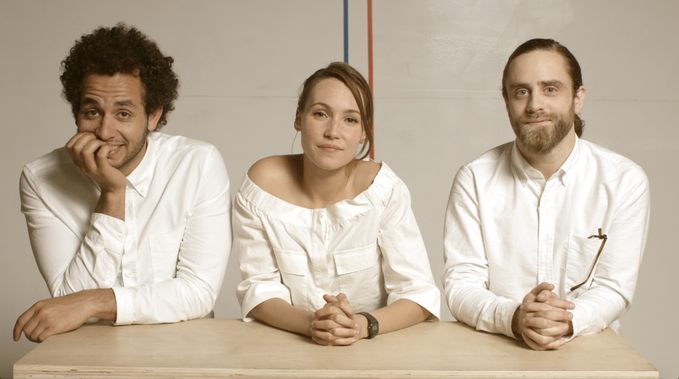 Along with funding, posting submissions, and improving production quality, NYC.TV will also be rolling out a slate of original programming in the fall. "Some of it is 'service journalism,'" explains Serio. She can't share too many of the details yet but she does confirm, "It's heavily invested in New York: the music scene, the live performance art scenes, tent-pole events..."
One of the main concerns with a start-up like this is: Why should we, the audience, care? How will they get people to watch? "We'll do all the things that traditional media companies do, which is like marketing, paid promotion," says Ahmed. He's well aware of how difficult it is to get eyeballs on a new website. "Our distributed media model allows us to have an advantage over other publishers because they all have to drive traffic back to their site, whereas we are uploading the videos on every single social platform, so directly to Twitter, directly to YouTube, directly to Facebook, Tumblr, Snapchat, Vimeo, et cetera. It doesn't matter where you are, you can watch it, and it doesn't matter what device you're using, which makes it way easier for us to establish ourselves as a brand. Also with every video—I think we have at least 60 to 70 people working with us, like independent movie creators who have made stuff in the past or are making stuff in the future—all those people come with their own mini audience and fanbases and if we get all of them to come together for NYC.TV, it'll make the job of building this company a lot easier." He adds, "We also think that people don't really know what they're missing until they realize that there's a bunch of stuff being made by people that are in their neighborhood, and then their reactions like, 'Oh sick, that's made by someone that's like someone, like that's made by a friend of a friend and I didn't even know that they do that.'"
NYC.TV's future lies in the hands of its creative communities and its audiences, and—for those curious about their post-Kickstarter funding—private investments to keep the company going. They foresee themselves expanding to other cities in the future, but right now—with just the three on staff—they're catering to just New York. 
Below, check out some of Alexandra's favorite videos hosted on NYC.TV—a little taste of what can be expected from the site.
There are only a few days left of the Kickstarter. Donate here. 
ALEXANDRA SERIO'S FAVORITE VIDEOS ON NYC.TV
Downtown Girls: Startup 101 & A House Party

When You Saw Your First Porno: Comedianimations Sameer Naseem

Spank Rock: TIME SPENT VHS Rap Sessions