Legend of comedy and television Joan Rivers has passed away at a New York City hospital following complications from throat surgery. She was 81 years old.
Rivers had gone into Yorkville Endoscopy on August 28 for a relatively routine procedure on her vocal chords when she stopped breathing during surgery. She was rushed to Mount Sinai Hospital in New York City where doctors were successfully able to revive her, but her condition did not improve. The New York State Health Department has launched an investigation into Yorkville.
In a statement, Rabbi Joshua M. Davidson said that "It is a terribly sad day for all of us. We mourn with her family, friends and all those milliions to whom she brought laughter and joy."
Here is a statement just issued by her daughter, Melissa Rivers: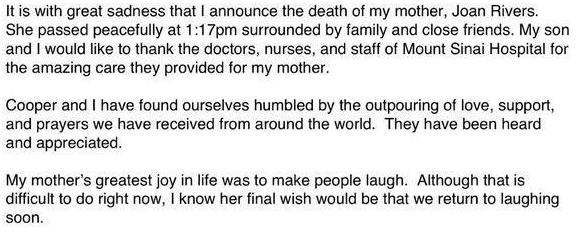 A funeral will be held on Sunday, and we'll provide updates as they come in.
[via Page Six]