50 Cent is no stranger to beefs. Tonight, he's sending some retaliating barbs at his former foe Irv Gotti.
During the height of his Instagram beef with Meek Mill, Gotti chimed in and offered his two cents in a now deleted post. The line in question was when Meek referred to 50 as a rat on "Gave 'Em Hope."
"@meekmill Hahah. My n***a. Everyone knows he [50 Cent] took an order of protection out against myself. My brother Chris. And Blackchild. After we whipped his ass and poked him up. His baby mother just exposed him for that. Everyone knows the REAL. But here is the problem my n***a. And listen to these words. NOBODY CARES ABOUT THE REAL. ESPECIALLY ON SOCIAL MEDIA. THE BATTLE YOU FIGHTING. IS MADE FOR HIM. HE IS BETTER AT LIES AND BULLS**T THAN YOU WILL EVER BE. MURDER INC SPOKE THE TRUTH. WE EMBODIED THE TRUTH. IT DIDNT MATTER. FELL ON DEF EARS. FACTS. WE DID HARM TO HIM. HE WENT TO THE POLICE. AN ORDER OF PROTECTION!! IF THAT IS NOT A HOE. I DO NOT KNOW WHAT IS. WE GAVE THE PAPERWORK TO EVERYONE. THEY SAID WE HADE IT UP. HAHAHHA. SO UNDERSTAND WHAT IT IS. I ONLY..."
To add more fuel to the fire, Gotti has proof that 50 was indeed a snitch for the police. If you remember, 50 and members of Murder Inc. had an altercation in March 2000 that ended in the G-Unit general getting beat up.  According to Gotti's  Instagram post, 50 was an informant.
Nothing gets passed 50, and he responded rather swiftly with "IRV said he a grown man and his father 82 years old. Tell you daddy I said hurry up and die punk. Let's get to it no more IG."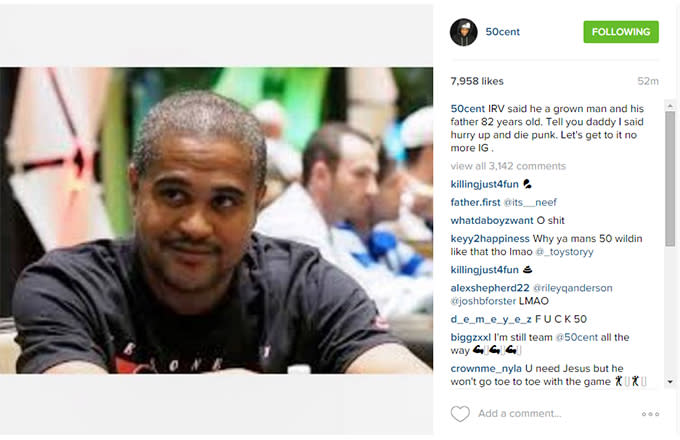 This is about to get ugly.