Last night, there was word going around about an attendee of Electric Forest having died in some gruesome neck slashing that was either a murder or a suicide; while Electric Forest confirmed that that wasn't the case (apparently this attendee is receiving medical treatment at a hospital), FOX17 is reporting that a 20-year-old man by the name of Brian Brockette suffered a "medical emergency" last night, and passed away. Brockette was apparently working in a volunteer capacity at the festival, helping a vendor, There is no concrete info on what kind of emergency occurred, and officials are still investigating this matter. Our thoughts and prayers go out to his family.
Here is the full statement from Michigan State Police:
"The Michigan State Police Hart Post and the Oceana County Medical Examiner's Office are waiting for the results of an autopsy conducted on Brian Alan Brockette , a 20 year old, Caledonia, Michigan, man. The victim suffered a medical emergency on Sunday, June 29, 2014, at approximately 11:15pm, and subsequently passed away. The victim was a volunteer for an outside vendor at the Electric Forest Festival. The incident remains under investigation by the Michigan State Police.
The Oceana County Medical Examiners Office will complete their investigation after receiving the final autopsy report. Questions about the medical response are to be directed to the Electric Forest Festival promoters, who contracted for medical services. The final autopsy report will be sent to the Oceana County Medical Examiner's Office, and questions concerning those results should be directed to their office. No further information is available at this time."
In other Electric Forest news, one attendee says that a man by the name of Matthew Wilson went missing at Electric Forest last night. He's shared a picture with Matthew (who is on the left), and said that "Cops wont do anything to help find him." If you know any information on Wilson's condition or location, we'd suggest hitting up his friend.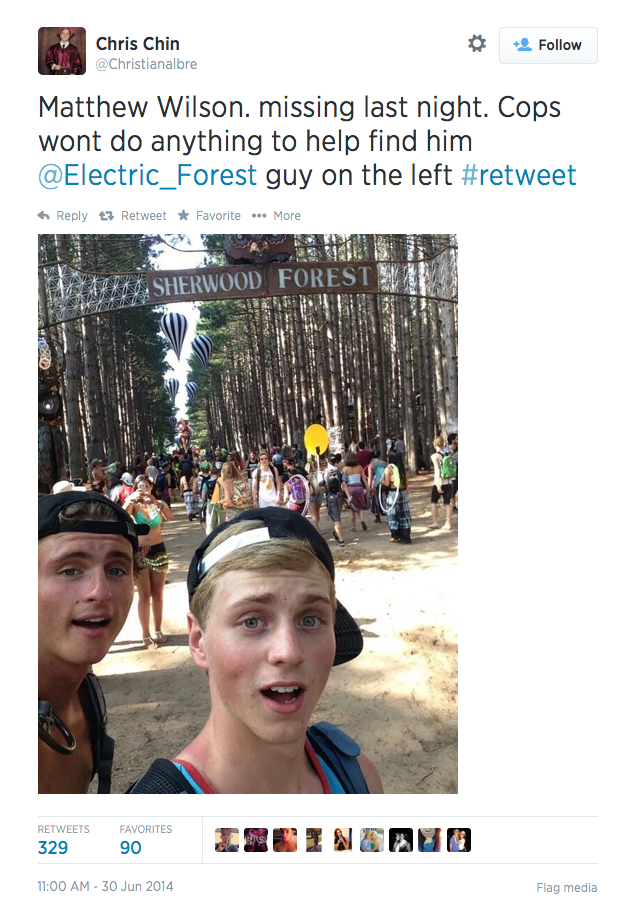 UPDATE It looks like Matthew was found alive:
Matthew is ok. He was found sleeping in somebodys tent. Thanks for all of your help

— Chris Chin (@Christianalbre) June 30, 2014
Thats the last time I ever let that fucker wander off on his own — Chris Chin (@Christianalbre) June 30, 2014
Matthew Wilson was FOUND alive and well!!! Thanks for the help on everyone's part to look for him! — Justin McClellan (@js_mcclellan) June 30, 2014
@Christianalbre fantastic news! Good looking out.

— Electric Forest (@Electric_Forest) June 30, 2014