And this, ladies and gentlemen, is how you win the Internet. One of the best tweets we read about the hunt for the girl in Craig David's "Fill Me In" video was the following:
It's funny, because it's true, although now we can say that all of that Internet sleuthing actually paid off. Remember one of the final pieces to that puzzle, the casting director Jayne Collins? She responded to ItsTheReal's tweet to her with the story, and gave us the golden nugget: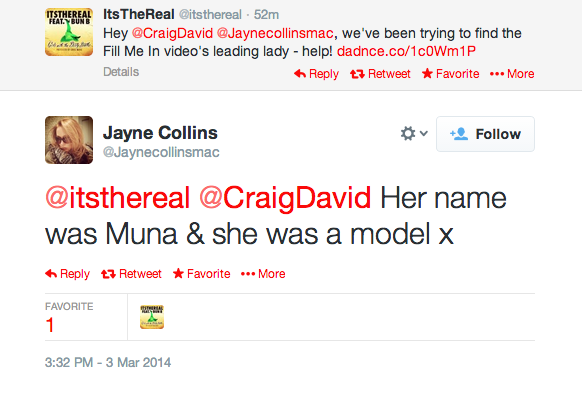 Of course she was a model. And with a little bit of Interneting, this Yahoo group came up, revealing her name to be Muna Hunt, a Colombian model who apparently graced magazine covers but also had her share of more revealing (NSFW) pics. She was apparently 26-years-old in 2002, so that'd put her in her late 30s today. Sadly, not much has been posted about her since 2002.
Do you think Muna Hunt ever things about this kind of stuff? Like, do you think she's aware of a portion of the music-loving world that kept plays of "Fill Me In" high due to just trying to see her? Considering that a cursory search doesn't turn up Facebook or Twitter accounts, you have to wonder about what she's been doing. How long was she modeling? What'd she end up doing with her life? That Yahoo group says Muna "spent the last six months of her working life as a PA at a finance company in London" before she was discovered; maybe she went back to that finance life? Even if our hunt is over, we need you to fill us in, Muna.
Whatever the case may be, a round of applause goes to ItsTheReal, although now, what does DAD have to live for? We might as well turn the lights off, drop the mic, and walk out... mission complete.