If you're not following the power-moves DJ Zimmie is making, you're not paying attention.  Besides authoring one of the most viral articles about contemporary DJ culture, Zimmie is a regular shoe-in at the RedBull Thre3style competitions, placing in the top three each and every time he's competed.  Given his humble demeanor and casual snark, you'd never guess that Zimmie is one of the most sought-after open-format party-rocking DJs in North America.  He's toured extensively in the US, Canada and Australia. Zimmie is also the host of an incredibly funny and insightful podcast series, Extra Credit, which features interviews and shop-talk with some of the biggest names in the industry like Excel, Graham Funke, and Jazzy Jeff to name a few.  Hailing from Portland by way of Pittsburgh, he's downright nasty on the turntables, and prides himself on being able to play to any crowd.  From the festival circuit to the quirky hipster dance party and bottle-service scene, the man's career and reputation are undisputed.  I got a chance to chat with Zimmie about his perspective on "the scene" and his latest undertaking - a true grassroots effort to film and produce a game-changing documentary that will undoubtedly leave its mark on contemporary music and DJ culture.
Tell us a little bit about yourself and your background with regard to DJing.
My original music background dealt more with bands. I sold tickets for bands in high school, then sold merch and eventually went on the road as a tour manager. I even moved to NYC in 2001 with a band that had a small deal with an imprint of Atlantic Records. I had a DJ setup in high school but wasn't serious about it at all. DJ Nugget, whom I was working with at Red Bull, got me into DJing more seriously. First and foremost I've just always been a music nerd. To me, an insatiable appetite for new music and musical knowledge is really the fundamental trait of a good DJ.
How has being from Portland influenced you as a DJ?
Well I'm originally from Pittsburgh, PA. I didn't start coming to Portland until 2007 but I immediately fell in love with it. The music scene here is very eclectic (and there are some serious record stores), so there's a wide variety of DJs and styles. We also have a great concert scene and I love going to shows so there's no shortage of inspiration and motivation to constantly improve.
Your article "The End of DJing" has been generating endless amounts of discussion amongst DJs in all areas and levels of this profession. What inspired you to write that initial blog post – and what impact has it had?
To be fair, the article's reach has been more in the hundreds of thousands of views arena. When it went live it actually crashed a bunch of sites that were on the same server. I had been keeping a journal of absurd articles, happenings in DJ culture, dialogue from other DJs, etc. and one day I just realized that I needed to compile it in a digestible form. I really never thought it would do what it did. Apparently most of the DJs on Earth feel the same way as I did. I don't know if there has been an impact as much as an awareness about the current state of things. I know it's definitely polarized DJs, promoters, etc. To have more of an impact, I thought the story needed to be told through other people, which was the idea behind Soundtrack: The Story of the DJ, the documentary I'm fundraising for right now.
When it comes to the documentary, Soundtrack: The Story of the DJ, what narrative/story are you hoping to convey? Who can we expect to see profiled?
Well first I think we need to cover some history. I don't think many DJs working today know the full story about the history of their profession. Once the movie brings us up to today, we're going to talk about the current state of things, what's wrong, what's amazing and where we can go. I think there are a lot of things wrong with the DJ profession / nightclub industry today and hopefully we can enact some positive change. I also think that there are lots of amazing things about DJing right now and I'd like to share that with other DJs for inspiration as well as with the general public.

Fortunately, I've developed great relationships with a lot of big names over my career. I'd like to talk to everyone from DJ Jazzy Jeff and DJ Z-Trip to Deadmau5 and Diplo.  I'll also be talking to hip-hop icons like DJ Scratch and DJ Premier. But the story isn't just going to be told by DJs, regular every day people as well as club owners, promoters, etc. need to chime in.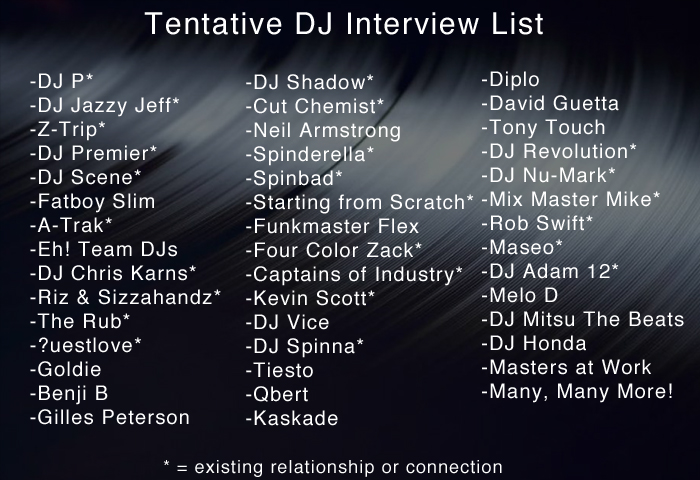 For those unfamiliar with the process, what goes into making a film?
Ha. Well, step one is not sleeping because you're fundraising. Then there will be dozens of interviews in various countries, collecting footage from DJs, gathering archived footage from the past 40-50 years, going to festivals, etc. Then it's all about assembling everything to tell the story we want to tell. I don't even want to talk about music licensing.
Can you talk more about the Kickstarter campaign?
Kickstarter is a site where you create a project and then people can donate to it. To help incentivize donations, you create "backer rewards" at different levels of donation. All the rewards are specific to the Kickstarter campaign so we've got autographed posters, shirts, custom Serato vinyl with movie artwork, etc. A great way for someone go get involved at a larger level is to be a "match donor." That means that you match whatever donations come in for a specific period of time (i.e. Pee Wee Herman is a match donor on Friday, we got $2K in donations on Friday, Pee Wee kicks in $2K.)
The campaign, videos, and images have been shared a lot but donating is what counts. There are no rewards for second place since Kickstarter is an all-or-nothing funding platform. If we come in $1 short of our goal, we get none of the money. As DJ Royale in Philly wrote, "Zimmie can't make this movie with tweets."
Is it true that non-DJs are out-donating DJs? Why do you think that is?
Yes. The DJ community is getting blown out of the water by non-DJs. I honestly don't know why that is. I'm sure a lot of DJs have seen the Scratch documentary. Now just pretend that movie doesn't exist. This documentary will be a timeless piece to go on the shelf next to all of your other music films and collectibles, not to mention it might actually spark some change. I think part of the problem is that we live in an age of sharing and not doing. People want to share an article about something terrible that happened on Buzzfeed but they don't actually want to do anything about the terrible thing.
Any interesting stories regarding the donations you've received?
My favorite story right now is about a DJ who I don't know and doesn't have a job but sent me a donation. He messaged me through the Kickstarter and said he feels so strongly about the project that he had to donate. Another DJ told me yesterday that "DJs don't have any money." I told him about the unemployed DJ that donated and for $5 his name gets in the credits of a movie about something he loves. I still haven't seen a donation from the other guy...
You've already got some coverage on the radio, and around the net – what has the reception been like thus far?
There has been some great sharing and press, which I am thankful for. As far as converting that to donations, I don't know what the secret is. Someone mentioned that people might not donate because they don't know who I am. I told him that DJ Jazzy Jeff, one of the greatest DJs of all time, is co-signing the project!
To return to your article for just a moment- you did a great job of detailing the obstacles and challenges working DJ's and practitioners of the craft face day-in-and-day-out, which is part of the reason why I think it generated really rich inter-generational discussion amongst DJ's and folks in the nightlife industry. Your article describes where "the game" is at, but where is it headed? Ideally, where does it have the potential to be?
DJing and nightlife have the potential to be the best they've ever been. Unfortunately I think things are only going to get worse. Let me explain...
Technology allows DJs, consumers and club goers to have access to all the music ever created, yet playlists and the music that crowds demand are more pigeonholed than ever. Laidback Luke published his "Top 5 Tips" for DJs and one of them was to "play 50% hits and 50% what you want."  Great advice if you don't want to play that club ever again.  Nightclub owners can see what clubs are doing all over the world and yet can't seem to figure out how to run a club properly, promote effectively or even steal good ideas correctly. I hear from DJs all the time that want to be big EDM superstars and make crazy money but I don't think doing gigs for free is how you make millions. In most markets, mine included, it's a race to the bottom.
What developments are in the works regarding the fundraising campaign for Soundtrack: The Story of the DJ?
I had a great conversation with Kevin Scott at NAMM this past week and he's putting some of his DMS muscle behind the campaign this week. I've got a few other secrets but I don't want to show my hand.
There have been several DJ-related documentaries in the past – what makes yours different?
All the DJ documentaries to date have been niche. Either they're talking about scratching, EDM, or something that only applies to a sliver of the DJ community. I want to cover our history and include all the relevant groups. I'll cover early '50s & '60s radio personalities, '70s nightclub legends, the roots of hip-hop, DJs and rappers, bottle service clubs, producers, festivals, battling, etc. I want to do the homework AND the extra credit.
Do Androids Dance is a site that caters to the intersection of DJ & EDM culture. While these two sub-cultures share common intertwined roots and have grown together, I get the sense that there is a clash of values between those that value the craft in a traditional sense and those that herald the rise of the superstar producer-DJ hybrid.  Can you unpack this a bit? What are the professional implications of this for working DJs like you and me?
The big EDM producer DJ isn't DJing. Even the guys that came up playing records and paid their dues aren't DJing live. First, the visuals are all synced to a pre-made track, which makes sense. Second, the crowd isn't going anywhere so crowd reading and 100 other skills that a DJ perfects over a career don't come into play. I respect guys like Z-Trip who put together an eclectic, technically-complicated festival set and then do all the legwork live. If DJs coming up want to have a career, they need to focus on developing fundamental skills in the trenches like everyone else. Bill Withers said "on your way to greatness, you have to pass by alright. Stop and look around because this is where most of us will end up." You may not ever get to the festival stage where you can just stand in a Jesus pose for an hour so make sure you have the skills to rock a club, no matter what the format and crowd.
This documentary is a HUGE undertaking – why do it? How do you see this documentary in-relation / contributing to DJ culture at large?
This documentary NEEDS made. As I mention in the Kickstarter promo video, I think it's unacceptable that almost everyone is touched by a DJ and most people know nothing about DJing.  This documentary will be passed around as a "must watch" piece of the culture. It will be a primer to new DJs, a history lesson for current DJs and hopefully open a few eyes about some changes that need made.
You're about to head to SF! What are you looking forward to?
My SF knowledge is pretty limited so I'm looking to my man Platurn and my homie Derek Dumont aka Recollect to show me the ill food spots and give me a tour. I'm also playing Motown on Mondays which should be super fun. Nothing like a good music party!
Any shoutouts?  Final words?
I feel like my faith in DJing is really teetering at the moment and support of this documentary could be a make or break it for me. If you're reading this and you're not going to donate, tell me why. I just want to know. I haven't had the opportunity to support anything like this but I know I would.
Big shouts to the Jazzy Jeff team, Kevin Scott at DMS and anyone clicking the donate button. There's too many to name but the good guys know who they are.
The power of this project lies in its grassroots appeal - it is a documentary for us, by us, and not only will it convey the narratives of our culture past and present, it has the potential to highlight certain issues and change the nightlife industry as we know it.  If there was anyone in the position to make a quality documentary which shares the knowledge of OG's alongside the perspectives of trailblazers while exploring "DJ Culture" in all its complexity - it's DJ Zimmie.  It is this very project - and it needs your support to become a reality.  Take a moment to check out the Kickstarter page, donate, and share the love.