Is the festival circuit in danger of not having a Camp Bisco in 2014? Based on this article from the Times Union, it looks like that's a reality. From what we can gather, MCP Presents normally starts the application process for Camp Bisco in the fall; no permits or approvals have been processed, and it looks like the usual post-event meeting about Bisco hasn't taken place:
"Typically, soon after the event, we would have a meeting where we would go over any problems and try to come up with solutions," said Dale Warner, Duanesburg town code enforcement officer. "That didn't happen this year."
There's also the interesting tidbit about the post-event report that's supposed to have been filed, but hasn't. This report was supposed to specify if Bisco had sold the agreed-upon 12,000 or less tickets. They've apparently been quoting 20,000+ attendees for the 2013 edition of Camp Bisco. Frank Potter, the owner of Indian Lookout, says that no 2014 dates have been reserved for Camp Bisco, and he has a feeling about why they wouldn't return to the area:
"Potter said if MCP decides to take Bisco elsewhere, it's likely due in part to a civil lawsuit filed against MCP on behalf of Heather Bynum, a 24-year-old who suffered brain damage after she had a seizure and stopped breathing at the festival in 2012. Bynum's family claims lack of emergency services at Camp Bisco led to delays in treatment for her."
Outside of all of this, there's talk that MCP is already organizing an event that'd run in Ulster County in Saugerties; the Daily Gazette reports that this event, the Hudson Music and Arts Festival, is a three-day festival taking place during the second week of July. While Marc Brownstein (the founder of the Disco Biscuits, who started Camp Bisco) mentioned on Facebook that "The short answer is, yes, we are planning on having a camp this year, but there are some significant changes being made, and our number one priority is providing a safe event for our fans. We are hustling like crazy to make it happen and we have made huge progress in the last few weeks, and I'm feeling really good about it."
Will that be Camp Bisco? We're not sure. We've reached out to representatives at Bisco and as of now have not received a response; their Twitter page doesn't seem to provide any answers, either: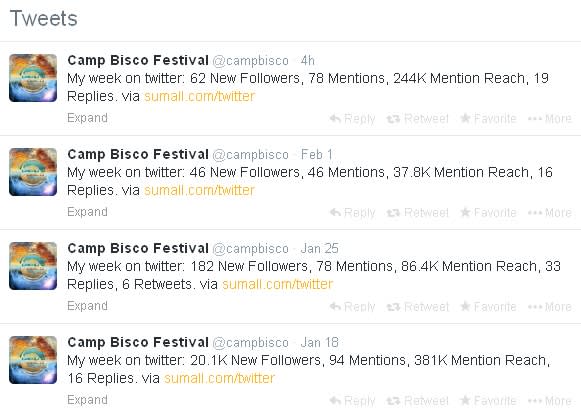 We'll keep you posted.