Written by Courtney Phillips
Music festivals are the best.
Since the dawn of mankind (cue 2001: Space Odyssey music), humans have been drawn to three things: music, nature, and other humans. Hence, music festivals! Lately, the music fest scene has expanded and evolved…and sometimes it seems as if they're not really the events they once were. Between girls in high heels (in a field? REALLY?), aggressive bros looking to RAGEFACE, and industry folk who hate music and are just there for the parties, it sometimes feels like music festivals have lost their way.
Enter the Symbiosis Gathering.
A magical experience awaits you just 90 minutes away from San Francisco, CA my friends. Lightning in a Bottle is a little nibble of what a festival should be, but Symbiosis takes it to the next level. The venue is beautiful and wild, with a lake you can swim in (sorry LiB, I love you, but you taunted me with that lake I couldn't touch). The people are fun, kind, and let their weird out 100% of the time – no judgments. However, the best part is that the music goes all day and all night – no cut off at 12AM. It is a festival for true music lovers with a massive variety of artists to dance your face off to. From the ethereal echoes of Active Child, to the clubby bass from Brodinski, to reggae dubstep from Monkey Marc – there's something for everyone at Symbiosis.
I could write a Pulitzer Prize winning novel on my weekend at Symbiosis, but no one would read it (not even my mom), so I'll give you the highlights.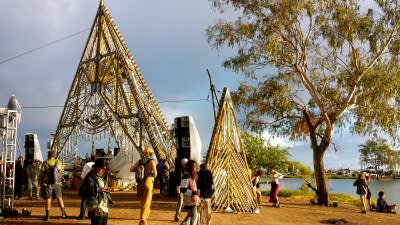 Friday – Sep. 20

Favorite Musical Act: Worthy (Empire of Love stage). Nothing like grooving away at 3:30AM to some amazingly bass-y house music and starting impromptu dance circles with strangers.
Musical Runner(s) Up: Tom Cosm (Juke Shack stage). Great beat, even though his speakers went out for a bit. Sorry for partying, I guess…
Weirdest Moment: On my way back to our camp, a man walked by us aggressively muttering "bacon bacon bacon bacon…" Dude loves bacon (don't we all?).
Highlight of the Day: Starting a dance party in front of one of the jewelry vendor's tents. They were playing some heavy dubstep and we formed a 30 second dancing flash mob.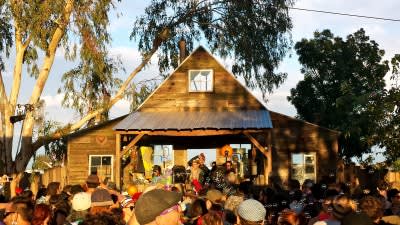 Saturday – Sep. 21

Favorite Musical Act: Pumpkin (Juke Shack stage). Pumpkin was a new discovery for me as the crew I was with was INSISTING we see him. Funky house beats and remixes of crowd favorite's like The Mowgli's "San Francisco" made his set quite the party.
Musical Runner(s) Up: I was looking forward to seeing Poliça, but due to the torrential downpour (that my tent somehow survived) they canceled. Therefore, runner up goes to Active Child (Big Island stage) – another favorite of mine whose crazy beautiful vocals blew my mind live.
Weirdest Moment: A small dreadlocked man meowed into my ear. When I turned to look at him, he smiled a Gollum-like smile and said, "It only gets weirder from here." He was right.
Highlight of the Day: Definitely the tail end of Pumpkin's set when the setting sun lit up the sky, bubbles floated above everyone's heads, and the crowd danced and sang along to Pumpkin's version of Asaf Avidan's "Reckoning Song" (aka "One day baby we'll be old…think of all the stories that we could have told"…)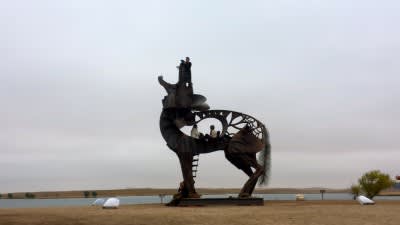 Sunday Sep. 22

Favorite Musical Act: Schpongle (The Cove stage). Honestly, this is the kind of music you go to Symbiosis for. Elements of world music with a trancelike spin…it's one of a kind.
Musical Runner(s) Up: Brodinski (Juke Shack stage). One would think Brodinksi might be a little clubby for Symbiosis, but that's the beauty of the festival, no one is ever out of place. (And Brodinski is just awesome).
Weirdest Moment: There wasn't one… I think at this point I was other people's weirdest moments. At one point I was wearing a (fake) bear skin coat and dancing like a monster…I mean I was actually trying to stomp around like a monster.
Highlight of the Day: Getting the most out of the non-stop music by checking out The Cove stage at 10am and stumbling upon special guest LowRIDERZ. There's nothing like a dance party first thing in the morning while wearing a giant fur coat (with hood).
There it is my friends. I highly recommend Symbiosis Gathering for any of you who are tired of the mainstream festival scene. Grab a big fur coat, look up coolest artists you've probably never heard of, and go get your weird on.
This post was written by guest author, LA resident, and music industry pro Courtney Phillips. You can follow Courtney's festival adventures on Instagram here: @clp2118.