The Moonrise Festival, which was to feature the likes of Avicii, Snoop Lion, Borgore, and Eric Prydz, among others, has been canceled. There were unofficial rumors about this being discussed on Reddit, attributing comments made by TC saying that he mentioned on Episode 12 of his Don't Play podcast that "moonrise isn't happenin...i hope i'm not the one announcin this shit." Moonrise even tweeted yesterday that the event wasn't canceled, but things have definitely changed.
There had been talk over the last few weeks regarding permits that Baltimore was asking for the Moonrise promoters to obtain. Last year's Starscape Festival was marred with controversy, namely a number of kids who were overdosing and could have possibly died  "if not for the intervention of our EMS" as fire marshal Raymond O'Brocki put it. That debacle caused the city to pull the plug on Starscape, which lead to the formation of Moonrise, under new organization. It seems as if Moonrise couldn't escape the stigma from Starscape, causing its untimely demise before it really was born.
The official Moonrise Festival Facebook page had this to say: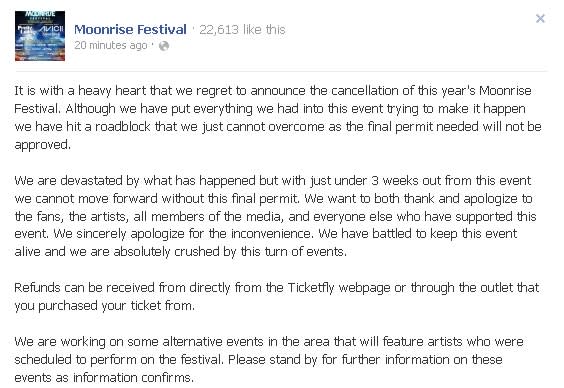 We will keep you informed of any new developments.
Related: It Looks Like There Will Be a 2014 Moonrise Festival