Every day, we think this beef might be over, but then another thread is woven in. Yesterday, an interview came out where Baauer said: "she laid something on 'Harlem Shake' and it was so/so. Didn't love it. And that was a little while ago, and since all this video stuff happened, our plans all changed. Because of that, we decided to just release the song on it's own with no vocal version." Overnight, Azealia Banks took to her tumblr to post a screen cap of the following email: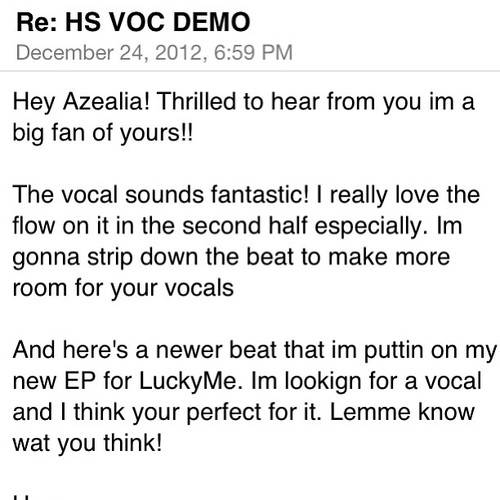 Mind you, he used "we" a lot in his quote, so it could be a situation where he was speaking on behalf of himself/Mad Decent, especially since he mentioned that he was a fan of hers, both in this email and via that interview. MCs do have their off days, and if they didn't feel she killed it enough for release, so be it. At the end of the day, it's still Baauer's record, although this new piece that Banks added to the puzzle does make things look suspect.
In other Baauer news, check out this Interview feature with Baauer and Just Blaze.