Ever taken the tram to work in the morning and joked to your friends that Melbourne's trams are the slowest vehicles on earth? Turns out, you're not actually far from the truth. Statistics from Yarra Trams have demonstrated Melbourne's trams to be moving at an average speed of only 16 kilometres per hour, and even dropping to 11km/h during peak hour in the CBD.
A key issue with this is that Melbourne's tram network has been likening their trams to a "Rhinoceros on a skateboard" in advertisements such as this: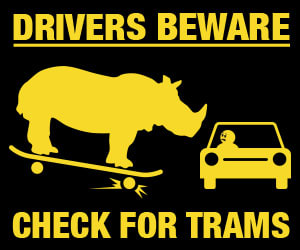 Now, generally, the average speed of a Rhino ranges from 50 to 55km/h. Given the laws of perpetual motion and the entirety of physics, I'd say a Rhino on a skateboard is even faster than that. So congrats, Yarra Trams, not only do you have slow a.f. public transport, you are also allegedly false advertising.
Obviously with Melbourne's trams, speeds and arrival times are largely determined by traffic conditions. These recent figures show that CBD tram services have been delayed for up to two hours due to traffic jams and collisions. Yarra Trams have cited this "unique nature" of Melbourne's tram network as the prime reason for these speeds. Spokesman Simon Murphy, speaking to ABC News, cited the fact that "75 per cent of the network is actually shared with other traffic on Melbourne's roads" as a rapidly emerging problem considering the cities continuously growing population.
Yarra Trams is now working with Vic Roads to examine ways that speeds could be increased. One of these options is to install priority traffic lights for trams throughout the city by the end of the year. Until then, considering the skateboard-riding rhino comparison is no longer valid, here are some options for Trams to be compared to in the new Yarra Trams advertising campaign:
George R.R. Martin writing a thesis
Clive Palmer running a marathon
'Panda' by Desiigner, but every time he says 'Panda' the song gets 2X slower