Bob Katter, allegedly known among his staff as "Cyclone Bob", has had a crack at fashion label Chanel for their $1930 designer boomerang, suggesting they are appropriating aboriginal culture. The federal member for Kennedy has used the wood and resin boomerang to renew calls for the Australian Government to better protect Indigenous artists.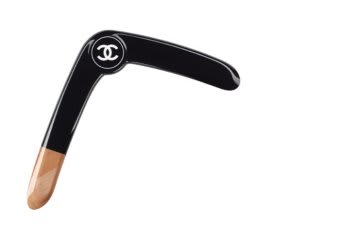 Yes, Mr. Bolt, before you do your nut we know that "cultural appropriation" is still an occasionally contested term. However, considering one of the key elements of appropriation is that the original meaning of these cultural elements is lost or distorted, it's hard to not see this ridiculous boomerang as anything but appropriating. For one, we don't recall traditional boomerangs being black and made from resin, nor do we traditionally see a giant Chanel logo on boomerangs in ancient Aboriginal paintings.
Katter has also cited these issues, suggesting that it "remains to be seen whether there's any Indigenous qualities to the boomerang whatsoever". The popular souvenir for tourists is often cheaply imitated in imported products, which pushes local indigenous creators out of the market. Katter estimated that between $3 million and $20 million is lost each year on these imports. $17 million is a big deficit, but no one looks to Katter for accurate math, and regardless, this is clearly a problem that needs attention.
Also ridiculous is the Boomerang's $1930 price tag. One would hope for that money the boomerang would be able to go back in time and assassinate Hitler, or at least come back carrying kebabs after a big night out.
Katter has used the boomerang to call for legislation that would make it illegal to sell fake foreign imports of Indigenous Australian art. Chanel has released a statement saying they are "extremely committed to respecting all cultures and regret that some may have felt offended". The item remains available on its website. Regardless, one thing is for sure, if Bob Katter is calling you politically incorrect, rethink your life choices.