All photos by Cornell Brown and Sean Stout 
In the days since the shooting of Mike Brown, the QuikTrip on the corner of W. Florissant Ave and Northwinds Estates Dr. in Ferguson, Missouri has acted as a veritable ground zero for those protesting the killing of the unarmed teenager. On Sunday afternoon, the location, christened QT People's Park, was especially joyous. People set up grills and served free hot dogs. There were two tables serving snacks, water, and Capri Suns. Harley-Davidson's owned by members of the Outcast Motorcycle Club played 2Pac and Michael Jackson. Kids ran around laughing and playing tag. A youth group took over W. Florissant Ave and did a step routine incorporating the "Hands Up, Don't Shoot" mantra that's been used as a rally cry throughout the week. 
It felt like a big family reunion or holiday cookout. 
It all seemed like a response to the happenings the night before when local law enforcement enforced a midnight curfew with tear gas. It was as if the people of Ferguson were telling the authorities that their spirit could not be broken; that they would not dissipate or forget their cause; that even though they are being treated and portrayed as less than human, they have more than enough humanity to keep them afloat for as long as this process may take.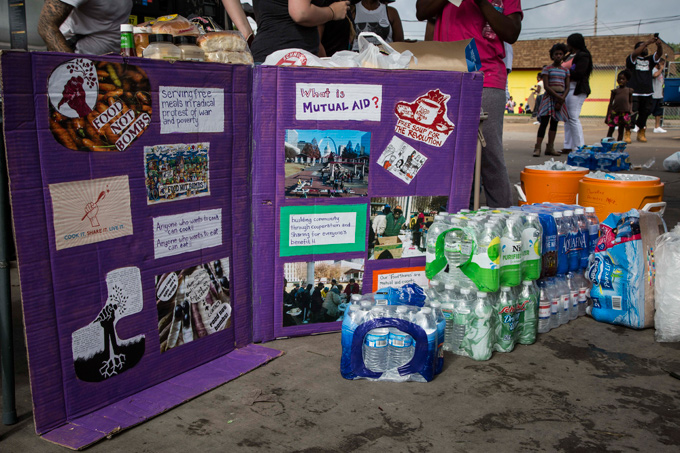 "Silence is not an option," said a woman beside us watching the step routine. Helping to amply the message of the demonstrators was J. Cole, who flew into Ferguson Sunday afternoon and walked around W. Florissant, shaking hands with residents and listening to their frustrations. For a moment the entire grounds of the QuikTrip were covered in people hoping to get a moment with the Dreamvillian; some where content even touching his sleeve. "I can't believe J. Cole really came down here. I can't believe it," said a young girl. "You know I got to get a picture with J. Cole, that n**** came all the way down to support us. That's crazy," said a guy trying to make his way through the crowd.
By all accounts, the day was moving positively. Even when a fight a broke out in the parking lot of the Ferguson Market, the mood was cooled by a large group of people marching towards the police, who on Sunday were out earlier than we've seen them in our time here, and chanting "Hey, hey, ho, ho, these crooked police have got to go!" One guy walked by with what looked like the Ferguson township sign with "fuck the police" spray painted onto it. It was the largest group of marchers we've seen yet. It was a beautiful to see parents with their children chanting "Hands up, Don't Shoot."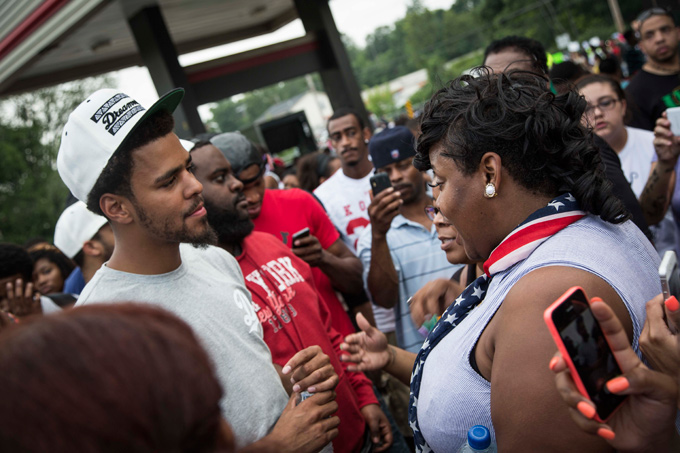 So it was surprising when around 9 p.m. the armored police trucks begin to mobilize down W. Florissant towards the demonstrators. Tear gas began to rain down all across the street, striking some civilians directly. One young girl had a tear gas bomb explode directly in front of her, covering her face with the acidic gas. To help her, and others, some broke into the McDonalds to grab milk to help lessen the burn. As the trucks progressed they shot the gas canisters and flash bombs at the area police told media it would be safe to reside. People scattered down side streets as police approached with search lights and guns drawn. 
When we tried returning to W. Florissant, police aimed automatic weapons at us and told us to stand back. 
"We're press," we shouted with our hands raised. "We're media. We're press."
"We're depressed!" said a man next us. 
"And oppressed!" said a woman shortly after. 
Despite our eyes and lungs burning, we, and the group of people we were with, all with their hands up, let out a laugh.
After the police refused us once again, they allowed a white journalist through. It was then that they let us return to the scene. We followed the battalion as it moved down W. Florrisant firing more and more tear gas. From a distance we saw protestors with their hands up pleading with the police not to shoot. Around 11 p.m. gun fire could be heard somewhere in the smoke. Swat team members yelled at members of the press who tried to get closer to the scene, threatening to shoot them if they did not obey their orders. Everything felt completely out of control. There was a creeping suspicion that anyone could get shot—protestor or journalist. Especially if they were black.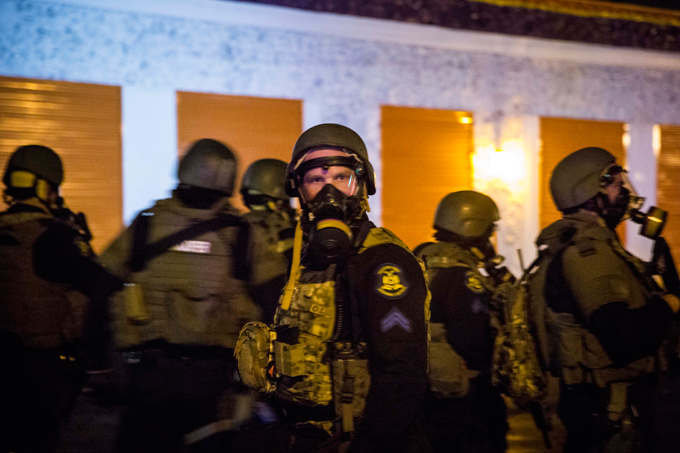 It made us wonder: If this is how the armed forces in Ferguson, Mo. behave when the entire world is paying attention—live, at that, via Twitter and LiveStream—how did they act when no one was watching? 
Stay tuned to Complex News for further developments.