KENTUCKY WILDCATS
We all knew undefeated Kentucky would end up in the Final Four, right? Even though they survived a couple scares during the regular season—most notably, they played in back-to-back overtime games against Ole Miss and Texas A&M in early January—and even though they just barely squeaked by Notre Dame in the Elite Eight, we all knew that this Wildcats team was simply too good to get knocked out of the NCAA Tournament before the final weekend. It's why 58 percent of the people who filled out a bracket on ESPN.com a few weeks ago picked Kentucky to reach this point—and why those who didn't were either throwing up a Hail Mary in an effort to beat out everyone else in their bracket challenge or simply hating on John Calipari & Co. Big Blue Nation was not going to be denied a second straight trip to the Final Four.
But now, the real fun begins for the Wildcats as they'll face their biggest challenge of the entire season in Wisconsin on Saturday. On paper, Kentucky—armed with the Harrison Twins, Karl-Anthony Towns, Willie Cauley-Stein, Devin Booker, Tyler Ulis, etc. etc. etc. (it's not fair!)—should beat the Badgers. By a lot. They average more points, more rebounds, and more assists per game than Wisconsin. They have a much deeper bench. A more stifling defense. A frontcourt that looks like it belongs in the NBA (though, for the record, this team could NOT beat an NBA team, no matter what Larry Brown tries to tell you!). Oh, and they've still got that undefeated thing going, too. So when they take the court on Saturday, they're likely going to be more motivated than they've been all year. They're so close to making history.
The problem, of course, is that even though we all fully expected Kentucky to be here, nothing is promised from this point on. There are no more Hamptons (or West Virginias!) on the schedule. So there's very little room for the Wildcats to make errors against a team like Wisconsin that forces turnovers, doesn't foul very often, and plays an extremely efficient brand of basketball. And while the idea of finishing the season undefeated will serve as extra motivation for the Wildcats, it'll also put an added sense of pressure on them. They handled that pressure well against Notre Dame. But it's only going to get more and more intense as they climb closer to the NCAA National Championship.
Can the young, inexperienced Wildcats handle it? We'll just have to wait and see. Either way, it's going to be fun to watch, and the next 80 minutes of basketball are going to be either the best or worst thing ever for BBN. We hope they're ready for it.
Hardly Home But Always Reppin' : Kentucky
The players, the hometowns, and the location of the games.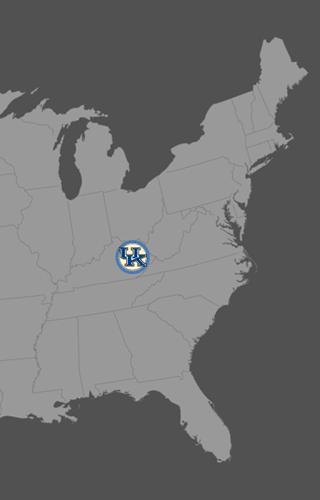 Wisconsin Badgers
It's easy to look at the Final Four and conclude that Kentucky—a team that has 10 potential NBA players currently on its roster—will continue their undefeated streak en route to an NCAA Championship. It's easy to look at their slick-haired, pinstriped-suited celebrity coach, their roster of rare athletes, and their wave of momentum and assume that they're the squad who will be cutting nets next Monday. Just look at how many future multi-millionaire lottery picks they have, right? But there's something very important to remember about Saturday's heavyweight bout between Kentucky and Wisconsin:
This isn't the NBA.
The Badgers have been in this exact spot before—almost literally. When they lost in last year's Final Four to Kentucky, star center Frank Kaminsky and hot-handed forward Sam Dekker could've bolted for the pros and chalked up their misfortune to simply facing a bigger, stronger team. UK makes an annual tradition of bringing in many (if not most) of the highest-ranked freshman players in the country; not an easy team to defeat when you're working with mostly local midwest recruits like the Badgers are.
So what makes 2015 different? Experience. Kentucky is relying on star freshmen and sophomores to carry them to a title, and while that's a formula that has had some success in the past, in no way does it guarantee anything. Undefeated teams are rare in college basketball (none since 1976), and the pressure of dealing with that zero in the loss column coupled with the camaraderie, teamwork, and shear will of an older and more seasoned Wisconsin team may create the perfect storm for a Wildcat upset. Frank "The Tank" Kaminsky is averaging over 22 points and eight rebounds a game since March Madness began. And the Robin to his pirouetting, post-up Baryshnikov Batman act Sam Dekker? He's averaging over 21 and five a contest in the tourney.
Point being: Wisconsin has ballers, too.
The Badgers have the talent, maturity, and motivation to take out the presumptive NCAA Champions, and they looked a hell of a lot more ready for the big stage than a Kentucky team who escaped the Elite Eight in Cleveland with a two-point victory over Notre Dame. In the second half of their matchup with UNC, Wisconsin made 10 of 12 from deep and sank all eight of the crunch time free throws. That's how grown-ass teams perform when it matters. Another clutch effort like that and Bo Ryan's squad will be dancing in the title game while Calipari's roster will start looking towards the NBA Draft.
Hardly Home But Always Reppin' : Wisconsin
The players, the hometowns, and the location of the games.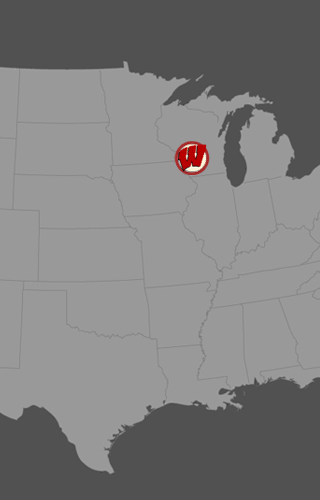 Michigan State Spartans
Going into the tournament, it was tempting to write all the No. 1 seeds into the Final Four. Kentucky, Wisconsin, Duke, and Villanova had proven throughout the regular season that they were each viable candidates to make the title game. However, one upset and a severely devastated piccolo player later, 'Nova blew a kiss to the bracket. Hey, three out of four isn't bad. Now, we're instead left with the Michigan State Spartans to represent the East after their gutsy, OT victory against the Louisville Cardinals, as well as upsets of the second- and third-seeded Virginia Cavaliers and Oklahoma Sooners.
"Gutsy" is a word you're going to hear a lot when people talk about any of Tom Izzo's Spartans squads. Since taking the reigns for the program in 1995, Izzo has instilled a trademark brand of toughness to the Green and White, whether through his patented "war" rebounding drill, or his talent for transforming three-star recruits into Big Ten champions. As the FiveThirtyEight points out, Izzo has won "14.6 more games than would be expected based on the way [the Spartans] were seeded," more than any other coach since 1985. This year's team is no exception: Undersized forwards Matt Costello and Gavin Schilling are outperforming expectations in the post; Brendan Dawson is the best player on the Spartans, but isn't even considered a first-round draft selection; senior point guard Travis Trice is having the best season of his career, including 23 and 24 point games against Virginia and Oklahoma. East Lansing, Mich. is no one-stop shop for NBA talent. Veteran rosters are an expectation for Michigan State, even in the age of freshmen phenoms.
However, whether Izzo's latest group of guts and grit will be enough to get by Coach K's five-star line-up is a whole other question. In the second game of the season, the Blue Devils beat the Spartans by 10 thanks to a big game from Jahlil Okafor, who dominated Costello and Schilling to the tune of 17 points and five rebounds. It's not like he's gotten worse since then, either.
It's worth noting that the Spartans shot just 25 percent from three that game—13 percentage points below their season average. On top of that, they were also given 16 less free throw opportunities than the Blue Devils. They've played better than those numbers in the tournament, including their game against Virginia, when they shot 50 percent from downtown. If Michigan State wants to go all the way, then they'll need to keep shooting well, getting to the line, and winning when they're not supposed to. At this point, they're the tournament's biggest Cinderella story. Thankfully, Izzo knows how to dance.
Hardly Home But Always Reppin' : Michigan State
The players, the hometowns, and the location of the games.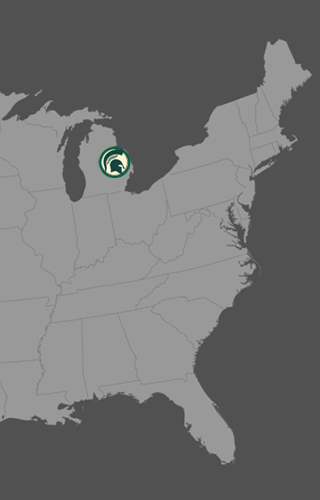 Duke Blue Devils
The Duke Blue Devils arguably have the best amateur basketball player on the planet penciled in at that center spot—a distinction that makes any college team a title threat—but since the Sweet 16 rolled around, he hasn't been their biggest performer. Jahlil Okafor scored 21 and 26 points in Duke's first two blowout wins over Robert Morris and San Diego State. He's combined for 15 points in the two games since. Small forward Justise Winslow had 19 points in Duke's first two games, but has totaled 37 in the last two. In Okafor's stead, Justise has served up buckets.
Against Gonzaga in the Elite 8, CBS had a peculiar highlight package edited together for a late second-half cut to commercial. Winslow had just driven hard to the basket and picked up foul. Okafor was right there to scoop him up, and Winslow let out a Westbrook Roar while Okafor hugged him. Heading out to commercial, CBS cut to the shot of Okafor holding Winslow, glaring at him with eyes that said, "Thank goodness we have YOU." Okafor's eyes beamed with the weight of Winslow's indispensable play. Like he did against Utah in the Sweet 16, Winslow took over the game in the second half to get his squad consistent looks at the rim while Okafor was neutralized with impending Hack-a-Jahlil fouls up on tap.
Winslow's power and aggressiveness on the wing has allowed guards Tyus Jones and Quinn Cook to keep the offense in perpetual motion. He's stirring Duke's drink, and he's making it strong. Out of all the teams left in the field, Duke is the only one with the combination of star pedigree, athleticism, and available shooting to give Kentucky another major test. Having Coach K, the greatest March Madness coach since John Wooden, helps a bit too. To win out on Final Four weekend, however, both Okafor and Winslow need to be humming like MVPs.
Hardly Home But Always Reppin' : Duke
The players, the hometowns, and the location of the games.